The nuclear factor-κB (NF-κB) family of regulators is well known for mediating dendritic cell (DC) maturation—that is, the acquisition of the functions required for full activation of T cells. Paradoxically, a key member of this family, NF-κB1, is now also implicated in maintaining DCs in an immature state (pages 1663–1667).
Access options
Subscribe to Journal
Get full journal access for 1 year
$79.00
only $6.58 per issue
All prices are NET prices.
VAT will be added later in the checkout.
Tax calculation will be finalised during checkout.
Buy article
Get time limited or full article access on ReadCube.
$32.00
All prices are NET prices.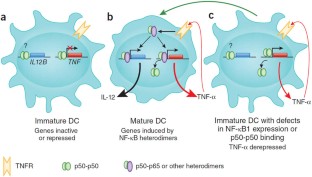 References
Vallabhapurapu, S. & Karin, M. Annu. Rev. Immunol. 27, 693–733 (2009).

Oeckinghaus, A., Hayden, M.S. & Ghosh, S. Nat. Immunol. 12, 695–708 (2011).

Dissanayake, D. et al. Nat. Med. 17, 1663–1667 (2011).

Ohashi, P.S. et al. Cell 65, 305–317 (1991).

Cheng, C.S. et al. Sci. Signal. 4, ra11 (2011).

Elsharkawy, A.M. et al. J. Hepatol. 53, 519–527 (2010).

Baer, M. et al. Mol. Cell. Biol. 18, 5678–5689 (1998).

Oakley, F. et al. Am. J. Pathol. 166, 695–708 (2005).

Udalova, I.A. et al. Mol. Cell. Biol. 20, 9113–9119 (2000).

Date, Y. et al. Arthritis Rheum. 42, 2577–2582 (1999).

Li, N. et al. Clin. Biochem. 41, 881–886 (2008).

Stayoussef, M. et al. Eur. Cytokine Netw. 21, 285–291 (2010).

Zhao, Y., Krishnamurthy, B., Mollah, Z.U., Kay, T.W. & Thomas, H.E.N.F. Inflamm. Allergy Drug Targets 10, 208–217 (2011).
Ethics declarations
Competing interests
The author declares no competing financial interests.
About this article
Cite this article
Creusot, R. NF-κB in DCs: it takes effort to be immature. Nat Med 17, 1554–1556 (2011). https://doi.org/10.1038/nm.2586
Published:

Issue Date:

DOI: https://doi.org/10.1038/nm.2586
This article is cited by
Sonja I. Gringhuis
Tanja M. Kaptein
Teunis B. H. Geijtenbeek

Nature Communications (2014)