Mutations in the microsatellite of the chaperone heat shock protein 110 (HSP110) yield a mutant protein that counteracts oncogenic potential, enhances responsiveness to chemotherapy and associates with increased survival in individuals with colorectal cancers that arise through defective DNA mismatch repair (pages 1283–1289).
Access options
Subscribe to Journal
Get full journal access for 1 year
$79.00
only $6.58 per issue
All prices are NET prices.
VAT will be added later in the checkout.
Tax calculation will be finalised during checkout.
Buy article
Get time limited or full article access on ReadCube.
$32.00
All prices are NET prices.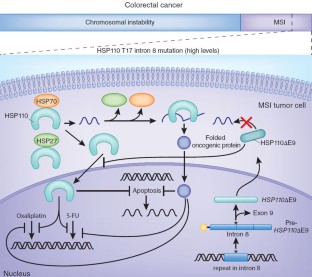 References
Boland, C.R. & Goel, A. Gastroenterology 138, 2073–2087 (2010).

Ribic, C.M. et al. N. Engl. J. Med. 349, 247–257 (2003).

Sargent, D.J. et al. J. Clin. Oncol. 28, 3219–3226 (2010).

Popat, S., Hubner, R. & Houlston, R.S. J. Clin. Oncol. 23, 609–618 (2005).

Sinicrope, F.A. et al. J. Natl. Cancer Inst. 103, 863–875 (2011).

Elsaleh, H. et al. Lancet 355, 1745–1750 (2000).

Tejpar, S., Saridaki, Z., Delorenzi, M., Bosman, F. & Roth, A.D. J. Natl. Cancer Inst. 103, 841–844 (2011).

Dorard, C. et al. Nat. Med. 17, 1283–1289 (2011).

Khalil, A.A., Kabapy, N.F., Deraz, S.F. & Smith, C. Biochim. Biophys. Acta 1816, 89–104 (2011).

Slaby, O. et al. Oncol. Rep. 21, 1235–1241 (2009).

Markowitz, S. et al. Science 268, 1336–1338 (1995).

Rampino, N. et al. Science 275, 967–969 (1997).
Ethics declarations
Competing interests
A.T.C. has served as a consult to Bayer HealthCare and Millennium Pharmaceuticals.
About this article
Cite this article
Chan, A. Turning up the heat on colorectal cancer. Nat Med 17, 1186–1188 (2011). https://doi.org/10.1038/nm.2500
Published:

Issue Date:

DOI: https://doi.org/10.1038/nm.2500