Abstract
Catecholaminergic polymorphic ventricular tachycardia (CPVT) is a potentially lethal inherited arrhythmia syndrome in which drug therapy is often ineffective. We discovered that flecainide prevents arrhythmias in a mouse model of CPVT by inhibiting cardiac ryanodine receptor–mediated Ca2+ release and thereby directly targeting the underlying molecular defect. Flecainide completely prevented CPVT in two human subjects who had remained highly symptomatic on conventional drug therapy, indicating that this currently available drug is a promising mechanism-based therapy for CPVT.
This is a preview of subscription content
Access options
Subscribe to Journal
Get full journal access for 1 year
$59.00
only $4.92 per issue
All prices are NET prices.
VAT will be added later in the checkout.
Tax calculation will be finalised during checkout.
Buy article
Get time limited or full article access on ReadCube.
$32.00
All prices are NET prices.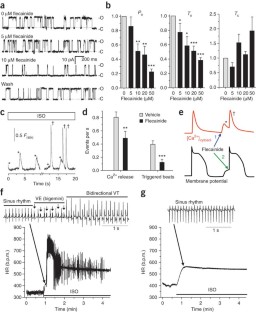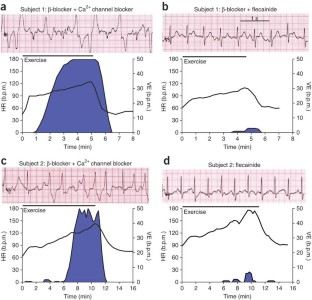 References
Leenhardt, A. et al. Circulation 91, 1512–1519 (1995).

Mohamed, U., Gollob, M.H., Gow, R.M. & Krahn, A.D. Heart Rhythm 3, 1486–1489 (2006).

Pizzale, S., Gollob, M.H., Gow, R. & Birnie, D.H. J. Cardiovasc. Electrophysiol. 9, 1319–1321 (2008).

Wilde, A.A. et al. N. Engl. J. Med. 358, 2024–2029 (2008).

Robinson, M., Park, J. & Raff, G. Heart Rhythm 4 Suppl, S100 (2007).

Priori, S.G. et al. Circulation 103, 196–200 (2001).

Lahat, H. et al. Am. J. Hum. Genet. 69, 1378–1384 (2001).

Jiang, D. et al. Proc. Natl. Acad. Sci. USA 101, 13062–13067 (2004).

di Barletta, M.R. et al. Circulation 114, 1012–1019 (2006).

Knollmann, B.C. et al. J. Clin. Invest. 116, 2510–2520 (2006).

Cerrone, M. et al. Circ. Res. 101, 1039–1048 (2007).

Venetucci, L.A., Trafford, A.W., Diaz, M.E., O'Neill, S.C. & Eisner, D.A. Circ. Res. 98, 1299–1305 (2006).

Gyorke, S., Lukyanenko, V. & Gyorke, I. J. Physiol. (Lond.) 500, 297–309 (1997).

Shoshan-Barmatz, V. & Zchut, S. J. Membr. Biol. 133, 171–181 (1993).

Marban, E., Robinson, S.W. & Wier, W.G. J. Clin. Invest. 78, 1185–1192 (1986).

Rosen, M.R. & Danilo, P. Jr. Circ. Res. 46, 117–124 (1980).

De Rosa, G. et al. Pediatr. Emerg. Care 20, 175–177 (2004).

Postma, A.V. et al. Circ. Res. 91, e21–e26 (2002).
Acknowledgements
We thank S. Huke and S. Kim for their assistance with the data analysis and the preparation of figures, P. Johnson for his assistance with the single-channel recording and N. Masalha and S.A. Clur for their assistance in patient care and management. This work was supported in part by the US National Institutes of Health grants HL88635 and HL71670 (to B.C.K.) and HL49989 (to D.M.R.), by the American Heart Association Established Investigator Award 0840071N (to B.C.K.), by the Australian Research Council grant DP0557780 (to D.R.L.), by an infrastructure grant from New South Wales Health through Hunter Medical Research Institute (to D.R.L.), by the Leducq Foundation grant 05CVD01 (to A.A.M.W. and D.M.R.) and by the Alberta Heart and Stroke Foundation Chair in Cardiovascular Medicine (to H.J.D.).
Supplementary information
About this article
Cite this article
Watanabe, H., Chopra, N., Laver, D. et al. Flecainide prevents catecholaminergic polymorphic ventricular tachycardia in mice and humans. Nat Med 15, 380–383 (2009). https://doi.org/10.1038/nm.1942
Received:

Accepted:

Published:

Issue Date:

DOI: https://doi.org/10.1038/nm.1942