Abstract
A long-term goal of cancer diagnosis is to develop tumor-imaging techniques that have sufficient specificity and sensitivity. To achieve this goal, minimizing the background signal originating from nontarget tissues is crucial. Here we achieve highly specific in vivo cancer visualization by using a newly designed targeted 'activatable' fluorescent imaging probe. This agent is activated after cellular internalization by sensing the pH change in the lysosome. Novel acidic pH–activatable probes based on the boron-dipyrromethene fluorophore were synthesized and then conjugated to a cancer-targeting monoclonal antibody. As proof of concept, ex vivo and in vivo imaging of human epidermal growth factor receptor type 2–positive lung cancer cells in mice was performed. The probe was highly specific for tumors with minimal background signal. Furthermore, because the acidic pH in lysosomes is maintained by the energy-consuming proton pump, only viable cancer cells were successfully visualized. The design concept can be widely adapted to cancer-specific, cell surface–targeting molecules that result in cellular internalization.
Your institute does not have access to this article
Relevant articles
Open Access articles citing this article.
Sarah J. Reiling

&

Petra Rohrbach

Malaria Journal Open Access 07 October 2019
Access options
Subscribe to Journal
Get full journal access for 1 year
$59.00
only $4.92 per issue
All prices are NET prices.
VAT will be added later in the checkout.
Tax calculation will be finalised during checkout.
Buy article
Get time limited or full article access on ReadCube.
$32.00
All prices are NET prices.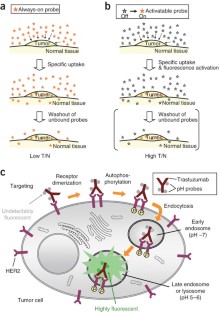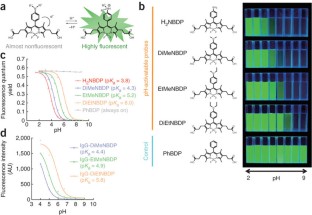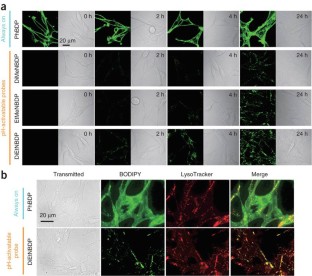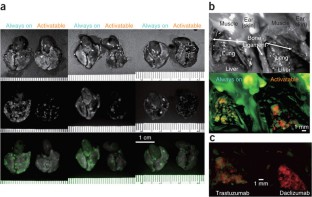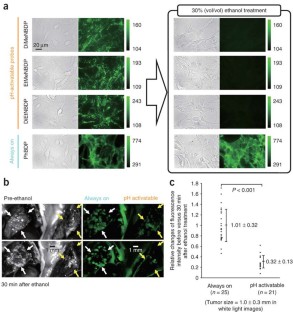 References
Yamamoto, N. et al. Cellular dynamics visualized in live cells in vitro and in vivo by differential dual-color nuclear-cytoplasmic fluorescent-protein expression. Cancer Res. 64, 4251–4256 (2004).

Yamauchi, K. et al. Induction of cancer metastasis by cyclophosphamide pretreatment of host mice: an opposite effect of chemotherapy. Cancer Res. 68, 516–520 (2008).

Yang, M., Jiang, P. & Hoffman, R.M. Whole-body subcellular multicolor imaging of tumor-host interaction and drug response in real time. Cancer Res. 67, 5195–5200 (2007).

Wu, A.M. & Senter, P.D. Arming antibodies: prospects and challenges for immunoconjugates. Nat. Biotechnol. 23, 1137–1146 (2005).

Yarden, Y. The EGFR family and its ligands in human cancer. signalling mechanisms and therapeutic opportunities. Eur. J. Cancer 37, Suppl 4, S3–S8 (2001).

Miura, T. et al. Rational design principle for modulating fluorescence properties of fluorescein-based probes by photoinduced electron transfer. J. Am. Chem. Soc. 125, 8666–8671 (2003).

Ueno, T. et al. Rational principles for modulating fluorescence properties of fluorescein. J. Am. Chem. Soc. 126, 14079–14085 (2004).

Tanaka, K. et al. Rational design of fluorescein-based fluorescence probes. Mechanism-based design of a maximum fluorescence probe for singlet oxygen. J. Am. Chem. Soc. 123, 2530–2536 (2001).

Urano, Y. et al. Evolution of fluorescein as a platform for finely tunable fluorescence probes. J. Am. Chem. Soc. 127, 4888–4894 (2005).

Gabe, Y., Urano, Y., Kikuchi, K., Kojima, H. & Nagano, T. Highly sensitive fluorescence probes for nitric oxide based on boron dipyrromethene chromophore - rational design of potentially useful bioimaging fluorescence probe. J. Am. Chem. Soc. 126, 3357–3367 (2004).

Queen, C. et al. A humanized antibody that binds to the interleukin 2 receptor. Proc. Natl. Acad. Sci. USA 86, 10029–10033 (1989).

Minta, A., Kao, J.P.Y. & Tsien, R.Y. Fluorescent indicators for cytosolic calcium based on rhodamine and fluorescein chromophores. J. Biol. Chem. 264, 8171–8178 (1989).

Weissleder, R., Tung, C.H., Mahmood, U. & Bogdanov, A. Jr. In vivo imaging of tumors with proteaseactivated near-infrared fluorescent probes. Nat. Biotechnol. 17, 375–378 (1999).

Maeda, H., Wu, J., Sawa, T., Matsumura, Y. & Hori, K. Tumor vascular permeability and the EPR effect in macromolecular therapeutics: a review. J. Control. Release 65, 271–284 (2000).

Paradiso, A.M., Tsien, R.Y. & Machen, T.E. Na+-H+ exchange in gastric glands as measured with a cytoplasmic-trapped, fluorescent ph indicator. Proc. Natl. Acad. Sci. USA 81, 7436–7440 (1984).

de Silva, A.P. et al. Signaling recognition events with fluorescent sensors and switches. Chem. Rev. 97, 1515–1566 (1997).

Kollmannsberger, M., Rurack, K., Resch-Genger, U. & Daub, J. Ultrafast charge transfer in amino-substituted boron dipyrromethene dyes and its inhibition by cation complexation: a new design concept for highly sensitive fluorescent probes. J. Phys. Chem. A 102, 10211–10220 (1998).

Adie, E.J. et al. A pH-sensitive fluor, CypHer™ 5, used to monitor agonist-induced G protein-coupled receptor internalization in live cells. Biotechniques 33, 1152–1154 (2002).

Nwokolo, C.U., Payne-James, J.J., Silk, D.B., Misiewicz, J.J. & Loft, D.E. Palliation of malignant dysphagia by ethanol induced tumour necrosis. Gut 35, 299–303 (1994).

Hama, Y. et al. A target-cell specific activatable fluorescence probe for in vivo molecular imaging of cancer based on a self-quenched avidin-rhodamine conjugate. Cancer Res. 67, 2791–2799 (2007).

Kamiya, M. et al. An enzymatically activated fluorescence probe for targeted tumor imaging. J. Am. Chem. Soc. 129, 3918–3929 (2007).

Hoffman, R.M. The multiple uses of fluorescent proteins to visualize cancer in vivo. Nat. Rev. Cancer 5, 796–806 (2005).

Baselga, J., Norton, L., Albanell, J., Kim, Y.M. & Mendelsohn, J. Recombinant humanized anti-HER2 antibody (Herceptin) enhances the antitumor activity of paclitaxel and doxorubicin against HER2/neu overexpressing human breast cancer xenografts. Cancer Res. 58, 2825–2831 (1998).

Gancberg, D. et al. Comparison of HER-2 status between primary breast cancer and corresponding distant metastatic sites. Ann. Oncol. 13, 1036–1043 (2002).

Zidan, J. et al. Comparison of HER-2 overexpression in primary breast cancer and metastatic sites and its effect on biological targeting therapy of metastatic disease. Br. J. Cancer 93, 552–556 (2005).

Mandler, R., Kobayashi, H., Hinson, E.R., Brechbiel, M.W. & Waldmann, T.A. Herceptin-geldanamycin immunoconjugates: pharmacokinetics, biodistribution, and enhanced antitumor activity. Cancer Res. 64, 1460–1467 (2004).

Hama, Y., Urano, Y., Koyama, Y., Choyke, P.L. & Kobayashi, H. D-galactose receptor–targeted in vivo spectral fluorescence imaging of peritoneal metastasis using galactosamin-conjugated serum albumin-rhodamine green. J. Biomed. Opt. 12, 051501 (2007).

Alencar, H. et al. Colonic adenocarcinomas: near-infrared microcatheter imaging of smart probes for early detection—study in mice. Radiology 244, 232–238 (2007).

De Grand, A.M. & Frangioni, J.V. An operational near-infrared fluorescence imaging system prototype for large animal surgery. Technol. Cancer Res. Treat. 2, 553–562 (2003).

Parker, C.A. & Rees, W.T. Correction of fluorescence spectra and measurement of fluorescence quantum efficiency. Analyst 85, 587–600 (1960).

Koyama, Y., Hama, Y., Urano, Y., Nguyen, D.M., Choyke, P.L. & Kobayashi, H. Spectral fluorescence molecular imaging of lung metastases targeting HER2/neu. Clin. Cancer Res. 13, 2936–2945 (2007).

Levenson, R.M. & Mansfield, J.R. Multispectral imaging in biology and medicine: slices of life. Cytometry A. 69, 748–758 (2006).
Acknowledgements
This study was supported in part by the Precursory Research for Embryonic Sciences and Technology from the Japan Science and Technology Agency, by research grants 19021010 and 19205021 to Y.U. and by the Intramural Research Program of the US National Institutes of Health, National Cancer Institute, Center for Cancer Research to Y.H., Y.K., T.B., P.L.C. and H.K.
Supplementary information
About this article
Cite this article
Urano, Y., Asanuma, D., Hama, Y. et al. Selective molecular imaging of viable cancer cells with pH-activatable fluorescence probes. Nat Med 15, 104–109 (2009). https://doi.org/10.1038/nm.1854
Received:

Accepted:

Published:

Issue Date:

DOI: https://doi.org/10.1038/nm.1854