US science faces a political storm, and early-career researchers should prepare themselves.
Since the US presidential election last November, scientists have been on edge. Researchers around the world worry that the new administration's policies could undermine US researchers and agencies that have long served as global leaders on issues such as climate change. Many fear, too, that steps such as barring travellers from Muslim-majority countries from visiting the United States could create roadblocks to international scientific collaboration.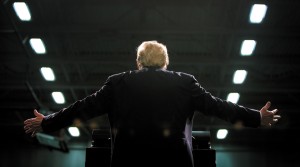 There are no clear solutions; four months into Donald Trump's presidency, the issues continue to evolve. But one thing is clear: many early-career researchers are feeling nervous about their chosen vocation. On top of the usual challenges, these researchers face an uncertain funding landscape, the potential loss of access to government-collected data and — if some people's worst fears are realized — political interference in the scientific process.
Some scientists' response has been a burst of outreach and activism. But researchers can also navigate the changing scientific landscape by keeping informed about the administration's actions and taking precautions with cyber-security and data management.
Most significantly, many senior researchers say, their junior colleagues should remember that, regardless of the election's effects, science itself continues to play a crucial part in addressing society's pressing challenges.
In the weeks before Trump took office in January 2017, researchers worldwide began to worry about losing a fundamental ingredient for science: data. US government agencies collect and distribute data on everything from global temperature to air quality, which many early-career researchers rely on for their work. Past administrations that have had anti-science leanings have restricted access to government-sponsored research and libraries, often citing the need to cut costs.
For instance, libraries at the US Environmental Protection Agency (EPA) began closing during George W. Bush's tenure. And in 2014, under Stephen Harper's administration in Canada, officials closed libraries and reportedly heaved reams of paperwork — including many undigitized historical environmental studies — into rubbish bins. "It was a huge loss," says Wendy Palen, an ecologist at Simon Fraser University in Burnaby, Canada.
After Trump's election, the first troubling signs were changes on the website of Wisconsin's state natural-resources department late last year. Language attributing climate change to anthropogenic greenhouse-gas emissions was replaced with text saying that Earth's climate has always varied, and that researchers are still debating the cause of current changes. "That was a bellwether," says Bethany Wiggin, director of the environmental-humanities programme at the University of Pennsylvania in Philadelphia. She started to wonder whether more changes might be on the way.
boxed-textSo Wiggin and her colleagues sprang into action, launching DataRefuge (www.datarefuge.org) to preserve federal data. At a series of data-rescue events beginning in December, researchers and hackers downloaded and archived data collected by federal agencies. They have put particular emphasis on climate and environmental data, which they think are most likely to disappear. The data are stored on Amazon web services and are freely accessible.
Already, there have been widespread changes to government websites, and a few reports of links going dead. In a March article in the UK newspaper The Guardian, Victoria Herrmann, president and managing director of the non-profit Arctic Institute in Washington DC, wrote that many websites hosting Arctic data sets and policies have gone dark. The US Department of Agriculture (USDA) has also removed tens of thousands of records on animals held at biomedical labs and facilities from its website.
Wiggin is not aware of any other large data sets disappearing yet. "I have always thought of our project as an insurance policy," she says. However, she adds, it's also an opportunity to tackle the necessary task of making federal data easier to access and use.
The effort is ongoing, and researchers can help by nominating important data sets to save or organizing data-rescue events themselves. Wiggin encourages researchers to archive data independently and to let her team know at go.nature.com/2onupky.
But some scientists are concerned that they stand to lose more than access to data — they fear losing the ability to collect data altogether. They worry, for instance, that Trump's budget proposal in early March to slash funding for federal agencies that do climate research could hamper their ability to continue monitoring Earth's climate and greenhouse-gas concentrations, using satellites and measurement stations around the globe. Ari Asmi, an atmospheric scientist at the University of Helsinki, says that this would be problematic not only for US researchers but also for those around the world. "In environmental science, the problems are global," he says. "If you are suddenly losing pieces of the global observation network, it affects everything."
Other countries have their own monitoring systems and satellites, but many were designed to be complementary to the United States' investments, Asmi says. He also fears that shutting down networks could mean permanently losing experienced technicians and scientists.
Asmi and Werner Kutsch, who oversees the Integrated Carbon Observation System in Helsinki, are convening a session at the annual conference of the European Geosciences Union in Vienna this week to discuss what researchers can do when observation networks face potential cuts — a threat that has arisen in the United States and Australia, but that could happen in any nation in which politicians question the value of long-term monitoring.
Some are concerned that the new administration and Congress could go beyond removing data and instead actively interfere with the scientific process — which happened in Canada under Harper's leadership. Then, government scientists were prevented from talking to the press, attending conferences or engaging in other everyday research activities. A 2013 survey found that 90% of Canadian government scientists felt they could not speak freely, even on issues of public health and safety, and that 86% feared retribution if they did.
In the beginning, it seemed that these instances of interference might have been isolated events, says Palen, who wrote an opinion piece for The New York Times in February about what US scientists can learn from the experiences of their Canadian colleagues. "It took a while for those stories to come out in a way that set off the alarm bells," she says, adding that scientists should be on guard now.
Already, a troubling incident occurred when Trump's transition team requested a list of employees at the Department of Energy who had previously worked on climate change (the agency did not provide names and the request was dropped), and leaked memos in late January suggested that employees at the EPA and USDA had been instructed not to talk to the media or issue press releases (the agency later called this a misunderstanding).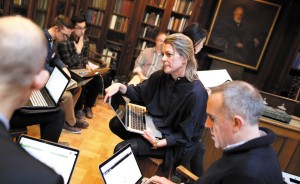 Such actions could have the greatest impact on federal scientists, but academics might not be immune to political pressures. For instance, the US House of Representatives' Committee on Science, Space, and Technology has scrutinized federally funded research on climate change, social science and other subjects. And in late March, the committee held a hearing questioning the methods used in climate research that attributes current warming chiefly to human activities.
Palen says that academic scientists have a responsibility to speak out on behalf of colleagues at government agencies who don't have that luxury. The Union of Concerned Scientists (UCS), a non-profit science advocacy group based in Cambridge, Massachusetts, is inviting researchers to join a watchdog programme to defend science and support evidence-based policymaking.
The UCS has also started tracking cases of potential political interference in science, from large-scale efforts to block scientists from doing their work to minor events such as suspicious delays in publishing research. The organization has set up a website where scientists can safely and anonymously report incidents (go.nature.com/2ougnnp).
"We're not looking for a couple of Erin Brockovich-style whistleblowers," says Michael Halpern, deputy director of the centre for science and democracy at the UCS. "We're looking for people who are seeing something that's not quite right and want to report it, or want advice on what to do about it." Halpern also says that scientists shouldn't self-censor. "All scientists, including federal employees, should do everything they would normally do until instructed otherwise," he says.
Scientists who want to contact the UCS can set up a phone call or a personal meeting, Halpern says. Or they can use secure communication services such as the text-messaging service Signal. He recommends that everyone — including federal and academic scientists, not just those who might be targets for governments or hackers — use encrypted text and e-mail services. Such services can also protect scientists' data and communications from prying eyes (see 'On lockdown').
We're looking for people who are seeing something that's not quite right and want to report it.
"Scientists, in many ways, over the centuries, have always been a bit of a persecuted group," says Andy Yen, who spent several years at CERN, Europe's particle physics laboratory near Geneva in Switzerland. Imagine, he says, if the Church had gained access to Galileo's or Darwin's correspondence as they worked on their revolutionary ideas about the Universe and evolution. "Those were things that wouldn't have come to pass had the prevailing governments of those times had their way," he says.
That rationale is part of what drove him and a team of fellow physicists to launch ProtonMail, an encrypted e-mail service, in 2014. "If you want to search for the pure truth, it's very important to be able to conduct your scientific enquiry without concerns of government censorship or any sorts of government suppression of your work," Yen says. The service automatically encrypts and decodes e-mails on users' computers, meaning that there is no central server storing message content that could be vulnerable to hacking.
Using a secure e-mail service is not necessarily secretive or at odds with open science, Yen points out. Scientists need to be able to control the stage at which the public sees their data, and to make sure any sensitive or personal information is kept private. "It's one thing to keep your data secure, but whether or not you share your data — that's something that's completely different," he says.
Perhaps the most pressing concern for early-career researchers is funding. Many postdoctoral researchers in the United States are funded by federal grants to university researchers, or directly through federal agencies such as the US National Institutes of Health and the EPA, which could face major cuts. That's prompting some scientists to look elsewhere for money. Joy Buongiorno, a graduate student at the University of Tennessee in Knoxville, studies how Arctic microbes are responding to climate change, and her lab gets funding from US philanthropic foundations, including the Alfred P. Sloan Foundation and the Simons Foundation. These and other private organizations offer early-career fellowships and other awards. "They are all about supporting basic-science research," Buongiorno says. "I'm going to look to them if I decide to stay in research."
Notably, however, Trump did sign two bills into law in February directing federal science agencies to recruit and support more women in science. And, besides, concerns about funding are a perennial worry in academic science, says Casey Theriot, an infectious-disease researcher at North Carolina State University in Raleigh. Researchers have always had to be creative in sourcing funds, and she notes that large companies such as pharmaceutical manufacturers can also provide support for research.
But Theriot still worries that severe budget cuts could create an atmosphere that stifles scientific progress. "If the funding climate is not good, I think it's going to prevent people from taking risks," she says.
That prospect troubles many researchers, who say that good science remains crucial to the future of humanity and the planet. "We need the best and brightest more than ever to be committed to a scientific career," Palen says.
Kutsch counsels that early-career scientists just need to find a way to hold on until the pendulum swings back in the other direction. "A presidential term is much shorter than a scientific career." he says. "There will be other presidents coming and, with them, new opportunities."
Related links
Related links
Related links in Nature Research
Related external links
About this article
Cite this article
Rosen, J. Politics: Turbulence ahead. Nature 544, 509–511 (2017). https://doi.org/10.1038/nj7651-509a
Published:

Issue Date:

DOI: https://doi.org/10.1038/nj7651-509a