Government backs plan to rebuild 'shabby' research centre.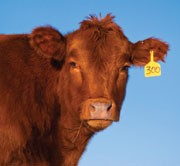 The laboratory at the centre of the UK foot-and-mouth disease outbreak in 2007 is getting a £100-million (US$165-million) renovation aimed at attracting scientists back to the Institute for Animal Health (IAH).
The new facilities at the Pirbright Laboratory, where the IAH studies how to control and treat infectious diseases in animals, are due for completion in 2013.
The lab, shared by the IAH and vaccine manufacturer Merial, was linked to two foot-and-mouth outbreaks (see Nature 449, 259–260; 2007). Reports both before and afterwards called the lab "shabby", "substandard" and "dilapidated".
Revamping it and improving biosecurity will make it easier to recruit and retain quality scientists, says science minister Paul Drayson. The renovation is being funded by the new Department for Business, Innovation and Skills.
Related links
Related links
Related links in Nature Research
Related external links
About this article
Cite this article
UK lab to get new digs. Nature 460, 1047 (2009) doi:10.1038/nj7258-1047c
Comments
By submitting a comment you agree to abide by our Terms and Community Guidelines. If you find something abusive or that does not comply with our terms or guidelines please flag it as inappropriate.