Abstract
CD160, a glycosylphosphatidylinositol-anchored member of the immunoglobulin superfamily, is expressed on both cytolytic lymphocytes and some unstimulated CD4+ T cells. Here we show that CD160 expression was increased after activation of human CD4+ T cells and that crosslinking CD160 with monoclonal antibody strongly inhibited CD3- and CD28-mediated activation. We found that herpesvirus entry mediator (HVEM) was a ligand of CD160 that acted as a 'bidirectional switch' for T cell activation, producing a positive or negative outcome depending on the engagement of HVEM by CD160 and known HVEM ligands such as B and T lymphocyte attenuator (BTLA) and the T lymphocyte receptor LIGHT. Inhibition of CD4+ T cell activation by HVEM-transfected cells was dependent on CD160 and BTLA; when the cysteine-rich domain 1 of HVEM was deleted, this inhibition was lost, resulting in strong T cell activation. CD160 thus serves as a negative regulator of CD4+ T cell activation through its interaction with HVEM.
This is a preview of subscription content
Access options
Subscribe to Journal
Get full journal access for 1 year
$59.00
only $4.92 per issue
All prices are NET prices.
VAT will be added later in the checkout.
Tax calculation will be finalised during checkout.
Buy article
Get time limited or full article access on ReadCube.
$32.00
All prices are NET prices.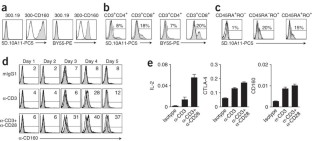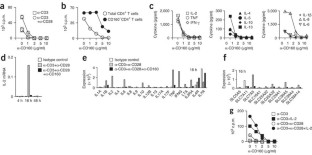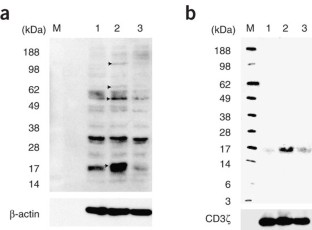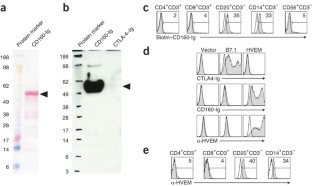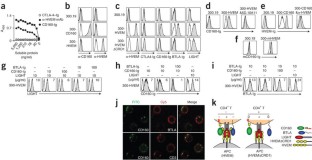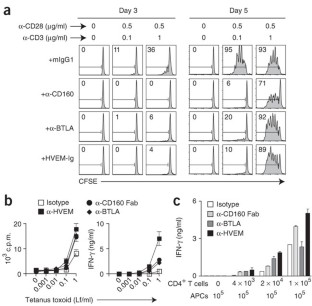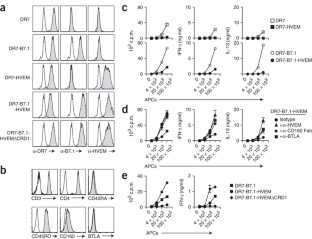 References
Bensussan, A. et al. BY55 monoclonal antibody delineates within human cord blood and bone marrow lymphocytes distinct cell subsets mediating cytotoxic activity. Proc. Natl. Acad. Sci. USA 91, 9136–9140 (1994).

Maiza, H. et al. A novel 80-kD cell surface structure identifies human circulating lymphocytes with natural killer activity. J. Exp. Med. 178, 1121–1126 (1993).

Anumanthan, A. et al. Cloning of BY55, a novel Ig superfamily member expressed on NK cells, CTL, and intestinal intraepithelial lymphocytes. J. Immunol. 161, 2780–2790 (1998).

Maeda, M. et al. Murine CD160, Ig-like receptor on NK cells and NKT cells, recognizes classical and nonclassical MHC class I and regulates NK cell activation. J. Immunol. 175, 4426–4432 (2005).

Agrawal, S. et al. Cutting edge: MHC class I triggering by a novel cell surface ligand costimulates proliferation of activated human T cells. J. Immunol. 162, 1223–1226 (1999).

Barakonyi, A. et al. Cutting edge: engagement of CD160 by its HLA-C physiological ligand triggers a unique cytokine profile secretion in the cytotoxic peripheral blood NK cell subset. J. Immunol. 173, 5349–5354 (2004).

Le Bouteiller, P. et al. Engagement of CD160 receptor by HLA-C is a triggering mechanism used by circulating natural killer (NK) cells to mediate cytotoxicity. Proc. Natl. Acad. Sci. USA 99, 16963–16968 (2002).

Frauwirth, K.A. et al. The CD28 signaling pathway regulates glucose metabolism. Immunity 16, 769–777 (2002).

Stefanova, I., Horejsi, V., Ansotegui, I.J., Knapp, W. & Stockinger, H. GPI-anchored cell-surface molecules complexed to protein tyrosine kinases. Science 254, 1016–1019 (1991).

Baniyash, M., Garcia-Morales, P., Luong, E., Samelson, L.E. & Klausner, R.D. The T cell antigen receptor zeta chain is tyrosine phosphorylated upon activation. J. Biol. Chem. 263, 18225–18230 (1988).

Freeman, G.J. et al. Murine B7–2, an alternative CTLA-4 counter-receptor that costimulates T cell proliferation and interleukin 2 production. J. Exp. Med. 178, 2185–2192 (1993).

Seed, B. & Aruffo, A. Molecular cloning of the CD2 antigen, the T cell erythrocyte receptor, by a rapid immunoselection procedure. Proc. Natl. Acad. Sci. USA 84, 3365–3369 (1987).

Montgomery, R.I., Warner, M.S., Lum, B.J. & Spear, P.G. Herpes simplex virus-1 entry into cells mediated by a novel member of the TNF/NGF receptor family. Cell 87, 427–436 (1996).

Bodmer, J.L., Schneider, P. & Tschopp, J. The molecular architecture of the TNF superfamily. Trends Biochem. Sci. 27, 19–26 (2002).

Sarrias, M.R. et al. The three HveA receptor ligands, gD, LT-α and LIGHT bind to distinct sites on HveA. Mol. Immunol. 37, 665–673 (2000).

Compaan, D.M. et al. Attenuating lymphocyte activity: the crystal structure of the BTLA-HVEM complex. J. Biol. Chem. 280, 39553–39561 (2005).

Sedy, J.R. et al. B and T lymphocyte attenuator regulates T cell activation through interaction with herpesvirus entry mediator. Nat. Immunol. 6, 90–98 (2005).

Wherry, E.J. et al. Molecular signature of CD8 T cell exhaustion during chronic viral infection. Immunity 27, 670–684 (2007).

Morgan, B.P., van den Berg, C.W., Davies, E.V., Hallett, M.B. & Horejsi, V. Cross-linking of CD59 and of other glycosyl phosphatidylinositol-anchored molecules on neutrophils triggers cell activation via tyrosine kinase. Eur. J. Immunol. 23, 2841–2850 (1993).

Watanabe, N. et al. BTLA is a lymphocyte inhibitory receptor with similarities to CTLA-4 and PD-1. Nat. Immunol. 4, 670–679 (2003).

Murphy, K.M., Nelson, C.A. & Sedy, J.R. Balancing co-stimulation and inhibition with BTLA and HVEM. Nat. Rev. Immunol. 6, 671–681 (2006).

Cheung, T.C. et al. Evolutionarily divergent herpesviruses modulate T cell activation by targeting the herpesvirus entry mediator cosignaling pathway. Proc. Natl. Acad. Sci. USA 102, 13218–13223 (2005).

Gonzalez, L.C. et al. A coreceptor interaction between the CD28 and TNF receptor family members B and T lymphocyte attenuator and herpesvirus entry mediator. Proc. Natl. Acad. Sci. USA 102, 1116–1121 (2005).

Harrop, J.A. et al. Herpesvirus entry mediator ligand (HVEM-L), a novel ligand for HVEM/TR2, stimulates proliferation of T cells and inhibits HT29 cell growth. J. Biol. Chem. 273, 27548–27556 (1998).

Tamada, K. et al. Modulation of T cell-mediated immunity in tumor and graft-versus-host disease models through the LIGHT co-stimulatory pathway. Nat. Med. 6, 283–289 (2000).

Tamada, K. et al. LIGHT, a TNF-like molecule, costimulates T cell proliferation and is required for dendritic cell–mediated allogeneic T cell response. J. Immunol. 164, 4105–4110 (2000).

Wang, Y. et al. The role of herpesvirus entry mediator as a negative regulator of T cell–mediated responses. J. Clin. Invest. 115, 711–717 (2005).

Lasaro, M.O., Diniz, M.O., Reyes-Sandoval, A., Ertl, H.C. & Ferreira, L.C. Anti-tumor DNA vaccines based on the expression of human papillomavirus-16 E6/E7 oncoproteins genetically fused with the glycoprotein D from herpes simplex virus-1. Microbes Infect. 7, 1541–1550 (2005).

Granger, S.W. & Rickert, S. LIGHT-HVEM signaling and the regulation of T cell–mediated immunity. Cytokine Growth Factor Rev. 14, 289–296 (2003).

Gill, R.M., Ni, J. & Hunt, J.S. Differential expression of LIGHT and its receptors in human placental villi and amniochorion membranes. Am. J. Pathol. 161, 2011–2017 (2002).

Chang, Y.H., Hsieh, S.L., Chao, Y., Chou, Y.C. & Lin, W.W. Proinflammatory effects of LIGHT through HVEM and LTβR interactions in cultured human umbilical vein endothelial cells. J. Biomed. Sci. 12, 363–375 (2005).

Abecassis, S. et al. Identification of a novel CD160+CD4+ T-lymphocyte subset in the skin: a possible role for CD160 in skin inflammation. J. Invest. Dermatol. 127, 1161–1166 (2007).

Zhu, B., Cai, G., Hall, E.O. & Freeman, G.J. In-Fusion assembly: seamless engineering of multidomain fusion proteins, modular vectors, and mutations. Biotechniques 43, 354–359 (2007).

Freeman, G.J. et al. B7, a new member of the Ig superfamily with unique expression on activated and neoplastic B cells. J. Immunol. 143, 2714–2722 (1989).

Boussiotis, V.A., Freeman, G.J., Gray, G., Gribben, J. & Nadler, L.M. B7 but not intercellular adhesion molecule-1 costimulation prevents the induction of human alloantigen-specific tolerance. J. Exp. Med. 178, 1753–1763 (1993).
Acknowledgements
Confocal images were obtained by T. Hickman (Brigham and Women's Confocal Core Facility). Supported by the National Institutes of Health (AI39671 and AI56299 to G.J.F.).
Ethics declarations
Competing interests
A.A. and G.J.F. have applied for a US patent concerning the CD160 genes and the uses thereof.
Supplementary information
Supplementary Figures 1–3, Supplementary Table 1 and Supplementary Methods (PDF 973 kb)
About this article
Cite this article
Cai, G., Anumanthan, A., Brown, J. et al. CD160 inhibits activation of human CD4+ T cells through interaction with herpesvirus entry mediator. Nat Immunol 9, 176–185 (2008). https://doi.org/10.1038/ni1554
Received:

Accepted:

Published:

Issue Date:

DOI: https://doi.org/10.1038/ni1554