Abstract
B cell differentiation is controlled by a complex network of lineage-restricted transcription factors. How perturbations to this network alter B cell fate remains poorly understood. Here we show that classical Hodgkin lymphoma tumor cells, which originate from mature B cells, have lost the B cell phenotype as a result of aberrant expression of transcriptional regulators. The B cell–specific transcription factor program was disrupted by overexpression of the helix-loop-helix proteins ABF-1 and Id2. Both factors antagonized the function of the B cell–determining transcription factor E2A. As a result, expression of genes specific to B cells was lost and expression of genes not normally associated with the B lineage was upregulated. These data demonstrate the plasticity of mature human lymphoid cells and offer an explanation for the unique classical Hodgkin lymphoma phenotype.
* NOTE: In the version of this article initially published online, the directions to the panels for Figure 6e were incorrect in the legend and text. The legend for this panel should begin as follows: "Immunoblot (top), EMSA (bottom left) and RT-PCR (bottom right)…." The accompanying text should read as follows: "Transfection of L428 cells with a combination of these siRNAs efficiently reduced ABF-1 protein expression (Fig. 6e, top) and resulted in a substantial loss of E2A–ABF-1 DNA-binding activity (Fig. 6e, bottom left). After reduction of ABF-1 expression, we noted considerable downregulation of CSF1R and TCF7 expression and a moderate suppression of GATA3 expression (Fig. 6e, bottom right)." The error has been corrected for the HTML and print versions of the article.
Access options
Subscribe to Journal
Get full journal access for 1 year
$59.00
only $4.92 per issue
All prices are NET prices.
VAT will be added later in the checkout.
Tax calculation will be finalised during checkout.
Rent or Buy article
Get time limited or full article access on ReadCube.
from$8.99
All prices are NET prices.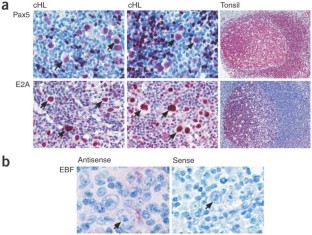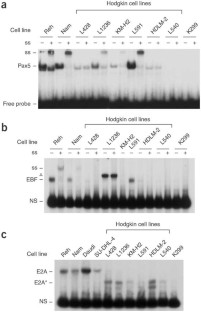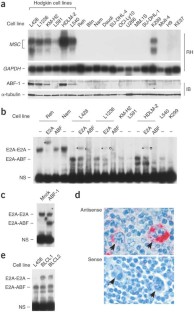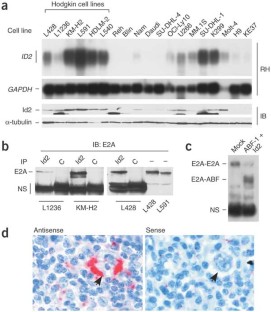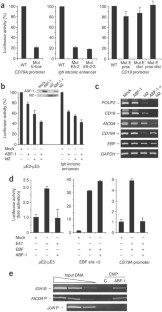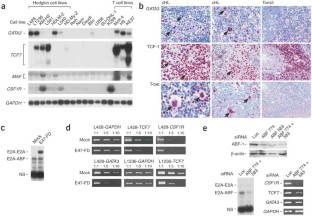 Accession codes
Accessions
GenBank/EMBL/DDBJ
References
1

Busslinger, M. Transcriptional control of early B cell development. Annu. Rev. Immunol. 22, 55–79 (2004).

2

Kee, B.L., Quong, M.W. & Murre, C. E2A proteins: essential regulators at multiple stages of B-cell development. Immunol. Rev. 175, 138–149 (2000).

3

Zhuang, Y., Soriano, P. & Weintraub, H. The helix-loop-helix gene E2A is required for B cell formation. Cell 79, 875–884 (1994).

4

Lin, H. & Grosschedl, R. Failure of B-cell differentiation in mice lacking the transcription factor EBF. Nature 376, 263–267 (1995).

5

Sigvardsson, M. Overlapping expression of early B-cell factor and basic helix-loop-helix proteins as a mechanism to dictate B-lineage-specific activity of the λ5 promoter. Mol. Cell. Biol. 20, 3640–3654 (2000).

6

Shen, C.P. & Kadesch, T. B-cell-specific DNA binding by an E47 homodimer. Mol. Cell. Biol. 15, 4518–4524 (1995).

7

Rivera, R. & Murre, C. The regulation and function of the Id proteins in lymphocyte development. Oncogene 20, 8308–8316 (2001).

8

Sun, X.H. Constitutive expression of the Id1 gene impairs mouse B cell development. Cell 79, 893–900 (1994).

9

Sayegh, C.E., Quong, M.W., Agata, Y. & Murre, C. E-proteins directly regulate expression of activation-induced deaminase in mature B cells. Nat. Immunol. 4, 586–593 (2003).

10

Gonda, H. et al. The balance between Pax5 and Id2 activities is the key to AID gene expression. J. Exp. Med. 198, 1427–1437 (2003).

11

Becker-Herman, S., Lantner, F. & Shachar, I. Id2 negatively regulates B cell differentiation in the spleen. J. Immunol. 168, 5507–5513 (2002).

12

Roberts, E.C., Deed, R.W., Inoue, T., Norton, J.D. & Sharrocks, A.D. Id helix-loop-helix proteins antagonize pax transcription factor activity by inhibiting DNA binding. Mol. Cell. Biol. 21, 524–533 (2001).

13

Massari, M.E. et al. Characterization of ABF-1, a novel basic helix-loop-helix transcription factor expressed in activated B lymphocytes. Mol. Cell. Biol. 18, 3130–3139 (1998).

14

Knight, J.C., Keating, B.J. & Kwiatkowski, D.P. Allele-specific repression of lymphotoxin-α by activated B cell factor-1. Nat. Genet. 36, 394–399 (2004).

15

Horcher, M., Souabni, A. & Busslinger, M. Pax5/BSAP maintains the identity of B cells in late B lymphopoiesis. Immunity 14, 779–790 (2001).

16

Mikkola, I., Heavey, B., Horcher, M. & Busslinger, M. Reversion of B cell commitment upon loss of Pax5 expression. Science 297, 110–113 (2002).

17

Nutt, S.L., Heavey, B., Rolink, A.G. & Busslinger, M. Commitment to the B-lymphoid lineage depends on the transcription factor Pax5. Nature 401, 556–562 (1999).

18

Heavey, B., Charalambous, C., Cobaleda, C. & Busslinger, M. Myeloid lineage switch of Pax5 mutant but not wild-type B cell progenitors by C/EBPα and GATA factors. EMBO J. 22, 3887–3897 (2003).

19

Ikawa, T., Kawamoto, H., Wright, L.Y. & Murre, C. Long-term cultured E2A-deficient hematopoietic progenitor cells are pluripotent. Immunity 20, 349–360 (2004).

20

Xie, H., Ye, M., Feng, R. & Graf, T. Stepwise reprogramming of B cells into macrophages. Cell 117, 663–676 (2004).

21

Küppers, R., Schwering, I., Bräuninger, A., Rajewsky, K. & Hansmann, M.L. Biology of Hodgkin's lymphoma. Ann. Oncol. 13 (suppl. 1), 11–18 (2002).

22

Schwering, I. et al. Loss of the B-lineage-specific gene expression program in Hodgkin and Reed-Sternberg cells of Hodgkin lymphoma. Blood 101, 1505–1512 (2003).

23

Hinz, M. et al. Nuclear factor κB-dependent gene expression profiling of Hodgkin's disease tumor cells, pathogenetic significance, and link to constitutive signal transducer and activator of transcription 5a activity. J. Exp. Med. 196, 605–617 (2002).

24

Mathas, S. et al. Aberrantly expressed c-Jun and JunB are a hallmark of Hodgkin lymphoma cells, stimulate proliferation and synergize with NF-κB. EMBO J. 21, 4104–4113 (2002).

25

Jundt, F. et al. Activated Notch1 signaling promotes tumor cell proliferation and survival in Hodgkin and anaplastic large cell lymphoma. Blood 99, 3398–3403 (2002).

26

Mathas, S. et al. c-FLIP mediates resistance of Hodgkin/Reed-Sternberg cells to death receptor-induced apoptosis. J. Exp. Med. 199, 1041–1052 (2004).

27

Ushmorov, A. et al. Epigenetic silencing of the immunoglobulin heavy chain gene in classical Hodgkin lymphoma-derived cell lines contributes to the loss of immunoglobulin expression. Blood 104, 3326–3334 (2004).

28

Hertel, C.B., Zhou, X.G., Hamilton-Dutoit, S.J. & Junker, S. Loss of B cell identity correlates with loss of B cell-specific transcription factors in Hodgkin/Reed-Sternberg cells of classical Hodgkin lymphoma. Oncogene 21, 4908–4920 (2002).

29

Jundt, F. et al. Loss of PU.1 expression is associated with defective immunoglobulin transcription in Hodgkin and Reed-Sternberg cells of classical Hodgkin disease. Blood 99, 3060–3062 (2002).

30

Stein, H. et al. Down-regulation of BOB.1/OBF.1 and Oct2 in classical Hodgkin disease but not in lymphocyte predominant Hodgkin disease correlates with immunoglobulin transcription. Blood 97, 496–501 (2001).

31

Li, R., Pei, H. & Watson, D.K. Regulation of Ets function by protein-protein interactions. Oncogene 19, 6514–6523 (2000).

32

Sigvardsson, M. et al. Early B-cell factor, E2A, and Pax-5 cooperate to activate the early B cell-specific mb-1 promoter. Mol. Cell. Biol. 22, 8539–8551 (2002).

33

Dorfman, D.M., Hwang, E.S., Shahsafaei, A. & Glimcher, L.H. T-bet, a T cell-associated transcription factor, is expressed in Hodgkin's lymphoma. Hum. Pathol. 36, 10–15 (2005).

34

Sigvardsson, M., O'Riordan, M. & Grosschedl, R. EBF and E47 collaborate to induce expression of the endogenous immunoglobulin surrogate light chain genes. Immunity 7, 25–36 (1997).

35

Doerr, J.R. et al. Patterned CpG methylation of silenced B cell gene promoters in classical Hodgkin lymphoma-derived and primary effusion lymphoma cell lines. J. Mol. Biol. 350, 631–640 (2005).

36

Young, L.S. & Murray, P.G. Epstein-Barr virus and oncogenesis: from latent genes to tumours. Oncogene 22, 5108–5121 (2003).

37

Leithäuser, F., Bäuerle, M., Huynh, M.Q. & Möller, P. Isotype-switched immunoglobulin genes with a high load of somatic hypermutation and lack of ongoing mutational activity are prevalent in mediastinal B-cell lymphoma. Blood 98, 2762–2770 (2001).

38

Arguello, M. et al. Disruption of the B-cell specific transcriptional program in HHV-8 associated primary effusion lymphoma cell lines. Oncogene 22, 964–973 (2003).

39

Rosenwald, A. et al. Molecular diagnosis of primary mediastinal B cell lymphoma identifies a clinically favorable subgroup of diffuse large B cell lymphoma related to Hodgkin lymphoma. J. Exp. Med. 198, 851–862 (2003).

40

O'Neil, J., Shank, J., Cusson, N., Murre, C. & Kelliher, M. TAL1/SCL induces leukemia by inhibiting the transcriptional activity of E47/HEB. Cancer Cell 5, 587–596 (2004).

41

Herblot, S., Aplan, P.D. & Hoang, T. Gradient of E2A activity in B-cell development. Mol. Cell. Biol. 22, 886–900 (2002).

42

Honda, H. et al. Expression of E2A-HLF chimeric protein induced T-cell apoptosis, B-cell maturation arrest, and development of acute lymphoblastic leukemia. Blood 93, 2780–2790 (1999).

43

Murphy, K.M. & Reiner, S.L. The lineage decisions of helper T cells. Nat. Rev. Immunol. 2, 933–944 (2002).

44

Borzillo, G.V., Ashmun, R.A. & Sherr, C.J. Macrophage lineage switching of murine early pre-B lymphoid cells expressing transduced fms genes. Mol. Cell. Biol. 10, 2703–2714 (1990).

45

Nishimori, H. et al. The Id2 gene is a novel target of transcriptional activation by EWS-ETS fusion proteins in Ewing family tumors. Oncogene 21, 8302–8309 (2002).

46

Gisler, R., Jacobsen, S.E. & Sigvardsson, M. Cloning of human early B-cell factor and identification of target genes suggest a conserved role in B-cell development in man and mouse. Blood 96, 1457–1464 (2000).

47

Zhao, F., McCarrick-Walmsley, R., Akerblad, P., Sigvardsson, M. & Kadesch, T. Inhibition of p300/CBP by early B-cell factor. Mol. Cell. Biol. 23, 3837–3846 (2003).

48

Brummelkamp, T.R., Bernards, R. & Agami, R. A system for stable expression of short interfering RNAs in mammalian cells. Science 296, 550–553 (2002).

49

Jogi, A., Persson, P., Grynfeld, A., Pahlman, S. & Axelson, H. Modulation of basic helix-loop-helix transcription complex formation by Id proteins during neuronal differentiation. J. Biol. Chem. 277, 9118–9126 (2002).
Acknowledgements
We thank S. Meier for technical assistance; P. Rahn for cell sorting; A. Kather for the generation of BLCL cell lines; T. Tokino for the ID2 promoter reporter plasmids; C. Murre for the ABF-1–specific antiserum; and R. Agami for pSUPER siRNA expression plasmid. This work was supported by the Deutsche Forschungsgemeinschaft (Klinische Forschergruppe KFO 105), the Berliner Krebsgesellschaft, the Deutsche Krebshilfe and the National Genome Research Network.
Ethics declarations
Competing interests
The authors declare no competing financial interests.
Supplementary information
About this article
Cite this article
Mathas, S., Janz, M., Hummel, F. et al. Intrinsic inhibition of transcription factor E2A by HLH proteins ABF-1 and Id2 mediates reprogramming of neoplastic B cells in Hodgkin lymphoma. Nat Immunol 7, 207–215 (2006). https://doi.org/10.1038/ni1285
Received:

Accepted:

Published:

Issue Date:
Further reading
Joseph M. Connors

,

Wendy Cozen

,

Christian Steidl

,

Antonino Carbone

,

Richard T. Hoppe

,

Hans-Henning Flechtner

&

Nancy L. Bartlett

Nature Reviews Disease Primers (2020)

Jing Yu

,

Yijia Liu

,

Wei Zhang

,

Xue Yang

,

Wanqi Tang

,

Huaping Liang

,

Suiyan Li

,

Wenda Gao

&

Jun Yan

Inflammation (2020)

Shu Zhang

,

Mingfa Li

,

Hongbin Ji

&

Zhaoyuan Fang

BMC Genomics (2018)