Lymphocyte memory—is there a requirement for the continual presence of antigen or not? In a recent issue of Nature an elegant series of genetic manipulations from Maruyama et al. makes a strong case for the persistence of B cell memory in the absence of antigen.
Access options
Subscribe to Journal
Get full journal access for 1 year
$79.00
only $6.58 per issue
All prices are NET prices.
VAT will be added later in the checkout.
Tax calculation will be finalised during checkout.
Buy article
Get time limited or full article access on ReadCube.
$32.00
All prices are NET prices.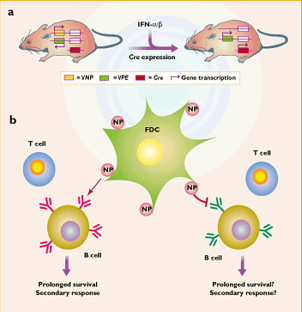 References
Maruyama, M., Lam, K. -P. & Rajewsky, K. Nature 407, 636–642 (2000).

Kelsoe, G. Immunity 4, 107–111 (1996).

Ahmed, R. & Gray, D. I Science 272, 54–60 (1996).

McHeyzer-Williams, M. G. & Ahmed, R. 11, 172–179 (1999).

Lam, K. P., Kuhn, R. & Rajewsky, K. Cell 90, 1073–1083 (1997).

Takahashi, Y., Dutta, P. R., Cerasoli, D. M. & Kelsoe, G. J. Exp. Med. 187, 885–895 (1998)
About this article
Cite this article
Kelsoe, G. Remembrance of things past. Nat Immunol 1, 375–376 (2000). https://doi.org/10.1038/80811
Issue Date:

DOI: https://doi.org/10.1038/80811