Abstract
Adjuvanted vaccines afford invaluable protection against disease, and the molecular and cellular changes they induce offer direct insight into human immunobiology. Here we show that within 24 h of receiving adjuvanted swine flu vaccine, healthy individuals made expansive, complex molecular and cellular responses that included overt lymphoid as well as myeloid contributions. Unexpectedly, this early response was subtly but significantly different in people older than ∼35 years. Wide-ranging adverse clinical events can seriously confound vaccine adoption, but whether there are immunological correlates of these is unknown. Here we identify a molecular signature of adverse events that was commonly associated with an existing B cell phenotype. Thus immunophenotypic variation among healthy humans may be manifest in complex pathophysiological responses.
Your institute does not have access to this article
Relevant articles
Open Access articles citing this article.
Derek T. O'Hagan

,

Robbert van der Most

…

Giuseppe Lofano

npj Vaccines Open Access 21 December 2021

Victor Farutin

,

Elma Kurtagic

…

Shervin Assassi

Arthritis Research & Therapy Open Access 15 October 2021

Johannes Ruhe

,

Ulf Schnetzke

…

Gunter Wolf

Annals of Hematology Open Access 26 July 2021
Access options
Subscribe to Journal
Get full journal access for 1 year
$59.00
only $4.92 per issue
All prices are NET prices.
VAT will be added later in the checkout.
Tax calculation will be finalised during checkout.
Buy article
Get time limited or full article access on ReadCube.
$32.00
All prices are NET prices.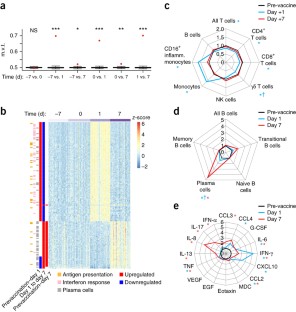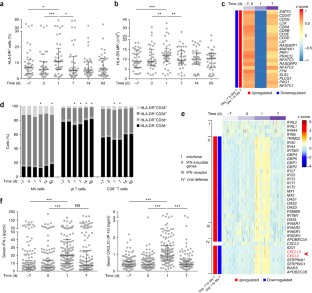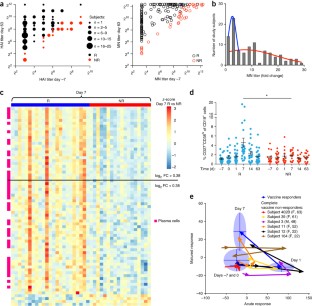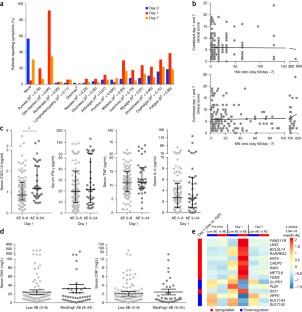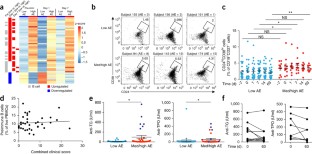 Accession codes
Primary accessions
ArrayExpress
References
Agnandji, S.T. et al. Phase 1 trials of rVSV Ebola vaccine in Africa and Europe—preliminary report. N. Engl. J. Med. doi:10.1056/NEJMoa1502924 (1 April 2015).

Henao-Restrepo, A.M. et al. Efficacy and effectiveness of an rVSV-vectored vaccine expressing Ebola surface glycoprotein: interim results from the Guinea ring vaccination cluster-randomised trial. Lancet 386, 857–866 (2015).

Gregor, M.F. & Hotamisligil, G.S. Inflammatory mechanisms in obesity. Annu. Rev. Immunol. 29, 415–445 (2011).

Czirr, E. & Wyss-Coray, T. The immunology of neurodegeneration. J. Clin. Invest. 122, 1156–1163 (2012).

Chen, D.S. & Mellman, I. Oncology meets immunology: the cancer-immunity cycle. Immunity 39, 1–10 (2013).

Pulendran, B. Systems vaccinology: probing humanity's diverse immune systems with vaccines. Proc. Natl. Acad. Sci. USA 111, 12300–12306 (2014).

Duffy, D. et al. Functional analysis via standardized whole-blood stimulation systems defines the boundaries of a healthy immune response to complex stimuli. Immunity 40, 436–450 (2014).

Tsang, J.S. et al. Global analyses of human immune variation reveal baseline predictors of postvaccination responses. Cell 157, 499–513 (2014).

Callahan, M.K., Wolchok, J.D. & Allison, J.P. Anti-CTLA-4 antibody therapy: immune monitoring during clinical development of a novel immunotherapy. Semin. Oncol. 37, 473–484 (2010).

Oswald, M. et al. Modular analysis of peripheral blood gene expression in rheumatoid arthritis captures reproducible gene expression changes in tumor necrosis factor responders. Arthritis Rheumatol. 67, 344–351 (2015).

Chen, R.T. et al. The Vaccine Adverse Event Reporting System (VAERS). Vaccine 12, 542–550 (1994).

Grohskopf, L.A. et al. Prevention and control of seasonal influenza with vaccines: recommendations of the Advisory Committee on Immunization Practices (ACIP)–United States, 2014–15 influenza season. MMWR 63, 691–697 (2014).

Furman, D. et al. Apoptosis and other immune biomarkers predict influenza vaccine responsiveness. Mol. Syst. Biol. 9, 659 (2013).

Zimmer, S.M. & Burke, D.S. Historical perspective—emergence of influenza A (H1N1) viruses. N. Engl. J. Med. 361, 279–285 (2009).

Nakaya, H.I. et al. Systems biology of vaccination for seasonal influenza in humans. Nat. Immunol. 12, 786–795 (2011).

Bucasas, K.L. et al. Early patterns of gene expression correlate with the humoral immune response to influenza vaccination in humans. J. Infect. Dis. 203, 921–929 (2011).

Li, S. et al. Molecular signatures of antibody responses derived from a systems biology study of five human vaccines. Nat. Immunol. 15, 195–204 (2014).

Roman, F. et al. Effect on cellular and humoral immune responses of the AS03 adjuvant system in an A/H1N1/2009 influenza virus vaccine administered to adults during two randomized controlled trials. Clin. Vaccine Immunol. 18, 835–843 (2011).

Morel, S. et al. Adjuvant system AS03 containing α-tocopherol modulates innate immune response and leads to improved adaptive immunity. Vaccine 29, 2461–2473 (2011).

Strid, J., Sobolev, O., Zafirova, B., Polic, B. & Hayday, A. The intraepithelial T cell response to NKG2D-ligands links lymphoid stress surveillance to atopy. Science 334, 1293–1297 (2011).

Wencker, M. et al. Innate-like T cells straddle innate and adaptive immunity by altering antigen-receptor responsiveness. Nat. Immunol. 15, 80–87 (2014).

Brandes, M. et al. Cross-presenting human γδ T cells induce robust CD8+ αβ T cell responses. Proc. Natl. Acad. Sci. USA 106, 2307–2312 (2009).

Bolognese, J.A., Schnitzer, T.J. & Ehrich, E.W. Response relationship of VAS and Likert scales in osteoarthritis efficacy measurement. Osteoarthritis Cartilage 11, 499–507 (2003).

Obermoser, G. et al. Systems scale interactive exploration reveals quantitative and qualitative differences in response to influenza and pneumococcal vaccines. Immunity 38, 831–844 (2013).

Franco, L.M. et al. Integrative genomic analysis of the human immune response to influenza vaccination. eLife 2, e00299 (2013).

Querec, T. et al. Yellow fever vaccine YF-17D activates multiple dendritic cell subsets via TLR2, 7, 8, and 9 to stimulate polyvalent immunity. J. Exp. Med. 203, 413–424 (2006).

Montecino-Rodriguez, E., Berent-Maoz, B. & Dorshkind, K. Causes, consequences, and reversal of immune system aging. J. Clin. Invest. 123, 958–965 (2013).

Jiang, N. et al. Lineage structure of the human antibody repertoire in response to influenza vaccination. Sci. Transl. Med. 5, 171ra19 (2013).

Whitney, A.R. et al. Individuality and variation in gene expression patterns in human blood. Proc. Natl. Acad. Sci. USA 100, 1896–1901 (2003).

Nakaya, H.I. et al. Systems biology of vaccination for seasonal influenza in humans. Nat. Immunol. 12, 786–795 (2011).

Querec, T.D. et al. Systems biology approach predicts immunogenicity of the yellow fever vaccine in humans. Nat. Immunol. 10, 116–125 (2008).

Yang, M., Rui, K., Wang, S. & Lu, L. Regulatory B cells in autoimmune diseases. Cell. Mol. Immunol. 10, 122–132 (2013).

Engel, P., Gómez-Puerta, J.A., Ramos-Casals, M., Lozano, F. & Bosch, X. Therapeutic targeting of B cells for rheumatic autoimmune diseases. Pharmacol. Rev. 63, 127–156 (2011).

Jackson, L.A. et al. Effect of varying doses of a monovalent H7N9 influenza vaccine with and without AS03 and MF59 adjuvants on immune response: a randomized clinical trial. JAMA 314, 237–246 (2015).

Neves, P.C.da C., Matos, D.C.de S., Marcovistz, R. & Galler, R. TLR expression and NK cell activation after human yellow fever vaccination. Vaccine 27, 5543–5549 (2009).

Miller, J.D. et al. Human effector and memory CD8+ T cell responses to smallpox and yellow fever vaccines. Immunity 28, 710–722 (2008).

Bentebibel, S.-E. et al. Induction of ICOS+CXCR3+CXCR5+ TH cells correlates with antibody responses to influenza vaccination. Sci. Transl. Med. 5, 176ra32 (2013).

Brodin, P. et al. Variation in the human immune system is largely driven by non-heritable influences. Cell 160, 37–47 (2015).

Shin, M.S. et al. Maintenance of CMV-specific CD8+ T cell responses and the relationship of IL-27 to IFN-γ levels with aging. Cytokine 61, 485–490 (2013).

Fülöp, T., Larbi, A. & Pawelec, G. Human T cell aging and the impact of persistent viral infections. Front. Immunol. 4, 271 (2013).
Acknowledgements
We thank S. Steiner, Z. Kozlakidis, and K. Thornberry for invaluable assistance in study setup and sample collection; D. Dunn-Walters, J. Spencer, J.-C. Weill (Institut Necker), A. Skowera, M. Shankar Hari and S. Sabbah for helpful advice and feedback; King's College London and Guy's Hospital Biobank, the Clinical Transplantation Lab, GSTS and King's Pathology and the Biomedical Research Centre Flow Cytometry and Bioinformatics facilities for outstanding clinical and technical support. Supported by Cancer Research UK and the UK Department of Health via the National Institute for Health Research (NIHR) comprehensive Biomedical Research Centre award to Guy's and St Thomas' NHS Foundation Trust in partnership with King's College London and King's College Hospital NHS Foundation Trust. A.C.H. and M.H.M. are supported by Wellcome Trust Investigator awards.
Ethics declarations
Competing interests
The authors declare no competing financial interests.
Integrated supplementary information
Supplementary information
About this article
Cite this article
Sobolev, O., Binda, E., O'Farrell, S. et al. Adjuvanted influenza-H1N1 vaccination reveals lymphoid signatures of age-dependent early responses and of clinical adverse events. Nat Immunol 17, 204–213 (2016). https://doi.org/10.1038/ni.3328
Received:

Accepted:

Published:

Issue Date:

DOI: https://doi.org/10.1038/ni.3328