Abstract
Receptors of the Notch family direct the differentiation of helper T cell subsets, but their influence on regulatory T cell (Treg cell) responses is obscure. We found here that lineage-specific deletion of components of the Notch pathway enhanced Treg cell–mediated suppression of type 1 helper T cell (TH1 cell) responses and protected against their TH1 skewing and apoptosis. In contrast, expression in Treg cells of a gain-of-function transgene encoding the Notch1 intracellular domain resulted in lymphoproliferation, exacerbated TH1 responses and autoimmunity. Cell-intrinsic canonical Notch signaling impaired Treg cell fitness and promoted the acquisition by Treg cells of a TH1 cell–like phenotype, whereas non-canonical Notch signaling dependent on the adaptor Rictor activated the kinase AKT–transcription factor Foxo1 axis and impaired the epigenetic stability of Foxp3. Our findings establish a critical role for Notch signaling in controlling peripheral Treg cell function.
Access options
Subscribe to Journal
Get full journal access for 1 year
$225.00
only $18.75 per issue
All prices are NET prices.
VAT will be added later in the checkout.
Rent or Buy article
Get time limited or full article access on ReadCube.
from$8.99
All prices are NET prices.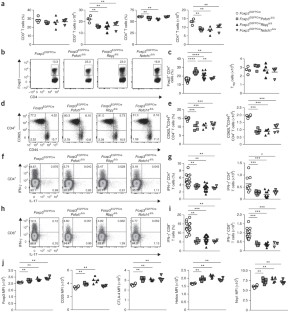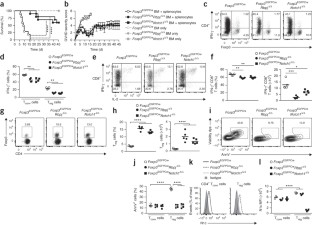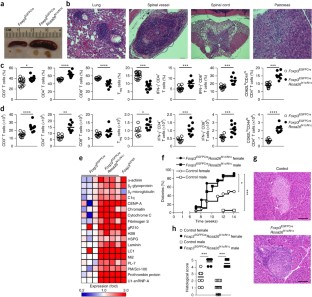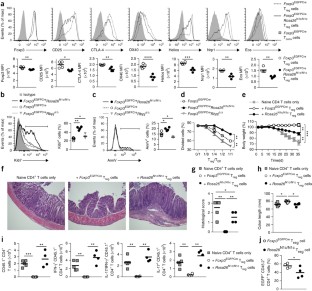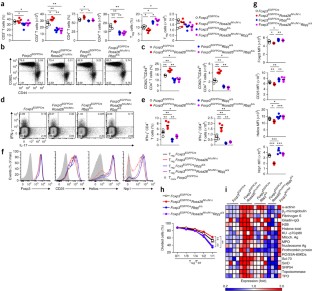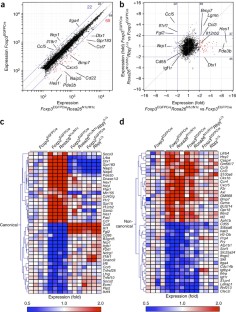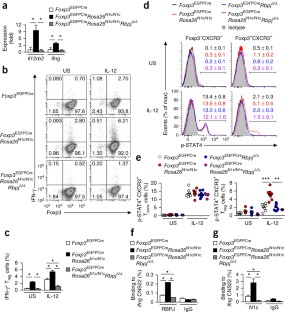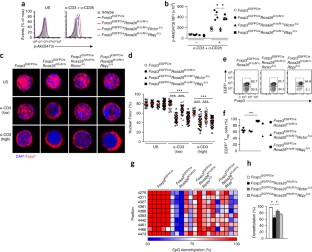 Accession codes
Primary accessions
Gene Expression Omnibus
References
1

Yuan, J.S., Kousis, P.C., Suliman, S., Visan, I. & Guidos, C.J. Functions of notch signaling in the immune system: consensus and controversies. Annu. Rev. Immunol. 28, 343–365 (2010).

2

Radtke, F., Fasnacht, N. & Macdonald, H.R. Notch signaling in the immune system. Immunity 32, 14–27 (2010).

3

Perumalsamy, L.R., Marcel, N., Kulkarni, S., Radtke, F. & Sarin, A. Distinct spatial and molecular features of notch pathway assembly in regulatory T cells. Sci. Signal. 5, ra53 (2012).

4

Lee, K. et al. Vital roles of mTOR complex 2 in Notch-driven thymocyte differentiation and leukemia. J. Exp. Med. 209, 713–728 (2012).

5

Elyaman, W. et al. Notch receptors and Smad3 signaling cooperate in the induction of interleukin-9-producing T cells. Immunity 36, 623–634 (2012).

6

Osipo, C., Golde, T.E., Osborne, B.A. & Miele, L.A. Off the beaten pathway: the complex cross talk between Notch and NF-κB. Lab. Invest. 88, 11–17 (2008).

7

Poellinger, L. & Lendahl, U. Modulating Notch signaling by pathway-intrinsic and pathway-extrinsic mechanisms. Curr. Opin. Genet. Dev. 18, 449–454 (2008).

8

Amsen, D., Antov, A. & Flavell, R.A. The different faces of Notch in T-helper-cell differentiation. Nat. Rev. Immunol. 9, 116–124 (2009).

9

Cho, O.H. et al. Notch regulates cytolytic effector function in CD8+ T cells. J. Immunol. 182, 3380–3389 (2009).

10

Maekawa, Y. et al. Notch2 integrates signaling by the transcription factors RBP-J and CREB1 to promote T cell cytotoxicity. Nat. Immunol. 9, 1140–1147 (2008).

11

Maekawa, Y. et al. Delta1-Notch3 interactions bias the functional differentiation of activated CD4+ T cells. Immunity 19, 549–559 (2003).

12

Minter, L.M. et al. Inhibitors of γ-secretase block in vivo and in vitro T helper type 1 polarization by preventing Notch upregulation of Tbx21. Nat. Immunol. 6, 680–688 (2005).

13

Amsen, D. et al. Direct regulation of Gata3 expression determines the T helper differentiation potential of Notch. Immunity 27, 89–99 (2007).

14

Tu, L. et al. Notch signaling is an important regulator of type 2 immunity. J. Exp. Med. 202, 1037–1042 (2005).

15

Fang, T.C. et al. Notch directly regulates Gata3 expression during T helper 2 cell differentiation. Immunity 27, 100–110 (2007).

16

Amsen, D. et al. Instruction of distinct CD4 T helper cell fates by different notch ligands on antigen-presenting cells. Cell 117, 515–526 (2004).

17

Keerthivasan, S. et al. Notch signaling regulates mouse and human Th17 differentiation. J. Immunol. 187, 692–701 (2011).

18

Mukherjee, S., Schaller, M.A., Neupane, R., Kunkel, S.L. & Lukacs, N.W. Regulation of T cell activation by Notch ligand, DLL4, promotes IL-17 production and Rorc activation. J. Immunol. 182, 7381–7388 (2009).

19

Barbarulo, A. et al. Notch3 and canonical NF-κB signaling pathways cooperatively regulate Foxp3 transcription. J. Immunol. 186, 6199–6206 (2011).

20

Ou-Yang, H.F. et al. Notch signaling regulates the FOXP3 promoter through RBP-J- and Hes1-dependent mechanisms. Mol. Cell. Biochem. 320, 109–114 (2009).

21

Samon, J.B. et al. Notch1 and TGFβ1 cooperatively regulate Foxp3 expression and the maintenance of peripheral regulatory T cells. Blood 112, 1813–1821 (2008).

22

Tran, I.T. et al. Blockade of individual Notch ligands and receptors controls graft-versus-host disease. J. Clin. Invest. 123, 1590–1604 (2013).

23

Sandy, A.R. et al. T cell-specific notch inhibition blocks graft-versus-host disease by inducing a hyporesponsive program in alloreactive CD4+ and CD8+ T cells. J. Immunol. 190, 5818–5828 (2013).

24

Roderick, J.E. et al. Therapeutic targeting of NOTCH signaling ameliorates immune-mediated bone marrow failure of aplastic anemia. J. Exp. Med. 210, 1311–1329 (2013).

25

Piggott, K. et al. Blocking the NOTCH pathway inhibits vascular inflammation in large-vessel vasculitis. Circulation 123, 309–318 (2011).

26

Shi, S. & Stanley, P. Protein O-fucosyltransferase 1 is an essential component of Notch signaling pathways. Proc. Natl. Acad. Sci. USA 100, 5234–5239 (2003).

27

Han, H. et al. Inducible gene knockout of transcription factor recombination signal binding protein-J reveals its essential role in T versus B lineage decision. Int. Immunol. 14, 637–645 (2002).

28

Yang, X. et al. Notch activation induces apoptosis in neural progenitor cells through a p53-dependent pathway. Dev. Biol. 269, 81–94 (2004).

29

Rubtsov, Y.P. et al. Regulatory T cell-derived interleukin-10 limits inflammation at environmental interfaces. Immunity 28, 546–558 (2008).

30

Murtaugh, L.C., Stanger, B.Z., Kwan, K.M. & Melton, D.A. Notch signaling controls multiple steps of pancreatic differentiation. Proc. Natl. Acad. Sci. USA 100, 14920–14925 (2003).

31

Hill, J.A. et al. Foxp3 transcription-factor-dependent and -independent regulation of the regulatory T cell transcriptional signature. Immunity 27, 786–800 (2007).

32

Marson, A. et al. Foxp3 occupancy and regulation of key target genes during T-cell stimulation. Nature 445, 931–935 (2007).

33

Sugimoto, N. et al. Foxp3-dependent and -independent molecules specific for CD25+CD4+ natural regulatory T cells revealed by DNA microarray analysis. Int. Immunol. 18, 1197–1209 (2006).

34

Ouyang, W., Beckett, O., Flavell, R.A. & Li, M.O. An essential role of the Forkhead-box transcription factor Foxo1 in control of T cell homeostasis and tolerance. Immunity 30, 358–371 (2009).

35

Ouyang, W. et al. Novel Foxo1-dependent transcriptional programs control Treg cell function. Nature 491, 554–559 (2012).

36

Tejera, M.M., Kim, E.H., Sullivan, J.A., Plisch, E.H. & Suresh, M. FoxO1 controls effector-to-memory transition and maintenance of functional CD8 T cell memory. J. Immunol. 191, 187–199 (2013).

37

Zheng, Y. et al. Role of conserved non-coding DNA elements in the Foxp3 gene in regulatory T-cell fate. Nature 463, 808–812 (2010).

38

Koch, M.A. et al. T-bet+ Treg cells undergo abortive Th1 cell differentiation due to impaired expression of IL-12 receptor β2. Immunity 37, 501–510 (2012).

39

Koch, M.A. et al. The transcription factor T-bet controls regulatory T cell homeostasis and function during type 1 inflammation. Nat. Immunol. 10, 595–602 (2009).

40

Bailis, W. et al. Notch simultaneously orchestrates multiple helper T cell programs independently of cytokine signals. Immunity 39, 148–159 (2013).

41

Perumalsamy, L.R., Nagala, M., Banerjee, P. & Sarin, A. A hierarchical cascade activated by non-canonical Notch signaling and the mTOR-Rictor complex regulates neglect-induced death in mammalian cells. Cell Death Differ. 16, 879–889 (2009).

42

Huang, H. & Tindall, D.J. Regulation of FOXO protein stability via ubiquitination and proteasome degradation. Biochim. Biophys. Acta 1813, 1961–1964 (2011).

43

Plas, D.R. & Thompson, C.B. Akt activation promotes degradation of tuberin and FOXO3a via the proteasome. J. Biol. Chem. 278, 12361–12366 (2003).

44

Kerdiles, Y.M. et al. Foxo transcription factors control regulatory T cell development and function. Immunity 33, 890–904 (2010).

45

Floess, S. et al. Epigenetic control of the foxp3 locus in regulatory T cells. PLoS Biol. 5, e38 (2007).

46

Ohkura, N. et al. T cell receptor stimulation-induced epigenetic changes and Foxp3 expression are independent and complementary events required for Treg cell development. Immunity 37, 785–799 (2012).

47

Oldenhove, G. et al. Decrease of Foxp3+ Treg cell number and acquisition of effector cell phenotype during lethal infection. Immunity 31, 772–786 (2009).

48

Zhou, X. et al. Instability of the transcription factor Foxp3 leads to the generation of pathogenic memory T cells in vivo. Nat. Immunol. 10, 1000–1007 (2009).

49

Feuerer, M. et al. Genomic definition of multiple ex vivo regulatory T cell subphenotypes. Proc. Natl. Acad. Sci. USA 107, 5919–5924 (2010).

50

Li, Q.Z. et al. Protein array autoantibody profiles for insights into systemic lupus erythematosus and incomplete lupus syndromes. Clin. Exp. Immunol. 147, 60–70 (2007).

51

Schmitt, E.G. et al. IL-10 produced by induced regulatory T cells (iTregs) controls colitis and pathogenic ex-iTregs during immunotherapy. J. Immunol. 189, 5638–5648 (2012).

52

Noval Rivas, M. et al. Regulatory T cell reprogramming toward a Th2-cell-like lineage impairs oral tolerance and promotes food allergy. Immunity 42, 512–523 (2015).
Acknowledgements
We thank C. Benoist for critical reading of the manuscript; P. Stanley (Albert Einstein College of Medicine) for Pofut1fl/fl mice; and T. Honjo (Kyoto University) for Rbpjfl/fl mice. Supported by the US National Institutes of Health (2R01AI065617, 2R01AI085090 and 1R56AI115699-01 to T.A.C.).
Ethics declarations
Competing interests
The authors declare no competing financial interests.
Integrated supplementary information
Supplementary information
Supplementary Figures 1–8 (PDF 30133 kb)
Differentially expressed genes in Notch1c-overexpressing regulatory T cells (1.5X cut-off) (XLSX 76 kb)
About this article
Cite this article
Charbonnier, L., Wang, S., Georgiev, P. et al. Control of peripheral tolerance by regulatory T cell–intrinsic Notch signaling. Nat Immunol 16, 1162–1173 (2015) doi:10.1038/ni.3288
Received

Accepted

Published

Issue Date