Abstract
Interleukin 37 (IL-37) and IL-1R8 (SIGIRR or TIR8) are anti-inflammatory orphan members of the IL-1 ligand family and IL-1 receptor family, respectively. Here we demonstrate formation and function of the endogenous ligand-receptor complex IL-37–IL-1R8–IL-18Rα. The tripartite complex assembled rapidly on the surface of peripheral blood mononuclear cells upon stimulation with lipopolysaccharide. Silencing of IL-1R8 or IL-18Rα impaired the anti-inflammatory activity of IL-37. Whereas mice with transgenic expression of IL-37 (IL-37tg mice) with intact IL-1R8 were protected from endotoxemia, IL-1R8-deficient IL-37tg mice were not. Proteomic and transcriptomic investigations revealed that IL-37 used IL-1R8 to harness the anti-inflammatory properties of the signaling molecules Mer, PTEN, STAT3 and p62(dok) and to inhibit the kinases Fyn and TAK1 and the transcription factor NF-κB, as well as mitogen-activated protein kinases. Furthermore, IL-37–IL-1R8 exerted a pseudo-starvational effect on the metabolic checkpoint kinase mTOR. IL-37 thus bound to IL-18Rα and exploited IL-1R8 to activate a multifaceted intracellular anti-inflammatory program.
Access options
Subscribe to Journal
Get full journal access for 1 year
$225.00
only $18.75 per issue
All prices are NET prices.
VAT will be added later in the checkout.
Rent or Buy article
Get time limited or full article access on ReadCube.
from$8.99
All prices are NET prices.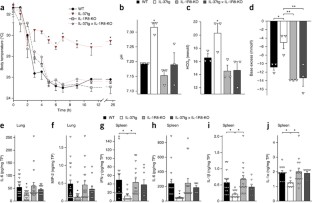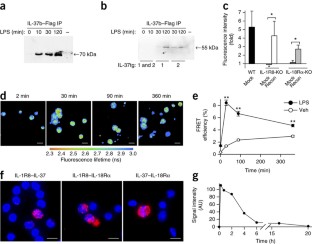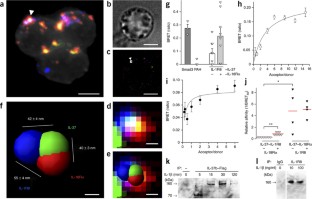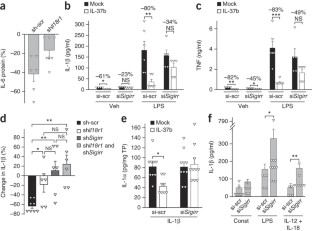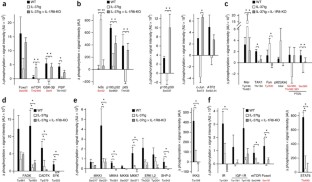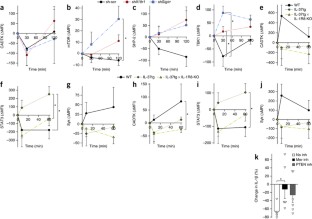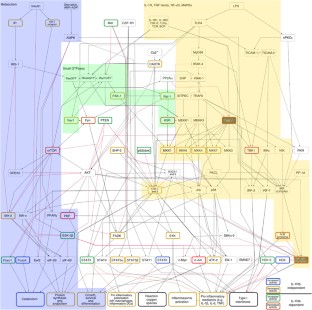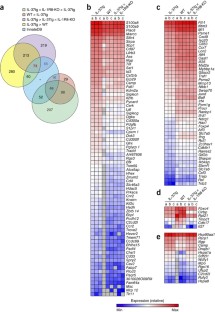 References
1

Gay, N.J. & Keith, F.J. Drosophila Toll and IL-1 receptor. Nature 351, 355–356 (1991).

2

Dinarello, C.A. Immunological and inflammatory functions of the interleukin-1 family. Annu. Rev. Immunol. 27, 519–550 (2009).

3

Sims, J.E. & Smith, D.E. The IL-1 family: regulators of immunity. Nat. Rev. Immunol. 10, 89–102 (2010).

4

Thomas, C., Bazan, J.F. & Garcia, K.C. Structure of the activating IL-1 receptor signaling complex. Nat. Struct. Mol. Biol. 19, 455–457 (2012).

5

O'Neill, L.A. & Bowie, A.G. The family of five: TIR-domain-containing adaptors in Toll-like receptor signalling. Nat. Rev. Immunol. 7, 353–364 (2007).

6

Boraschi, D. & Tagliabue, A. The interleukin-1 receptor family. Semin. Immunol. 25, 394–407 (2013).

7

Garlanda, C., Dinarello, C.A. & Mantovani, A. The interleukin-1 family: back to the future. Immunity 39, 1003–1018 (2013).

8

Thomassen, E., Renshaw, B.R. & Sims, J.E. Identification and characterization of SIGIRR, a molecule representing a novel subtype of the IL-1R superfamily. Cytokine 11, 389–399 (1999).

9

Qin, J., Qian, Y., Yao, J., Grace, C. & Li, X. SIGIRR inhibits interleukin-1 receptor- and toll-like receptor 4-mediated signaling through different mechanisms. J. Biol. Chem. 280, 25233–25241 (2005).

10

Wald, D. et al. SIGIRR, a negative regulator of Toll-like receptor-interleukin 1 receptor signaling. Nat. Immunol. 4, 920–927 (2003).

11

Adib-Conquy, M. et al. Up-regulation of MyD88s and SIGIRR, molecules inhibiting Toll-like receptor signaling, in monocytes from septic patients. Crit. Care Med. 34, 2377–2385 (2006).

12

Garlanda, C. et al. Intestinal inflammation in mice deficient in Tir8, an inhibitory member of the IL-1 receptor family. Proc. Natl. Acad. Sci. USA 101, 3522–3526 (2004).

13

Lech, M. et al. Different roles of TiR8/Sigirr on toll-like receptor signaling in intrarenal antigen-presenting cells and tubular epithelial cells. Kidney Int. 72, 182–192 (2007).

14

Polentarutti, N. et al. Unique pattern of expression and inhibition of IL-1 signaling by the IL-1 receptor family member TIR8/SIGIRR. Eur. Cytokine Netw. 14, 211–218 (2003).

15

Bufler, P. et al. A complex of the IL-1 homologue IL-1F7b and IL-18-binding protein reduces IL-18 activity. Proc. Natl. Acad. Sci. USA 99, 13723–13728 (2002).

16

Garlanda, C., Anders, H.J. & Mantovani, A. TIR8/SIGIRR: an IL-1R/TLR family member with regulatory functions in inflammation and T cell polarization. Trends Immunol. 30, 439–446 (2009).

17

Garlanda, C. et al. Intestinal inflammation in mice deficient in Tir8, an inhibitory member of the IL-1 receptor family. Proc. Natl. Acad. Sci. USA 101, 3522–3526 (2004).

18

Bekker, L.G. et al. Immunopathologic effects of tumor necrosis factor α in murine mycobacterial infection are dose dependent. Infect. Immun. 68, 6954–6961 (2000).

19

Bulut, Y., Faure, E., Thomas, L., Equils, O. & Arditi, M. Cooperation of Toll-like receptor 2 and 6 for cellular activation by soluble tuberculosis factor and Borrelia burgdorferi outer surface protein A lipoprotein: role of Toll-interacting protein and IL-1 receptor signaling molecules in Toll-like receptor 2 signaling. J. Immunol. 167, 987–994 (2001).

20

Garlanda, C. et al. Damping excessive inflammation and tissue damage in Mycobacterium tuberculosis infection by Toll IL-1 receptor 8/single Ig IL-1-related receptor, a negative regulator of IL-1/TLR signaling. J. Immunol. 179, 3119–3125 (2007).

21

Horne, D.J. et al. Common polymorphisms in the PKP3-SIGIRR-TMEM16J gene region are associated with susceptibility to tuberculosis. J. Infect. Dis. 205, 586–594 (2012).

22

Batliwalla, F.M. et al. Microarray analyses of peripheral blood cells identifies unique gene expression signature in psoriatic arthritis. Mol. Med. 11, 21–29 (2005).

23

Nold, M.F. et al. IL-37 is a fundamental inhibitor of innate immunity. Nat. Immunol. 11, 1014–1022 (2010).

24

McNamee, E.N. et al. Interleukin 37 expression protects mice from colitis. Proc. Natl. Acad. Sci. USA 108, 16711–16716 (2011).

25

Kumar, S. et al. Interleukin-1F7B (IL-1H4/IL-1F7) is processed by caspase-1 and mature IL-1F7B binds to the IL-18 receptor but does not induce IFN-γ production. Cytokine 18, 61–71 (2002).

26

Pan, G. et al. IL-1H, an interleukin 1-related protein that binds IL-18 receptor/IL-1Rrp. Cytokine 13, 1–7 (2001).

27

Lewis, E.C. & Dinarello, C.A. Responses of IL-18- and IL-18 receptor-deficient pancreatic islets with convergence of positive and negative signals for the IL-18 receptor. Proc. Natl. Acad. Sci. USA 103, 16852–16857 (2006).

28

Nold-Petry, C.A. et al. Increased cytokine production in interleukin-18 receptor α-deficient cells is associated with dysregulation of suppressors of cytokine signaling. J. Biol. Chem. 284, 25900–25911 (2009).

29

O'Neill, L.A. & Hardie, D.G. Metabolism of inflammation limited by AMPK and pseudo-starvation. Nature 493, 346–355 (2013).

30

Korb, M. et al. The Innate Immune Database (IIDB). BMC Immunol. 9, 7 (2008).

31

Ward, P.A. An endogenous factor mediates shock-induced injury. Nat. Med. 19, 1368–1369 (2013).

32

Drexler, S.K. et al. SIGIRR/TIR-8 is an inhibitor of Toll-like receptor signaling in primary human cells and regulates inflammation in models of rheumatoid arthritis. Arthritis Rheum. 62, 2249–2261 (2010).

33

Bulau, A.M. et al. Role of caspase-1 in nuclear translocation of IL-37, release of the cytokine, and IL-37 inhibition of innate immune responses. Proc. Natl. Acad. Sci. USA 111, 2650–2655 (2014).

34

Sharma, S. et al. The IL-1 family member 7b translocates to the nucleus and down-regulates proinflammatory cytokines. J. Immunol. 180, 5477–5482 (2008).

35

Gulen, M.F. et al. The receptor SIGIRR suppresses Th17 cell proliferation via inhibition of the interleukin-1 receptor pathway and mTOR kinase activation. Immunity 32, 54–66 (2010).

36

De Paula, M.L., Cui, Q.L., Hossain, S., Antel, J. & Almazan, G. The PTEN inhibitor bisperoxovanadium enhances myelination by amplifying IGF-1 signaling in rat and human oligodendrocyte progenitors. Glia 62, 64–77 (2014).

37

Heindl, M. et al. Autoimmunity, intestinal lymphoid hyperplasia, and defects in mucosal B-cell homeostasis in patients with PTEN hamartoma tumor syndrome. Gastroenterology 142, 1093–1096 (2012).

38

Ballak, D.B. et al. IL-37 protects against obesity-induced inflammation and insulin resistance. Nat. Commun. 5, 4711 (2014).

39

Bozza, S. et al. Lack of Toll IL-1R8 exacerbates Th17 cell responses in fungal infection. J. Immunol. 180, 4022–4031 (2008).

40

Moretti, S. et al. IL-37 inhibits inflammasome activation and disease severity in murine aspergillosis. PLoS Pathog. 10, e1004462 (2014).

41

Rothlin, C.V., Ghosh, S., Zuniga, E.I., Oldstone, M.B. & Lemke, G. TAM receptors are pleiotropic inhibitors of the innate immune response. Cell 131, 1124–1136 (2007).

42

Shinohara, H. et al. Dok-1 and Dok-2 are negative regulators of lipopolysaccharide-induced signaling. J. Exp. Med. 201, 333–339 (2005).

43

Lee, T.W. et al. Fyn deficiency promotes a preferential increase in subcutaneous adipose tissue mass and decreased visceral adipose tissue inflammation. Diabetes 62, 1537–1546 (2013).

44

Sakurai, H. Targeting of TAK1 in inflammatory disorders and cancer. Trends Pharmacol. Sci. 33, 522–530 (2012).

45

Oda, K. & Kitano, H. A comprehensive map of the toll-like receptor signaling network. Mol. Syst. Biol. 2, 0015 (2006).

46

Gross, O. et al. Syk kinase signalling couples to the Nlrp3 inflammasome for anti-fungal host defence. Nature 459, 433–436 (2009).

47

Wermeling, F., Anthony, R.M., Brombacher, F. & Ravetch, J.V. Acute inflammation primes myeloid effector cells for anti-inflammatory STAT6 signaling. Proc. Natl. Acad. Sci. USA 110, 13487–13491 (2013).

48

Nold, M. et al. IL-18BPa:Fc cooperates with immunosuppressive drugs in human whole blood. Biochem. Pharmacol. 66, 505–510 (2003).

49

Nold, M.F. et al. Endogenous IL-32 controls cytokine and HIV-1 production. J. Immunol. 181, 557–565 (2008).

50

Petry, C., Huwiler, A., Eberhardt, W., Kaszkin, M. & Pfeilschifter, J. Hypoxia increases group IIA phospholipase A2 expression under inflammatory conditions in rat renal mesangial cells. J. Am. Soc. Nephrol. 16, 2897–2905 (2005).

51

Gersting, S.W., Lotz-Havla, A.S. & Muntau, A.C. Bioluminescence resonance energy transfer: an emerging tool for the detection of protein-protein interaction in living cells. Methods Mol. Biol. 815, 253–263 (2012).
Acknowledgements
We thank J. Gould and L. D'Andrea for technical support; S.-H. Kim for scientific insights; and C. Nowell (Monash Institute of Pharmaceutical Science) for access to and assisting with the use of the Leica GSD microscope. Supported by the National Health and Medical Research Council (1012353 and 1043845 to C.A.N.-P. and M.F.N.; 1022144 to MPG), the National Heart Foundation of Australia (100480 to C.A.N.-P.), Monash University (Larkins Fellowship to M.F.N.), MIMR-PHI (Star Recruitment Fellowship to M.F.N.), Australian Research Council (DP110103616 to N.E.M.), the US National Institutes of Health (AI-15614, AR-45584 to C.A.D.; core facilities of CA-04 6934 to C.A.D.), Deutsche Forschungsgemeinschaft (Bu 1222/3-3 to P.B.), the American Heart Association (12Post12030134 to S.L.) and the Victorian Government's Operational Infrastructure Support Program.
Ethics declarations
Competing interests
B.R. is an employee of GenXPro.
Integrated supplementary information
Supplementary information
Supplementary Figures 1–8 and Supplementary Table 1 (PDF 1111 kb)
The differentially regulated genes shown in Fig. 8 are listed in the same groups they appear in Fig. 8, and the following information is provided: Column A, Ensembl ID. B, Gene symbol. C, Full gene name. D-F, normalized copy number per million reads, calculated by dividing the individual mRNA gene copy numbers of each strain by the total number of analyzed tags per strain, and multiplying the resulting number by 1 million. G-I, log2 fold change in gene expression between the strains. J-L, P-value, and M-O, false discovery rate (FDR), as calculated by DEG-seq (see Methods); an FDR of 0 indicates a high probability of differential expression. P-W, raw mRNA copy numbers (XLS 84 kb)
Widefield fluorescence image of three PBMC; IL-37, green; IL-18Ra, red; IL-1R8, blue. (MP4 2981 kb)
About this article
Cite this article
Nold-Petry, C., Lo, C., Rudloff, I. et al. IL-37 requires the receptors IL-18Rα and IL-1R8 (SIGIRR) to carry out its multifaceted anti-inflammatory program upon innate signal transduction. Nat Immunol 16, 354–365 (2015). https://doi.org/10.1038/ni.3103
Received:

Accepted:

Published:

Issue Date: