Abstract
Deletion of the DNA-binding domain of the transcription factor Ikaros generates dominant-negative isoforms that interfere with its activity and correlate with poor prognosis in human precursor B cell acute lymphoblastic leukemia (B-ALL). Here we found that conditional inactivation of the Ikaros DNA-binding domain in early pre-B cells arrested their differentiation at a stage at which integrin-dependent adhesion to niches augmented signaling via mitogen-activated protein kinases, proliferation and self-renewal and attenuated signaling via the pre-B cell signaling complex (pre-BCR) and the differentiation of pre-B cells. Transplantation of polyclonal Ikaros-mutant pre-B cells resulted in long-latency oligoclonal pre-B-ALL, which demonstrates that loss of Ikaros contributes to multistep B cell leukemogenesis. Our results explain how normal pre-B cells transit from a highly proliferative and stroma-dependent phase to a stroma-independent phase during which differentiation is enabled, and suggest potential therapeutic strategies for Ikaros-mutant B-ALL.
Relevant articles
Open Access articles citing this article.
Ifat Geron

,

Angela Maria Savino

…

Shai Izraeli

Nature Communications Open Access 03 February 2022

Robin D. Lee

,

Sarah A. Munro

…

Michael A. Farrar

Nature Communications Open Access 25 November 2021
Access options
Subscribe to Journal
Get full journal access for 1 year
$79.00
only $6.58 per issue
All prices are NET prices.
VAT will be added later in the checkout.
Tax calculation will be finalised during checkout.
Buy article
Get time limited or full article access on ReadCube.
$32.00
All prices are NET prices.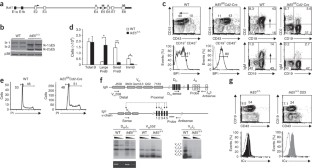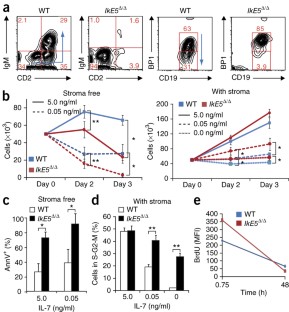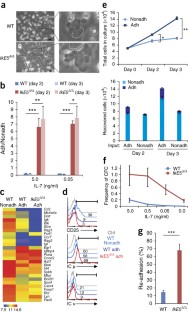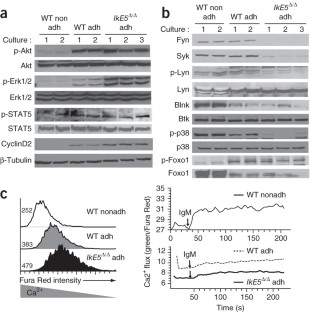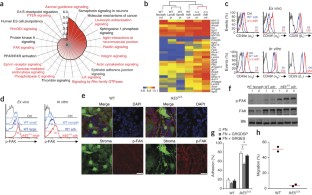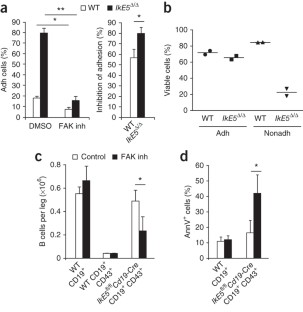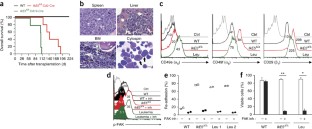 Accession codes
Primary accessions
Gene Expression Omnibus
References
Monroe, J.G. ITAM-mediated tonic signalling through pre-BCR and BCR complexes. Nat. Rev. Immunol. 6, 283–294 (2006).

Herzog, S., Reth, M. & Jumaa, H. Regulation of B-cell proliferation and differentiation by pre-B-cell receptor signalling. Nat. Rev. Immunol. 9, 195–205 (2009).

Gauld, S.B. & Cambier, J.C. Src-family kinases in B-cell development and signaling. Oncogene 23, 8001–8006 (2004).

Kitamura, D. et al. A critical role of λ5 protein in B cell development. Cell 69, 823–831 (1992).

Gong, S. & Nussenzweig, M.C. Regulation of an early developmental checkpoint in the B cell pathway by Ig β. Science 272, 411–414 (1996).

Kraus, M. et al. Interference with immunoglobulin (Ig)α immunoreceptor tyrosine-based activation motif (ITAM) phosphorylation modulates or blocks B cell development, depending on the availability of an Igβ cytoplasmic tail. J. Exp. Med. 194, 455–469 (2001).

Pelanda, R., Braun, U., Hobeika, E., Nussenzweig, M.C. & Reth, M. B cell progenitors are arrested in maturation but have intact VDJ recombination in the absence of Ig-α and Ig-β. J. Immunol. 169, 865–872 (2002).

Cheng, A.M. et al. Syk tyrosine kinase required for mouse viability and B-cell development. Nature 378, 303–306 (1995).

Schweighoffer, E., Vanes, L., Mathiot, A., Nakamura, T. & Tybulewicz, V.L. Unexpected requirement for ZAP-70 in pre-B cell development and allelic exclusion. Immunity 18, 523–533 (2003).

Saijo, K. et al. Essential role of Src-family protein tyrosine kinases in NF-κB activation during B cell development. Nat. Immunol. 4, 274–279 (2003).

Marshall, A.J., Fleming, H.E., Wu, G.E. & Paige, C.J. Modulation of the IL-7 dose-response threshold during pro-B cell differentiation is dependent on pre-B cell receptor expression. J. Immunol. 161, 6038–6045 (1998).

Fleming, H.E. & Paige, C.J. Pre-B cell receptor signaling mediates selective response to IL-7 at the pro-B to pre-B cell transition via an ERK/MAP kinase-dependent pathway. Immunity 15, 521–531 (2001).

Malin, S. et al. Role of STAT5 in controlling cell survival and immunoglobulin gene recombination during pro-B cell development. Nat. Immunol. 11, 171–179 (2010).

Yasuda, T. et al. Erk kinases link pre-B cell receptor signaling to transcriptional events required for early B cell expansion. Immunity 28, 499–508 (2008).

Kersseboom, R. et al. Bruton's tyrosine kinase cooperates with the B cell linker protein SLP-65 as a tumor suppressor in Pre-B cells. J. Exp. Med. 198, 91–98 (2003).

Middendorp, S. et al. Tumor suppressor function of Bruton tyrosine kinase is independent of its catalytic activity. Blood 105, 259–265 (2005).

Wen, R. et al. Essential role of phospholipase Cγ2 in early B-cell development and Myc-mediated lymphomagenesis. Mol. Cell. Biol. 26, 9364–9376 (2006).

Herzog, S. et al. SLP-65 regulates immunoglobulin light chain gene recombination through the PI(3)K-PKB-Foxo pathway. Nat. Immunol. 9, 623–631 (2008).

Johnson, K. et al. Regulation of immunoglobulin light-chain recombination by the transcription factor IRF-4 and the attenuation of interleukin-7 signaling. Immunity 28, 335–345 (2008).

Ochiai, K. et al. A self-reinforcing regulatory network triggered by limiting IL-7 activates pre-BCR signaling and differentiation. Nat. Immunol. 13, 300–307 (2012).

Cobaleda, C. & Sanchez-Garcia, I. B-cell acute lymphoblastic leukaemia: towards understanding its cellular origin. Bioessays 31, 600–609 (2009).

Mullighan, C.G. et al. Genome-wide analysis of genetic alterations in acute lymphoblastic leukaemia. Nature 446, 758–764 (2007).

Mullighan, C.G. et al. Deletion of IKZF1 and prognosis in acute lymphoblastic leukemia. N. Engl. J. Med. 360, 470–480 (2009).

Iacobucci, I. et al. Expression of spliced oncogenic Ikaros isoforms in Philadelphia-positive acute lymphoblastic leukemia patients treated with tyrosine kinase inhibitors: implications for a new mechanism of resistance. Blood 112, 3847–3855 (2008).

Iacobucci, I. et al. Identification and molecular characterization of recurrent genomic deletions on 7p12 in the IKZF1 gene in a large cohort of BCR-ABL1-positive acute lymphoblastic leukemia patients: on behalf of Gruppo Italiano Malattie Ematologiche dell'Adulto Acute Leukemia Working Party (GIMEMA AL WP). Blood 114, 2159–2167 (2009).

Harvey, R.C. et al. Identification of novel cluster groups in pediatric high-risk B-precursor acute lymphoblastic leukemia with gene expression profiling: correlation with genome-wide DNA copy number alterations, clinical characteristics, and outcome. Blood. 116, 4874–4884 (2010).

Georgopoulos, K. Acute lymphoblastic leukemia–on the wings of IKAROS. N. Engl. J. Med. 360, 524–526 (2009).

Georgopoulos, K. et al. The Ikaros gene is required for the development of all lymphoid lineages. Cell 79, 143–156 (1994).

Ng, S.Y., Yoshida, T., Zhang, J. & Georgopoulos, K. Genome-wide lineage-specific transcriptional networks underscore Ikaros-dependent lymphoid priming in hematopoietic stem cells. Immunity 30, 493–507 (2009).

Morgan, B. et al. Aiolos, a lymphoid restricted transcription factor that interacts with Ikaros to regulate lymphocyte differentiation. EMBO J. 16, 2004–2013 (1997).

Thompson, E.C. et al. Ikaros DNA-binding proteins as integral components of B cell developmental-stage-specific regulatory circuits. Immunity 26, 335–344 (2007).

Sun, L., Liu, A. & Georgopoulos, K. Zinc finger-mediated protein interactions modulate Ikaros activity, a molecular control of lymphocyte development. EMBO J. 15, 5358–5369 (1996).

Pelanda, R., Schaal, S., Torres, R.M. & Rajewsky, K. A prematurely expressed Igκ transgene, but not VκJκ gene segment targeted into the Igκ locus, can rescue B cell development in λ5-deficient mice. Immunity 5, 229–239 (1996).

Rolink, A.G., Winkler, T., Melchers, F. & Andersson, J. Precursor B cell receptor-dependent B cell proliferation and differentiation does not require the bone marrow or fetal liver environment. J. Exp. Med. 191, 23–32 (2000).

Kierney, P.C. & Dorshkind, K. B lymphocyte precursors and myeloid progenitors survive in diffusion chamber cultures but B cell differentiation requires close association with stromal cells. Blood 70, 1418–1424 (1987).

Hayashi, S. et al. Stepwise progression of B lineage differentiation supported by interleukin 7 and other stromal cell molecules. J. Exp. Med. 171, 1683–1695 (1990).

Glodek, A.M. et al. Focal adhesion kinase is required for CXCL12-induced chemotactic and pro-adhesive responses in hematopoietic precursor cells. Leukemia 21, 1723–1732 (2007).

Tse, K.W. et al. B cell receptor-induced phosphorylation of Pyk2 and focal adhesion kinase involves integrins and the Rap GTPases and is required for B cell spreading. J. Biol. Chem. 284, 22865–22877 (2009).

Rolink, A., Streb, M., Nishikawa, S. & Melchers, F. The c-kit-encoded tyrosine kinase regulates the proliferation of early pre-B cells. Eur. J. Immunol. 21, 2609–2612 (1991).

Sudo, T. et al. Expression and function of the interleukin 7 receptor in murine lymphocytes. Proc. Natl. Acad. Sci. USA 90, 9125–9129 (1993).

Winandy, S., Wu, P. & Georgopoulos, K. A dominant mutation in the Ikaros gene leads to rapid development of leukemia and lymphoma. Cell 83, 289–299 (1995).

Ye, F., Kim, C. & Ginsberg, M.H. Reconstruction of integrin activation. Blood 119, 26–33 (2012).

Wehrle-Haller, B. Structure and function of focal adhesions. Curr. Opin. Cell Biol. 24, 116–124 (2012).

Galbraith, C.G., Yamada, K.M. & Galbraith, J.A. Polymerizing actin fibers position integrins primed to probe for adhesion sites. Science 315, 992–995 (2007).

Vicente-Manzanares, M., Choi, C.K. & Horwitz, A.R. Integrins in cell migration–the actin connection. J. Cell Sci. 122, 199–206 (2009).

Smith, A. et al. A talin-dependent LFA-1 focal zone is formed by rapidly migrating T lymphocytes. J. Cell Biol. 170, 141–151 (2005).

Choi, C.K. et al. Actin and α-actinin orchestrate the assembly and maturation of nascent adhesions in a myosin II motor-independent manner. Nat. Cell Biol. 10, 1039–1050 (2008).

Heasman, S.J. & Ridley, A.J. Mammalian Rho GTPases: new insights into their functions from in vivo studies. Nat. Rev. Mol. Cell Biol. 9, 690–701 (2008).

Park, S.Y. et al. Focal adhesion kinase regulates the localization and retention of pro-B cells in bone marrow microenvironments. J. Immunol. 190, 1094–1102 (2013).

Waanders, E. et al. Integrated use of minimal residual disease classification and IKZF1 alteration status accurately predicts 79% of relapses in pediatric acute lymphoblastic leukemia. Leukemia 25, 254–258 (2011).

Yoshida, T., Ng, S.Y., Zuniga-Pflucker, J.C. & Georgopoulos, K. Early hematopoietic lineage restrictions directed by Ikaros. Nat. Immunol. 7, 382–391 (2006).

Schlissel, M.S., Corcoran, L.M. & Baltimore, D. Virus-transformed pre-B cells show ordered activation but not inactivation of immunoglobulin gene rearrangement and transcription. J. Exp. Med. 173, 711–720 (1991).

Fuxa, M. et al. Pax5 induces V-to-DJ rearrangements and locus contraction of the immunoglobulin heavy-chain gene. Genes Dev. 18, 411–422 (2004).

Osmond, D.G., Melchers, F. & Paige, C.J. Pre-B cells in mouse bone marrow: in vitro maturation of peanut agglutinin binding B lymphocyte precursors separated from bone marrow by fluorescence-activated cell sorting. J. Immunol. 133, 86–90 (1984).

Bernardi, P., Patel, V.P. & Lodish, H.F. Lymphoid precursor cells adhere to two different sites on fibronectin. J. Cell Biol. 105, 489–498 (1987).

Roumiantsev, S., de Aos, I.E., Varticovski, L., Ilaria, R.L. & Van Etten, R.A. The src homology 2 domain of Bcr/Abl is required for efficient induction of chronic myeloid leukemia-like disease in mice but not for lymphoid leukemogenesis or activation of phosphatidylinositol 3-kinase. Blood 97, 4–13 (2001).
Acknowledgements
We thank B. Czyzewski for mouse husbandry; K. White, J.M. Park, B. Morgan, R. Bakshi, E. Alonzo and J. Seavitt for critical review of the manuscript; R. Bakshi for assistance with statistical analysis; and R. Arya for assistance with confocal microscopy. High-throughput DNA sequencing was done at the Bauer Center for Genomic Research (Harvard University). Supported by the US National Institutes of Allergy and Infectious Diseases (American Recovery and Reinvestment Act supplement to 5R01AI 42254-14) and the National Cancer Institute (5R01CA162092-20 to K.G. and CA090576 to R.A.V.E.).
Ethics declarations
Competing interests
The authors declare no competing financial interests.
Integrated supplementary information
Supplementary information
About this article
Cite this article
Joshi, I., Yoshida, T., Jena, N. et al. Loss of Ikaros DNA-binding function confers integrin-dependent survival on pre-B cells and progression to acute lymphoblastic leukemia. Nat Immunol 15, 294–304 (2014). https://doi.org/10.1038/ni.2821
Received:

Accepted:

Published:

Issue Date:

DOI: https://doi.org/10.1038/ni.2821