Abstract
Act1 is an essential adaptor in interleukin 17 (IL-17)-mediated signaling and is recruited to the receptor for IL-17 after stimulation with IL-17. Here we found that Act1 was a 'client' protein of the molecular chaperone hsp90. The D10N variant of Act1 (Act1(D10N)) that is linked to susceptibility to psoriasis was defective in its interaction with hsp90, which resulted in a global loss of Act1 function. Act1-deficient mice modeled the mechanistic link between loss of Act1 function and susceptibility to psoriasis. Although Act1 was necessary for IL-17-mediated inflammation, Act1-deficient mice had a hyperactive response of the TH17 subset of helper T cells and developed spontaneous IL-22-dependent skin inflammation. In the absence of IL-17 signaling, IL-22 was the main contributor to skin inflammation, which provides a molecular mechanism for the association of Act1(D10N) with psoriasis susceptibility.
Access options
Subscribe to Journal
Get full journal access for 1 year
$209.00
only $17.42 per issue
All prices are NET prices.
VAT will be added later in the checkout.
Rent or Buy article
Get time limited or full article access on ReadCube.
from$8.99
All prices are NET prices.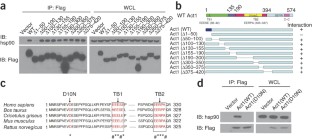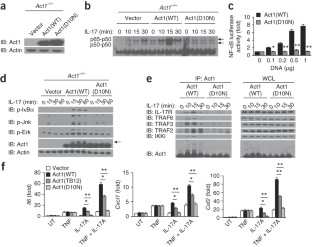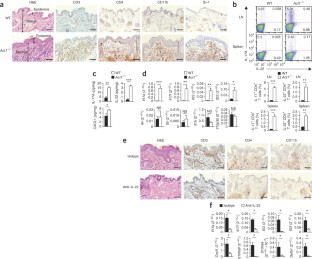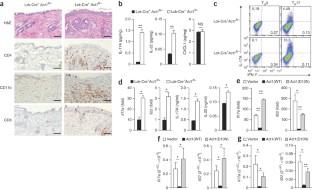 References
1

Lowes, M.A., Bowcock, A.M. & Krueger, J.G. Pathogenesis and therapy of psoriasis. Nature 445, 866–873 (2007).

2

Nickoloff, B.J. & Nestle, F.O. Recent insights into the immunopathogenesis of psoriasis provide new therapeutic opportunities. J. Clin. Invest. 113, 1664–1675 (2004).

3

Chan, J.R. et al. IL-23 stimulates epidermal hyperplasia via TNF and IL-20R2-dependent mechanisms with implications for psoriasis pathogenesis. J. Exp. Med. 203, 2577–2587 (2006).

4

Bettelli, E. et al. Reciprocal developmental pathways for the generation of pathogenic effector TH17 and regulatory T cells. Nature 441, 235–238 (2006).

5

Harrington, L.E. et al. Interleukin 17-producing CD4+ effector T cells develop via a lineage distinct from the T helper type 1 and 2 lineages. Nat. Immunol. 6, 1123–1132 (2005).

6

Iwakura, Y. & Ishigame, H. The IL-23/IL-17 axis in inflammation. J. Clin. Invest. 116, 1218–1222 (2006).

7

Park, H. et al. A distinct lineage of CD4 T cells regulates tissue inflammation by producing interleukin 17. Nat. Immunol. 6, 1133–1141 (2005).

8

Ouyang, W. Distinct roles of IL-22 in human psoriasis and inflammatory bowel disease. Cytokine Growth Factor Rev. 21, 435–441 (2010).

9

Res, P.C. et al. Overrepresentation of IL-17A and IL-22 producing CD8 T cells in lesional skin suggests their involvement in the pathogenesis of psoriasis. PLoS ONE 5, e14108 (2010).

10

Caruso, R. et al. Involvement of interleukin-21 in the epidermal hyperplasia of psoriasis. Nat. Med. 15, 1013–1015 (2009).

11

Cho, J.S. et al. IL-17 is essential for host defense against cutaneous Staphylococcus aureus infection in mice. J. Clin. Invest. 120, 1762–1773 (2010).

12

Conti, H.R. et al. Th17 cells and IL-17 receptor signaling are essential for mucosal host defense against oral candidiasis. J. Exp. Med. 206, 299–311 (2009).

13

Chang, S.H., Park, H. & Dong, C. Act1 adaptor protein is an immediate and essential signaling component of interleukin-17 receptor. J. Biol. Chem. 281, 35603–35607 (2006).

14

Qian, Y. et al. The adaptor Act1 is required for interleukin 17-dependent signaling associated with autoimmune and inflammatory disease. Nat. Immunol. 8, 247–256 (2007).

15

Sonder, S.U. et al. IL-17-induced NF-κB activation via CIKS/Act1: physiologic significance and signaling mechanisms. J. Biol. Chem. 286, 12881–12890 (2011).

16

Schwandner, R., Yamaguchi, K. & Cao, Z. Requirement of tumor necrosis factor receptor-associated factor (TRAF)6 in interleukin 17 signal transduction. J. Exp. Med. 191, 1233–1240 (2000).

17

Liu, C. et al. Act1, a U-box E3 ubiquitin ligase for IL-17 signaling. Sci. Signal. 2, ra63 (2009).

18

Kang, Z. et al. Astrocyte-restricted ablation of interleukin-17-induced Act1-mediated signaling ameliorates autoimmune encephalomyelitis. Immunity 32, 414–425 (2010).

19

Swaidani, S. et al. The critical role of epithelial-derived Act1 in IL-17- and IL-25-mediated pulmonary inflammation. J. Immunol. 182, 1631–1640 (2009).

20

Qian, Y. et al. Act1, a negative regulator in CD40- and BAFF-mediated B cell survival. Immunity 21, 575–587 (2004).

21

Matsushima, Y. et al. An atopic dermatitis-like skin disease with hyper-IgE-emia develops in mice carrying a spontaneous recessive point mutation in the Traf3ip2 (Act1/CIKS) gene. J. Immunol. 185, 2340–2349 (2010).

22

Strange, A. et al. A genome-wide association study identifies new psoriasis susceptibility loci and an interaction between HLA-C and ERAP1. Nat. Genet. 42, 985–990 (2010).

23

Ellinghaus, E. et al. Genome-wide association study identifies a psoriasis susceptibility locus at TRAF3IP2. Nat. Genet. 42, 991–995 (2010).

24

Huffmeier, U. et al. Common variants at TRAF3IP2 are associated with susceptibility to psoriatic arthritis and psoriasis. Nat. Genet. 42, 996–999 (2010).

25

Sun, D. et al. Treatment with IL-17 prolongs the half-life of chemokine CXCL1 mRNA via the adaptor TRAF5 and the splicing-regulatory factor SF2 (ASF). Nat. Immunol. 12, 853–860 (2011).

26

Zhu, S. et al. Modulation of experimental autoimmune encephalomyelitis through TRAF3-mediated suppression of interleukin 17 receptor signaling. J. Exp. Med. 207, 2647–2662 (2010).

27

Taipale, M., Jarosz, D.F. & Lindquist, S. HSP90 at the hub of protein homeostasis: emerging mechanistic insights. Nat. Rev. Mol. Cell Biol. 11, 515–528 (2010).

28

Trepel, J., Mollapour, M., Giaccone, G. & Neckers, L. Targeting the dynamic HSP90 complex in cancer. Nat. Rev. Cancer 10, 537–549 (2010).

29

Cerchietti, L.C. et al. A purine scaffold Hsp90 inhibitor destabilizes BCL-6 and has specific antitumor activity in BCL-6-dependent B cell lymphomas. Nat. Med. 15, 1369–1376 (2009).

30

Marubayashi, S. et al. HSP90 is a therapeutic target in JAK2-dependent myeloproliferative neoplasms in mice and humans. J. Clin. Invest. 120, 3578–3593 (2010).

31

Orthwein, A. et al. Regulation of activation-induced deaminase stability and antibody gene diversification by Hsp90. J. Exp. Med. 207, 2751–2765 (2010).

32

Weigert, O. et al. Genetic resistance to JAK2 enzymatic inhibitors is overcome by HSP90 inhibition. J. Exp. Med. 209, 259–273 (2012).

33

Schulz, R. et al. Inhibiting the HSP90 chaperone destabilizes macrophage migration inhibitory factor and thereby inhibits breast tumor progression. J. Exp. Med. 209, 275–289 (2012).

34

Waza, M. et al. 17-AAG, an Hsp90 inhibitor, ameliorates polyglutamine-mediated motor neuron degeneration. Nat. Med. 11, 1088–1095 (2005).

35

Bulek, K. et al. The inducible kinase IKKi is required for IL-17-dependent signaling associated with neutrophilia and pulmonary inflammation. Nat. Immunol. 12, 844–852 (2011).

36

Ho, A.W. et al. IL-17RC is required for immune signaling via an extended SEF/IL-17R signaling domain in the cytoplasmic tail. J. Immunol. 185, 1063–1070 (2010).

37

Ryzhakov, G., Blazek, K. & Udalova, I.A. Evolution of vertebrate immunity: sequence and functional analysis of the SEFIR domain family member Act1. J. Mol. Evol. 72, 521–530 (2011).

38

Liang, S.C. et al. IL-22 induces an acute-phase response. J. Immunol. 185, 5531–5538 (2010).

39

Guilloteau, K. et al. Skin inflammation induced by the synergistic action of IL-17A, IL-22, oncostatin M, IL-1α, and TNF-α recapitulates some features of psoriasis. J. Immunol. (2010).

40

Hu, Y. et al. IL-17RC is required for IL-17A- and IL-17F-dependent signaling and the pathogenesis of experimental autoimmune encephalomyelitis. J. Immunol. 184, 4307–4316 (2010).

41

Annunziato, F., Cosmi, L., Liotta, F., Maggi, E. & Romagnani, S. Type 17 T helper cells-origins, features and possible roles in rheumatic disease. Nat. Rev. Rheumatol. 5, 325–331 (2009).

42

Zheng, Y. et al. Interleukin-22, a TH17 cytokine, mediates IL-23-induced dermal inflammation and acanthosis. Nature 445, 648–651 (2007).

43

Ma, H.L. et al. IL-22 is required for Th17 cell-mediated pathology in a mouse model of psoriasis-like skin inflammation. J. Clin. Invest. 118, 597–607 (2008).

44

Van Belle, A.B. et al. IL-22 is required for imiquimod-induced psoriasiform skin inflammation in mice. J. Immunol. 188, 462–469 (2012).

45

Rizzo, H.L. et al. IL-23-mediated psoriasis-like epidermal hyperplasia is dependent on IL-17A. J. Immunol. 186, 1495–1502 (2011).

46

Li, L.F., Sujan, S.A., Yang, H. & Wang, W.H. Serum immunoglobulins in psoriatic erythroderma. Clin. Exp. Dermatol. 30, 125–127 (2005).

47

Saraceno, R., Scotto, G., Chiricozzi, A. & Chimenti, S. Urticaria associated with hyper-IgE in a patient with psoriasis undergoing treatment with efalizumab. Acta Derm. Venereol. 89, 412–413 (2009).

48

Li, X.L. et al. Unusual psoriasiform lesions in a patient with Hyper-IgE syndrome. J. Eur. Acad. Dermatol. Venereol. 21, 424–426 (2007).

49

Awasthi, A. et al. Cutting edge: IL-23 receptor GFP reporter mice reveal distinct populations of IL-17-producing cells. J. Immunol. 182, 5904–5908 (2009).

50

Swaidani, S. et al. T cell-derived Act1 is necessary for IL-25-mediated Th2 responses and allergic airway inflammation. J. Immunol. 187, 3155–3164 (2011).
Acknowledgements
We thank AML Laboratories and the Lerner Research Institute Histology Core for processing tissue samples for histology; J. Ma and W. Qian for technical support; and N. Volokh and D. Kish for discussions. Supported by the US National Institutes of Health (1R01NS071996 and 1P01 HL103453 to X.L.; and T32 GM007250 to the Case Western Reserve University Medical Scientist Training Program and T32 AI 89474-1 to the Case Western Reserve University Immunology Training Program, for support of L.W.) and the American Asthma Foundation (X.L.).
Ethics declarations
Competing interests
J.A.C., J.G. and A.D. are employees of Bristol-Meyers-Squibb; W.O. is an employee of Genentech.
Supplementary information
About this article
Cite this article
Wang, C., Wu, L., Bulek, K. et al. The psoriasis-associated D10N variant of the adaptor Act1 with impaired regulation by the molecular chaperone hsp90. Nat Immunol 14, 72–81 (2013). https://doi.org/10.1038/ni.2479
Received:

Accepted:

Published:

Issue Date: