Abstract
The Duffy antigen receptor for chemokines (DARC) belongs to a family of 'silent' heptahelical chemokine receptors that do not couple to G proteins and fail to transmit measurable intracellular signals. DARC binds most inflammatory chemokines and is prominently expressed on venular endothelial cells, where its function has remained contentious. Here we show that DARC, like other silent receptors, internalized chemokines but did not effectively scavenge them. Instead, DARC mediated chemokine transcytosis, which led to apical retention of intact chemokines and more leukocyte migration across monolayers expressing DARC. Mice overexpressing DARC on blood vessel endothelium had enhanced chemokine-induced leukocyte extravasation and contact-hypersensitivity reactions. Thus, interactions of chemokines with DARC support their activity on apposing leukocytes in vitro and in vivo.
Relevant articles
Open Access articles citing this article.
Seppe Cambier

,

Mieke Gouwy

&

Paul Proost

Cellular & Molecular Immunology Open Access 01 February 2023

Zheting Liao

,

Yu Jin

…

Liang Zhao

Communications Biology Open Access 06 April 2022

Robert J. Torphy

,

Yi Sun

…

Yuwen Zhu

Nature Communications Open Access 10 January 2022
Access options
Subscribe to this journal
Receive 12 print issues and online access
$189.00 per year
only $15.75 per issue
Rent or buy this article
Get just this article for as long as you need it
$39.95
Prices may be subject to local taxes which are calculated during checkout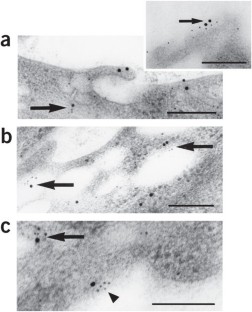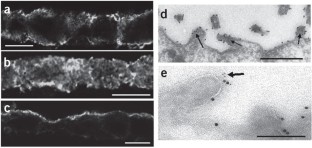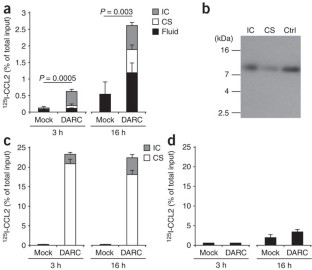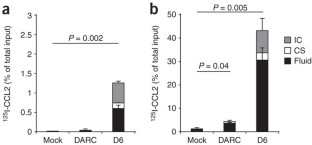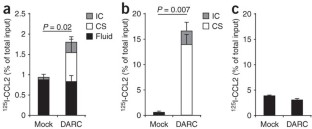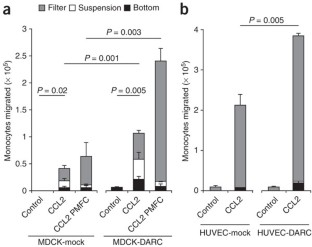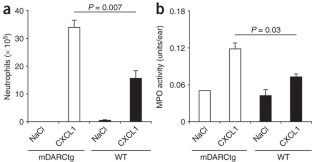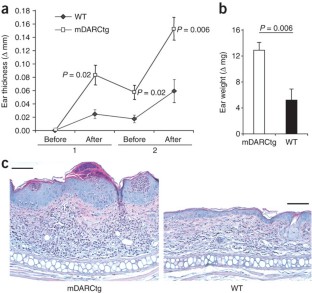 References
Rot, A. & von Andrian, U.H. Chemokines in innate and adaptive host defense: basic chemokinese grammar for immune cells. Annu. Rev. Immunol. 22, 891–928 (2004).

Ley, K., Laudanna, C., Cybulsky, M.I. & Nourshargh, S. Getting to the site of inflammation: the leukocyte adhesion cascade updated. Nat. Rev. Immunol. 7, 678–689 (2007).

Rot, A. Endothelial cell binding of NAP-1/IL-8: role in neutrophil emigration. Immunol. Today 13, 291–294 (1992).

Middleton, J. et al. Transcytosis and surface presentation of IL-8 by venular endothelial cells. Cell 91, 385–395 (1997).

Webb, L.M., Ehrengruber, M.U., Clark-Lewis, I., Baggiolini, M. & Rot, A. Binding to heparan sulfate or heparin enhances neutrophil responses to interleukin 8. Proc. Natl. Acad. Sci. USA 90, 7158–7162 (1993).

Parish, C.R. The role of heparan sulphate in inflammation. Nat. Rev. Immunol. 6, 633–643 (2006).

Tanaka, Y., Adams, D.H. & Shaw, S. Proteoglycans on endothelial cells present adhesion-inducing cytokines to leukocytes. Immunol. Today 14, 111–115 (1993).

Proudfoot, A.E. et al. Glycosaminoglycan binding and oligomerization are essential for the in vivo activity of certain chemokines. Proc. Natl. Acad. Sci. USA 100, 1885–1890 (2003).

Wang, L., Fuster, M., Sriramarao, P. & Esko, J.D. Endothelial heparan sulfate deficiency impairs L-selectin- and chemokine-mediated neutrophil trafficking during inflammatory responses. Nat. Immunol. 6, 902–910 (2005).

Hub, E. & Rot, A. Binding of RANTES, MCP-1, MCP-3, and MIP-1α to cells in human skin. Am. J. Pathol. 152, 749–757 (1998).

Lee, J.S. et al. Duffy antigen facilitates movement of chemokine across the endothelium in vitro and promotes neutrophil transmigration in vitro and in vivo. J. Immunol. 170, 5244–5251 (2003).

Rot, A. Contribution of Duffy antigen to chemokine function. Cytokine Growth Factor Rev. 16, 687–694 (2005).

Pruenster, M. & Rot, A. Throwing light on DARC. Biochem. Soc. Trans. 34, 1005–1008 (2006).

Peiper, S.C. et al. The Duffy antigen/receptor for chemokines (DARC) is expressed in endothelial cells of Duffy negative individuals who lack the erythrocyte receptor. J. Exp. Med. 181, 1311–1317 (1995).

Gardner, L., Patterson, A.M., Ashton, B.A., Stone, M.A. & Middleton, J. The human Duffy antigen binds selected inflammatory but not homeostatic chemokines. Biochem. Biophys. Res. Commun. 321, 306–312 (2004).

Hadley, T.J. & Peiper, S.C. From malaria to chemokine receptor: the emerging physiologic role of the Duffy blood group antigen. Blood 89, 3077–3091 (1997).

Nibbs, R., Graham, G. & Rot, A. Chemokines on the move: control by the chemokine "interceptors" Duffy blood group antigen and D6. Semin. Immunol. 15, 287–294 (2003).

Mantovani, A., Bonecchi, R. & Locati, M. Tuning inflammation and immunity by chemokine sequestration: decoys and more. Nat. Rev. Immunol. 6, 907–918 (2006).

Fra, A.M. et al. Cutting edge: scavenging of inflammatory CC chemokines by the promiscuous putatively silent chemokine receptor D6. J. Immunol. 170, 2279–2282 (2003).

Weber, M. et al. The chemokine receptor D6 constitutively traffics to and from the cell surface to internalize and degrade chemokines. Mol. Biol. Cell 15, 2492–2508 (2004).

Comerford, I., Milasta, S., Morrow, V., Milligan, G. & Nibbs, R. The chemokine receptor CCX–CKR mediates effective scavenging of CCL19 in vitro. Eur. J. Immunol. 36, 1904–1916 (2006).

Jamieson, T. et al. The chemokine receptor D6 limits the inflammatory response in vivo. Nat. Immunol. 6, 403–411 (2005).

Martinez de la Torre, Y. et al. Protection against inflammation- and autoantibody-caused fetal loss by the chemokine decoy receptor D6. Proc. Natl. Acad. Sci. USA 104, 2319–2324 (2007).

Nibbs, R.J. et al. The atypical chemokine receptor D6 suppresses the development of chemically induced skin tumors. J. Clin. Invest. 117, 1884–1892 (2007).

Darbonne, W.C. et al. Red blood cells are a sink for interleukin 8, a leukocyte chemotaxin. J. Clin. Invest. 88, 1362–1369 (1991).

Dawson, T.C. et al. Exaggerated response to endotoxin in mice lacking the Duffy antigen/receptor for chemokines (DARC). Blood 96, 1681–1684 (2000).

Du, J. et al. Potential role for Duffy antigen chemokine-binding protein in angiogenesis and maintenance of homeostasis in response to stress. J. Leukoc. Biol. 71, 141–153 (2002).

Bonecchi, R. et al. Regulation of D6 chemokine scavenging activity by ligand- and Rab11-dependent surface up-regulation. Blood 112, 493–503 (2008).

Chaudhuri, A. et al. Detection of Duffy antigen in the plasma membranes and caveolae of vascular endothelial and epithelial cells of nonerythroid organs. Blood 89, 701–712 (1997).

McCulloch, C.V. et al. Multiple roles for the C-terminal tail of the chemokine scavenger D6. J. Biol. Chem. 283, 7972–7982 (2008).

Drake, M.T., Shenoy, S.K. & Lefkowitz, R.J. Trafficking of G protein-coupled receptors. Circ. Res. 99, 570–582 (2006).

Brzostowski, J.A. & Kimmel, A.R. Signaling at zero G: G-protein-independent functions for 7-TM receptors. Trends Biochem. Sci. 26, 291–297 (2001).

Handel, T.M., Johnson, Z., Crown, S.E., Lau, E.K. & Proudfoot, A.E. Regulation of protein function by glycosaminoglycans–as exemplified by chemokines. Annu. Rev. Biochem. 74, 385–410 (2005).

Christopherson, K.W., Campbell, J.J., Travers, J.B. & Hromas, R.A. Low-molecular-weight heparins inhibit CCL21-induced T cell adhesion and migration. J. Pharmacol. Exp. Ther. 302, 290–295 (2002).

Smith, E. et al. Duffy antigen receptor for chemokines and CXCL5 are essential for the recruitment of neutrophils in a multicellular model of rheumatoid arthritis synovium. Arthritis Rheum. 58, 1968–1973 (2008).

Horton, L.W., Yu, Y., Zaja-Milatovic, S., Strieter, R.M. & Richmond, A. Opposing roles of murine duffy antigen receptor for chemokine and murine CXC chemokine receptor-2 receptors in murine melanoma tumor growth. Cancer Res. 67, 9791–9799 (2007).

Chakera, A., Seeber, R.M., John, A.E., Eidne, K.A. & Greaves, D.R. The duffy antigen/receptor for chemokines exists in an oligomeric form in living cells and functionally antagonizes CCR5 signaling through hetero-oligomerization. Mol. Pharmacol. 73, 1362–1370 (2008).

Fukuma, N. et al. A role of the Duffy antigen for the maintenance of plasma chemokine concentrations. Biochem. Biophys. Res. Commun. 303, 137–139 (2003).

Jilma-Stohlawetz, P. et al. Fy phenotype and gender determine plasma levels of monocyte chemotactic protein. Transfusion 41, 378–381 (2001).

Palframan, R.T., Collins, P.D., Williams, T.J. & Rankin, S.M. Eotaxin induces a rapid release of eosinophils and their progenitors from the bone marrow. Blood 91, 2240–2248 (1998).

Serbina, N.V. & Pamer, E.G. Monocyte emigration from bone marrow during bacterial infection requires signals mediated by chemokine receptor CCR2. Nat. Immunol. 7, 311–317 (2006).

Kashiwazaki, M. et al. A high endothelial venule-expressing promiscuous chemokine receptor DARC can bind inflammatory, but not lymphoid, chemokines and is dispensable for lymphocyte homing under physiological conditions. Int. Immunol. 15, 1219–1227 (2003).

Lee, J.S. et al. The Duffy antigen modifies systemic and local tissue chemokine responses following lipopolysaccharide stimulation. J. Immunol. 177, 8086–8094 (2006).

Tournamille, C., Colin, Y., Cartron, J.P. & Le Van, K.C. Disruption of a GATA motif in the Duffy gene promoter abolishes erythroid gene expression in Duffy-negative individuals. Nat. Genet. 10, 224–228 (1995).

Horuk, R. et al. A receptor for the malarial parasite Plasmodium vivax: the erythrocyte chemokine receptor. Science 261, 1182–1184 (1993).

He, W. et al. Duffy antigen receptor for chemokines mediates trans-infection of HIV-1 from red blood cells to target cells and affects HIV-AIDS susceptibility. Cell Host Microbe 4, 52–62 (2008).

Bandyopadhyay, S. et al. Interaction of KAI1 on tumor cells with DARC on vascular endothelium leads to metastasis suppression. Nat. Med. 12, 933–938 (2006).

Lentsch, A.B. The Duffy antigen/receptor for chemokines (DARC) and prostate cancer. A role as clear as black and white? FASEB J. 16, 1093–1095 (2002).

Segerer, S. et al. The Duffy antigen receptor for chemokines is up-regulated during acute renal transplant rejection and crescentic glomerulonephritis. Kidney Int. 58, 1546–1556 (2000).

Lee, J.S. et al. Enhanced expression of Duffy antigen in the lungs during suppurative pneumonia. J. Histochem. Cytochem. 51, 159–166 (2003).

Bruhl, H. et al. Expression of DARC, CXCR3 and CCR5 in giant cell arteritis. Rheumatology (Oxford) 44, 309–313 (2005).

Gardner, L. et al. Temporal expression pattern of Duffy antigen in rheumatoid arthritis: up-regulation in early disease. Arthritis Rheum. 54, 2022–2026 (2006).

Schneider, M.A., Meingassner, J.G., Lipp, M., Moore, H.D. & Rot, A. CCR7 is required for the in vivo function of CD4+CD25+ regulatory T cells. J. Exp. Med. 204, 735–745 (2007).
Acknowledgements
We thank M. Uchikawa (Japanese Red Cross) for anti-DARC; J.S. Lee (University of Pittsburgh) and J.S. Rhim (Uniformed Services University of the Health Sciences) for HUVECs transfected with DARC or empty vector; G. Posthuma (Utrecht University) for colloidal gold–conjugated protein A; S. Huber for genotyping; and M. Hahn and W. Höllriegl for husbandry. Supported by the European Union Sixth Framework Programme (LSHB-CT-2005-518167 to M.P., L.M., P.B., G.J.G. and A.Ro.), Deutsche Forschungsgemeinschaft (SE 888/4-1 to S.S.) and the Else-Kröner Fresenius Stiftung (to S.S.).
Ethics declarations
Competing interests
At the time of this study, M.P., L.M., P.B., S.D., M.Z. and A.Ro. were employees of the Novartis Institutes for BioMedical Research, Vienna.
Supplementary information
About this article
Cite this article
Pruenster, M., Mudde, L., Bombosi, P. et al. The Duffy antigen receptor for chemokines transports chemokines and supports their promigratory activity. Nat Immunol 10, 101–108 (2009). https://doi.org/10.1038/ni.1675
Received:

Accepted:

Published:

Issue Date:

DOI: https://doi.org/10.1038/ni.1675