Abstract
The Arctic climate is changing rapidly1. From 1979 to 2006, September sea-ice extent decreased by almost 25% or about 100,000 km2 per year (ref. 2). In September 2007, Arctic sea-ice extent reached its lowest level since satellite observations began3 and in September 2008, sea-ice cover was still low. This development has raised concerns that the Arctic Ocean could be ice-free in late summer in only a few decades, with important economic and geopolitical implications. Unfortunately, most current climate models underestimate significantly the observed trend in Arctic sea-ice decline4, leading to doubts regarding their projections for the timing of ice-free conditions. Here we analyse the simulated trends in past sea-ice cover in 18 state-of-art-climate models and find a direct relationship between the simulated evolution of September sea-ice cover over the twenty-first century and the magnitude of past trends in sea-ice cover. Using this relationship together with observed trends, we project the evolution of September sea-ice cover over the twenty-first century. We find that under a scenario with medium future greenhouse-gas emissions, the Arctic Ocean will probably be ice-free in September before the end of the twenty-first century.
Relevant articles
Open Access articles citing this article.
Saloua Balhane

,

Fatima Driouech

…

Willfran Moufouma-Okia

Climate Dynamics Open Access 21 August 2021

Evan Kodra

,

Udit Bhatia

…

Auroop Ratan Ganguly

Scientific Reports Open Access 24 June 2020

Jun Liu

,

Dongyou Wu

…

Xin Wang

Climate Dynamics Open Access 26 December 2019
Access options
Subscribe to Journal
Get full journal access for 1 year
$119.00
only $9.92 per issue
All prices are NET prices.
VAT will be added later in the checkout.
Tax calculation will be finalised during checkout.
Buy article
Get time limited or full article access on ReadCube.
$32.00
All prices are NET prices.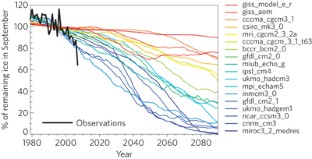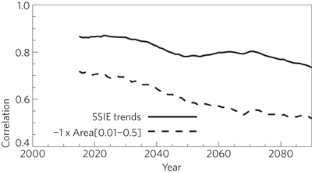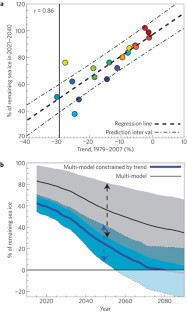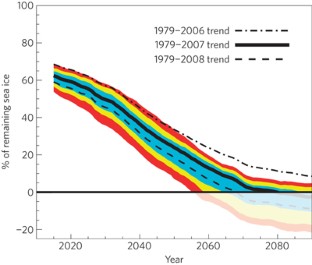 References
ACIA, Arctic Climate Impact Assessment–Scientific Report, 1046 (Cambridge Univ. Press, 2005).

Serreze, M. C., Holland, M. M. & Stroeve, J. Perspectives on the Arctic's shrinking sea-ice. Science 315, 1533–1536 (2007).

Zhang, J., Lindsay, R., Steele, M. & Schweiger, A. What drove the dramatic retreat of arctic sea ice during summer 2007. Geophys. Res. Lett. 60, L11505 (2008).

Stroeve, J., Holland, M. M., Meier, W., Scambos, T. & Serreze, M. Arctic sea ice decline: Faster than forecast. Geophys. Res. Lett. 34, L09501 (2007).

Holland, M. M., Bitz, C. M., Hunke, E. C., Lipscomb, W. H. & Schramm, J. L. Influence of the sea ice thickness distribution on polar climate in CCSM3. J. Clim. 19, 2398–2414 (2006).

Forster, P. M. & Taylor, K. E. Climate forcings and climate sensitivities from coupled climate model integrations. J. Clim. 19, 6181–6194 (2006).

Raupach, M. R. et al. Global and regional drivers of accelerating CO2 emissions. Proc. Natl Acad. Sci. 104, 10288–10293 (2007).

Piani, C., Frame, D. J., Stainforth, D. A. & Allen, M. R. Constraints on climate change from a multi-thousand member ensemble of simulations. Geophys. Res. Lett. 32, L23825 (2005).

Hall, A. & Qu, X. Using the current seasonal cycle to constrain snow albedo feedback in future climate change. Geophys. Res. Lett. 33, L03502 (2006).

Boé, J. & Terray, L. Uncertainties in summer evapotranspiration changes over Europe and implications for regional climate change. Geophys. Res. Lett. 35, L05702 (2008).

Roe, G. H. & Baker, M. B. Why is climate sensitivity so unpredictable? Science 318, 629–632 (2007).

Collins, M. et al. Towards quantifying uncertainty in transient climate change. Clim. Dyn. 27, 127–147 (2006).

Meehl, G. A. et al. The WCRP CMIP3 multimodel dataset: A new era in climate change research. BAMS 88, 1383–1394 (2007).

Fetterer, F., Knowles, K., Meier, W. & Savoie, M. Sea Ice Index updated 2008 (National Snow and Ice Data Center, USA, 2002); available at <http://nsidc.org/data/seaice_index/> (2002).
Acknowledgements
The authors are supported by NSF ARC-0714083. Opinions, findings, conclusions, or recommendations expressed here are those of the authors and do not necessarily reflect NSF views. We acknowledge the modelling groups, the Program for Climate Model Diagnosis and Intercomparison (PCMDI) and the WCRP's Working Group on Coupled Modelling (WGCM) for their roles in making available the WCRP CMIP3 multi-model data set. Support of this data set is provided by the Office of Science, US Department of Energy.
About this article
Cite this article
Boé, J., Hall, A. & Qu, X. September sea-ice cover in the Arctic Ocean projected to vanish by 2100. Nature Geosci 2, 341–343 (2009). https://doi.org/10.1038/ngeo467
Received:

Accepted:

Published:

Issue Date:

DOI: https://doi.org/10.1038/ngeo467