Abstract
A general question for linkage disequilibrium–based association studies is how power to detect an association is compromised when tag SNPs are chosen from data in one population sample and then deployed in another sample. Specifically, it is important to know how well tags picked from the HapMap DNA samples capture the variation in other samples. To address this, we collected dense data uniformly across the four HapMap population samples and eleven other population samples. We picked tag SNPs using genotype data we collected in the HapMap samples and then evaluated the effective coverage of these tags in comparison to the entire set of common variants observed in the other samples. We simulated case-control association studies in the non-HapMap samples under a disease model of modest risk, and we observed little loss in power. These results demonstrate that the HapMap DNA samples can be used to select tags for genome-wide association studies in many samples around the world.
Relevant articles
Open Access articles citing this article.
Kaivalya Walavalkar

,

Bharath Saravanan

…

Dimple Notani

Nature Communications Open Access 17 July 2020

Yixuan Cao

,

Qiyue Zhang

…

Yongyong Shi

Hereditas Open Access 23 May 2019

Roberta Goncalves Marangoni

,

Benjamin D Korman

…

M Geoffrey Hayes

Arthritis Research & Therapy Open Access 19 May 2015
Access options
Subscribe to Journal
Get full journal access for 1 year
$79.00
only $6.58 per issue
All prices are NET prices.
VAT will be added later in the checkout.
Tax calculation will be finalised during checkout.
Buy article
Get time limited or full article access on ReadCube.
$32.00
All prices are NET prices.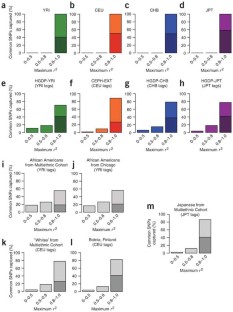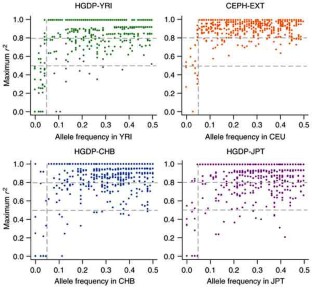 References
The International HapMap Consortium. A haplotype map of the human genome. Nature 437, 1299–1320 (2005).

de Bakker, P.I.W. et al. Efficiency and power in genetic association studies. Nat. Genet. 37, 1217–1223 (2005).

Kolonel, L.N. et al. A multiethnic cohort in Hawaii and Los Angeles: baseline characteristics. Am. J. Epidemiol. 151, 346–357 (2000).

Kolonel, L.N., Altshuler, D. & Henderson, B.E. The multiethnic cohort study: exploring genes, lifestyle and cancer risk. Nat. Rev. Cancer 4, 519–527 (2004).

Wheeler, D.L. et al. Database resources of the National Center for Biotechnology Information. Nucleic Acids Res. 34, D173–D180 (2006).

Zeggini, E. et al. An evaluation of HapMap sample size and tagging SNP performance in large-scale empirical and simulated data sets. Nat. Genet. 37, 1320–1322 (2005).

Parra, E.J. et al. Estimating African American admixture proportions by use of population-specific alleles. Am. J. Hum. Genet. 63, 1839–1851 (1998).

Pe'er, I. et al. Evaluating and improving power in whole-genome association studies using fixed marker sets. Nat. Genet. 38, 663–667 (2006).

Weale, M.E. et al. Selection and evaluation of tagging SNPs in the neuronal-sodium-channel gene SCN1A: implications for linkage-disequilibrium gene mapping. Am. J. Hum. Genet. 73, 551–565 (2003).

Nejentsev, S. et al. Comparative high-resolution analysis of linkage disequilibrium and tag single nucleotide polymorphisms between populations in the vitamin D receptor gene. Hum. Mol. Genet. 13, 1633–1639 (2004).

Ke, X. et al. Efficiency and consistency of haplotype tagging of dense SNP maps in multiple samples. Hum. Mol. Genet. 13, 2557–2565 (2004).

Mueller, J.C. et al. Linkage disequilibrium patterns and tagSNP transferability among European populations. Am. J. Hum. Genet. 76, 387–398 (2005).

Ahmadi, K.R. et al. A single-nucleotide polymorphism tagging set for human drug metabolism and transport. Nat. Genet. 37, 84–89 (2005).

Ramirez-Soriano, A. et al. Haplotype tagging efficiency in worldwide populations in CTLA4 gene. Genes Immun. 6, 646–657 (2005).

Ribas, G. et al. Evaluating HapMap SNP data transferability in a large-scale genotyping project involving 175 cancer-associated genes. Hum. Genet. 118, 669–679 (2006).

Stankovich, J. et al. On the utility of data from the International HapMap Project for Australian association studies. Hum. Genet. 119, 220–222 (2006).

Huang, W. et al. Linkage disequilibrium sharing and haplotype-tagged SNP portability between populations. Proc. Natl. Acad. Sci. USA 103, 1418–1421 (2006).

Gonzalez-Neira, A. et al. The portability of tagSNPs across populations: a worldwide survey. Genome Res. 16, 323–330 (2006).

Montpetit, A. et al. An evaluation of the performance of tag SNPs derived from HapMap in a Caucasian population. PLoS Genet. 2, e27 (2006).

Smith, E.M. et al. Comparison of linkage disequilibrium patterns between the HapMap CEPH samples and a family-based cohort of Northern European descent. Genomics published online 19 May 2006 (doi:10.1016/j.ygeno.2006.04.004).

Shifman, S., Kuypers, J., Kokoris, M., Yakir, B. & Darvasi, A. Linkage disequilibrium patterns of the human genome across populations. Hum. Mol. Genet. 12, 771–776 (2003).

Beaty, T.H. et al. Haplotype diversity in 11 candidate genes across four populations. Genetics 171, 259–267 (2005).

Evans, D.M. & Cardon, L.R. A comparison of linkage disequilibrium patterns and estimated population recombination rates across multiple populations. Am. J. Hum. Genet. 76, 681–687 (2005).

Sawyer, S.L. et al. Linkage disequilibrium patterns vary substantially among populations. Eur. J. Hum. Genet. 13, 677–686 (2005).

Cann, H.M. et al. A human genome diversity cell line panel. Science 296, 261–262 (2002).

Rosenberg, N.A. et al. Genetic structure of human populations. Science 298, 2381–2385 (2002).

Stephens, M. & Donnelly, P. A comparison of Bayesian methods for haplotype reconstruction from population genotype data. Am. J. Hum. Genet. 73, 1162–1169 (2003).

Marchini, J. et al. A comparison of phasing algorithms for trios and unrelated individuals. Am. J. Hum. Genet. 78, 437–450 (2006).

Carlson, C.S. et al. Selecting a maximally informative set of single-nucleotide polymorphisms for association analyses using linkage disequilibrium. Am. J. Hum. Genet. 74, 106–120 (2004).

Howie, B.N., Carlson, C.S., Rieder, M.J. & Nickerson, D.A. Efficient selection of tagging single-nucleotide polymorphisms in multiple populations. Hum. Genet. 120, 58–68 (2006).
Acknowledgements
We thank M. Egyud for sharing unpublished results and all members of the collaborative Multiethnic Cohort Study and the Analysis group of the International HapMap Consortium for useful discussions. We acknowledge the support of NIH grants CA63464 and CA098758 (to B.E.H.), HL074166 (to X.Z.), CA54281 (to L.N.K.) and DK067288 (to H.N.L.); a March of Dimes grant (6-FY04-61, to J.N.H.) and a Charles E. Culpeper Scholarship of the Rockefeller Brothers Fund and a Burroughs Wellcome Fund Clinical Scholarship in Translational Research (both to D.A.).
Ethics declarations
Competing interests
The authors declare no competing financial interests.
Supplementary information
About this article
Cite this article
de Bakker, P., Burtt, N., Graham, R. et al. Transferability of tag SNPs in genetic association studies in multiple populations. Nat Genet 38, 1298–1303 (2006). https://doi.org/10.1038/ng1899
Received:

Accepted:

Published:

Issue Date:

DOI: https://doi.org/10.1038/ng1899