Abstract
Epidermodysplasia verruciformis (OMIM 226400) is a rare autosomal recessive genodermatosis associated with a high risk of skin carcinoma that results from an abnormal susceptibility to infection by specific human papillomaviruses (HPVs). We recently mapped a susceptibility locus for epidermodysplasia verruciformis (EV1) to chromosome 17q25. Here we report the identification of nonsense mutations in two adjacent novel genes, EVER1 and EVER2, that are associated with the disease. The gene products EVER1 and EVER2 have features of integral membrane proteins and are localized in the endoplasmic reticulum.
Access options
Subscribe to Journal
Get full journal access for 1 year
$59.00
only $4.92 per issue
All prices are NET prices.
VAT will be added later in the checkout.
Tax calculation will be finalised during checkout.
Rent or Buy article
Get time limited or full article access on ReadCube.
from$8.99
All prices are NET prices.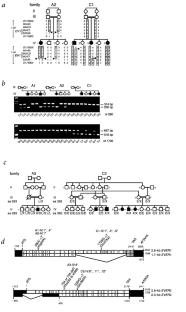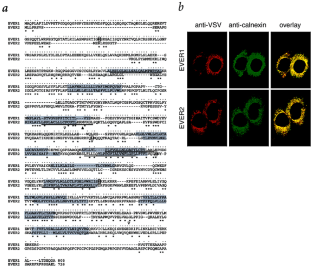 References
1

Howley, P.M. & Lowy, D.R. in Fields Virology, 4th edn Vol. 2 (eds Knipe, D.M. et al.) 2197–2230 (Lippincott Williams & Wilkins, Philadelphia, 2001).

2

Orth, G. et al. Proc. Natl Acad. Sci. USA 75, 1537–1541 (1978).

3

Orth, G. et al. Cancer Res. 39, 1074–1082 (1979).

4

Orth, G. Epidermodysplasia verruciformis. in The Papillomaviruses (eds Howley, P.M. & Salzman, N.P.) 199–243 (Plenum Press, New York, 1987).

5

Boxman, I.L.A. et al. J. Invest. Dermatol. 108, 712–715 (1997).

6

Antonsson, A., Forslund, O., Ekberg, H., Sterner, G. & Hansson, B.G. J. Virol. 74, 11636–11641 (2000).

7

Jablonska, S., Dabrowski, J. & Jakubowicz, K. Cancer Res. 32, 583–589 (1972).

8

Ramoz, N., Rueda, L.-A., Bouadjar, B., Favre, M. & Orth, G. J. Invest. Dermatol. 112, 259–263 (1999).

9

Ramoz, N. et al. J. Invest. Dermatol. 114, 1148–1153 (2000).

10

Lykke-Andersen, J., Shu, M.-D. & Steitz, J.A. Cell 103, 1121–1131 (2000).

11

Thompson, J.D., Higgins, D.G. & Gibson, T.J. Nucleic Acids Res. 22, 4673–4680 (1994).

12

Krogh, A., Larsson, B., von Heijne, G. & Sonnhammer, E.L.L. J. Mol. Biol. 305, 567–580 (2001).

13

Boukamp, P. et al. J. Cell Biol. 106, 761–771 (1988).

14

Majewski, S., Jablonska, S., & Orth, G. Clin. Dermatol. 15, 321–334 (1997).
Acknowledgements
We thank the family members for their participation; M.-J. Rueda, X. Rueda and M.-I. Rueda for their contribution in collecting blood samples and providing information for family trees; F. Breitburd for critical reading of the manuscript; E. Perret for technical expertise in confocal microscopy; and D. Senlecques for expert assistance in computer drawings and the preparation of the manuscript. This work was done with the technical support of Généthon to obtain lymphoblastoid cell lines and DNA preparations. This work was supported by the Institut National de la Santé et de la Recherche Médicale (U190) and the Association pour la Recherche contre le Cancer. N.R. was a recipient of fellowships from the Fondation pour la Recherche Médicale, the Caisse Nationale d'Assurance Maladie des Professions Indépendantes, the Pasteur–Weizmann Foundation and the Association pour la Recherche sur le Cancer.
Ethics declarations
Competing interests
The authors declare no competing financial interests.
Supplementary information
About this article
Cite this article
Ramoz, N., Rueda, LA., Bouadjar, B. et al. Mutations in two adjacent novel genes are associated with epidermodysplasia verruciformis. Nat Genet 32, 579–581 (2002). https://doi.org/10.1038/ng1044
Received:

Accepted:

Published:

Issue Date:
Further reading
Elias Imahorn

,

Magomet Aushev

,

Stefan Herms

,

Per Hoffmann

,

Sven Cichon

,

Julia Reichelt

,

Peter H. Itin

&

Bettina Burger

Scientific Reports (2020)

Human Genetics (2020)

Xiaomin Yue

,

Yi Sheng

,

Lijun Kang

&

Rui Xiao

Cellular and Molecular Life Sciences (2019)