Abstract
3MC syndrome has been proposed as a unifying term encompassing the overlapping Carnevale, Mingarelli, Malpuech and Michels syndromes. These rare autosomal recessive disorders exhibit a spectrum of developmental features, including characteristic facial dysmorphism, cleft lip and/or palate, craniosynostosis, learning disability and genital, limb and vesicorenal anomalies. Here we studied 11 families with 3MC syndrome and identified two mutated genes, COLEC11 and MASP1, both of which encode proteins in the lectin complement pathway (collectin kidney 1 (CL-K1) and MASP-1 and MASP-3, respectively). CL-K1 is highly expressed in embryonic murine craniofacial cartilage, heart, bronchi, kidney and vertebral bodies. Zebrafish morphants for either gene develop pigmentary defects and severe craniofacial abnormalities. Finally, we show that CL-K1 serves as a guidance cue for neural crest cell migration. Together, these findings demonstrate a role for complement pathway factors in fundamental developmental processes and in the etiology of 3MC syndrome.
Your institute does not have access to this article
Relevant articles
Open Access articles citing this article.
Nadine Spielmann

,

Gregor Miller

…

Martin Hrabe de Angelis

Nature Cardiovascular Research Open Access 17 February 2022

Nicholas Brodszki

,

Ashley Frazer-Abel

…

Stephen Jolles

Journal of Clinical Immunology Open Access 17 February 2020

Hongmei Lu

,

Shaodong Deng

…

Kunhua Hu

Clinical Proteomics Open Access 31 July 2019
Access options
Subscribe to Journal
Get full journal access for 1 year
$59.00
only $4.92 per issue
All prices are NET prices.
VAT will be added later in the checkout.
Tax calculation will be finalised during checkout.
Buy article
Get time limited or full article access on ReadCube.
$32.00
All prices are NET prices.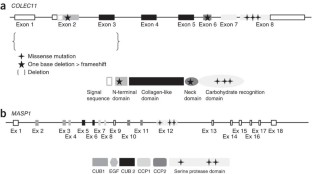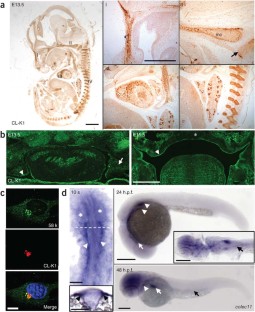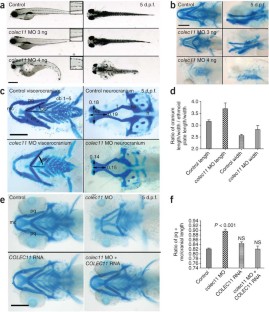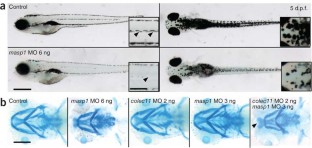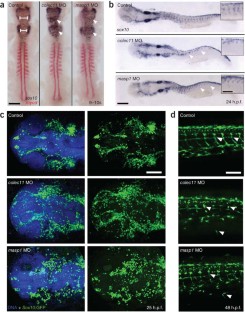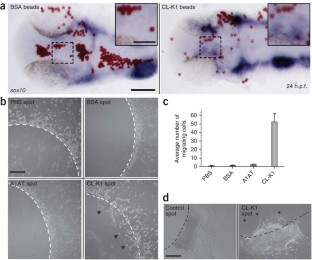 Accession codes
Accessions
NCBI Reference Sequence
References
Carnevale, F., Krajewska, G., Fischetto, R., Greco, M.G. & Bonvino, A. Ptosis of eyelids, strabismus, diastasis recti, hip defect, cryptorchidism, and developmental delay in two sibs. Am. J. Med. Genet. 33, 186–189 (1989).

Mingarelli, R., Castriota Scanderbeg, A. & Dallapiccola, B. Two sisters with a syndrome of ocular, skeletal, and abdominal abnormalities (OSA syndrome). J. Med. Genet. 33, 884–886 (1996).

Malpuech, G., Demeocq, F., Palcoux, J.B. & Vanlieferinghen, P. A previously undescribed autosomal recessive multiple congenital anomalies/mental retardation (MCA/MR) syndrome with growth failure, lip/palate cleft(s), and urogenital anomalies. Am. J. Med. Genet. 16, 475–480 (1983).

Michels, V.V., Hittner, H.M. & Beaudet, A.L. A clefting syndrome with ocular anterior chamber defect and lid anomalies. J. Pediatr. 93, 444–446 (1978).

Al Kaissi, A. et al. Asymmetrical skull, ptosis, hypertelorism, high nasal bridge, clefting, umbilical anomalies, and skeletal anomalies in sibs: is Carnevale syndrome a separate entity? Am. J. Med. Genet. A. 143, 349–354 (2007).

Leal, G.F., Silva, E.O., Duarte, A.R. & Campos, J.F. Blepharophimosis, blepharoptosis, defects of the anterior chamber of the eye, caudal appendage, radioulnar synostosis, hearing loss and umbilical anomalies in sibs: 3MC syndrome? Am. J. Med. Genet. A. 146A, 1059–1062 (2008).

Priolo, M. et al. Malpuech syndrome: broadening the clinical spectrum and molecular analysis by array-CGH. Eur. J. Med. Genet. 50, 139–143 (2007).

Keshi, H. et al. Identification and characterization of a novel human collectin CL-K1. Microbiol. Immunol. 50, 1001–1013 (2006).

Møller-Kristensen, M., Thiel, S., Sjoholm, A., Matsushita, M. & Jensenius, J.C. Cooperation between MASP-1 and MASP-2 in the generation of C3 convertase through the MBL pathway. Int. Immunol. 19, 141–149 (2007).

Dahl, M.R. et al. MASP-3 and its association with distinct complexes of the mannan-binding lectin complement activation pathway. Immunity 15, 127–135 (2001).

Leal, G.F. & Baptista, E.V. Three additional cases of the Michels syndrome. Am. J. Med. Genet. A. 143A, 2747–2750 (2007).

Hansen, S. et al. Collectin 11 (CL-11, CL-K1) is a MASP-1/3-associated plasma collectin with microbial-binding activity. J. Immunol. 185, 6096–6104 (2010).

Delalande, J.M. et al. The receptor tyrosine kinase RET regulates hindgut colonization by sacral neural crest cells. Dev. Biol. 313, 279–292 (2008).

Sirmaci, A. et al. MASP1 mutations in patients with facial, umbilical, coccygeal, and auditory findings of Carnevale, Malpuech, OSA, and Michels syndromes. Am. J. Hum. Genet. 87, 679–686 (2010).

Ezekowitz, R.A., Day, L.E. & Herman, G.A. A human mannose-binding protein is an acute-phase reactant that shares sequence homology with other vertebrate lectins. J. Exp. Med. 167, 1034–1046 (1988).

Cortesio, C.L. & Jiang, W. Mannan-binding lectin-associated serine protease 3 cleaves synthetic peptides and insulin-like growth factor-binding protein 5. Arch. Biochem. Biophys. 449, 164–170 (2006).

Degn, S.E., Thiel, S. & Jensenius, J.C. New perspectives on mannan-binding lectin-mediated complement activation. Immunobiology 212, 301–311 (2007).

Degn, S.E. et al. MAp44, a human protein associated with pattern recognition molecules of the complement system and regulating the lectin pathway of complement activation. J. Immunol. 183, 7371–7378 (2009).

Skjoedt, M.O. et al. A novel mannose-binding lectin/ficolin-associated protein is highly expressed in heart and skeletal muscle tissues and inhibits complement activation. J. Biol. Chem. 285, 8234–8243 (2010).

Zundel, S. et al. Characterization of recombinant mannan-binding lectin-associated serine protease (MASP)-3 suggests an activation mechanism different from that of MASP-1 and MASP-2. J. Immunol. 172, 4342–4350 (2004).

Lynch, N.J. et al. Composition of the lectin pathway of complement in Gallus gallus: absence of mannan-binding lectin-associated serine protease-1 in birds. J. Immunol. 174, 4998–5006 (2005).

Theveneau, E. et al. Collective chemotaxis requires contact-dependent cell polarity. Dev. Cell 19, 39–53 (2010).

Westerfield, M. The Zebrafish Book. A Guide for the Laboratory Use of Zebrafish (Danio rerio) (University of Oregon Press, Portland, Oregon, USA, 1995).

Weinberg, E.S. et al. Developmental regulation of zebrafish MyoD in wild-type, no tail and spadetail embryos. Development 122, 271–280 (1996).

Pearson, C.G., Osborn, D.P., Giddings, T.H. Jr., Beales, P.L. & Winey, M. Basal body stability and ciliogenesis requires the conserved component Poc1. J. Cell Biol. 187, 905–920 (2009).

Wiggins, H. & Rappoport, J. An agarose spot assay for chemotactic invasion. Biotechniques 48, 121–124 (2010).

Delalande, J.M. et al. The receptor tyrosine kinase RET regulates hindgut colonization by sacral neural crest cells. Dev. Biol. 313, 279–292 (2008).
Acknowledgements
This work was supported in part by grants from NEWLIFE (P.L.B., A.D.-F. and C.R.), the Wellcome Trust (P.L.B.), Dubai Harvard Foundation for Medical Research (F.S.A.), the University Hospital of Bordeaux (C.R.), the UK Medical Research Council (A.W.) and EU-FP7 (201804-EUCILIA) (V.H.-H., D.J. and D.P.S.O.). This research was supported by the National Institute for Health Research Biomedical Research Centre at Great Ormond Street Hospital for Children NHS Foundation Trust and University College London (P.L.B.). P.L.B. is a Wellcome Trust Senior Research Fellow.
Ethics declarations
Competing interests
The authors declare no competing financial interests.
Supplementary information
Supplementary Figures 1–11 and Supplementary Tables 1 and 2 (PDF 3813 kb)
About this article
Cite this article
Rooryck, C., Diaz-Font, A., Osborn, D. et al. Mutations in lectin complement pathway genes COLEC11 and MASP1 cause 3MC syndrome. Nat Genet 43, 197–203 (2011). https://doi.org/10.1038/ng.757
Received:

Accepted:

Published:

Issue Date:

DOI: https://doi.org/10.1038/ng.757