Abstract
Facioscapulohumeral dystrophy (FSHD; MIM158900, MIM158901) is caused by misexpression of the DUX4 transcription factor in skeletal muscle1. Animal models of FSHD are hindered by incomplete knowledge regarding the conservation of the DUX4 transcriptional program in other species2,3,4,5. Despite the divergence of their binding motifs, both mouse DUX and human DUX4 in mouse and human muscle cells, respectively, activate genes associated with cleavage-stage embryos, including MERVL and ERVL–MaLR retrotransposons. We found that human DUX4 expressed in mouse cells maintained modest activation of cleavage-stage genes driven by conventional promoters but did not activate MERVL-promoted genes. Thus, the ancestral DUX4-regulated genes are characteristic of cleavage-stage embryos and are driven by conventional promoters, whereas divergence of the DUX4 and DUX homeodomains correlates with retrotransposon specificity. These results provide insight into how species balance conservation of a core transcriptional program with innovation at retrotransposon promoters, and establish a basis for animal models recreating the FSHD transcriptome.
Relevant articles
Open Access articles citing this article.
Karim Azzag

,

Darko Bosnakovski

…

Rita C. R. Perlingeiro

npj Regenerative Medicine Open Access 02 September 2022

Lu Li

,

Pishun Li

…

Kai Yuan

Cell Regeneration Open Access 02 August 2022

Elizabeth D. Larson

,

Hideyuki Komori

…

Melissa M. Harrison

Nature Communications Open Access 09 December 2021
Access options
Subscribe to Nature+
Get immediate online access to Nature and 55 other Nature journal
Subscribe to Journal
Get full journal access for 1 year
$79.00
only $6.58 per issue
All prices are NET prices.
VAT will be added later in the checkout.
Tax calculation will be finalised during checkout.
Buy article
Get time limited or full article access on ReadCube.
$32.00
All prices are NET prices.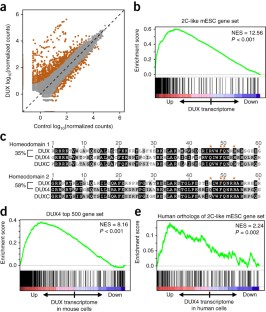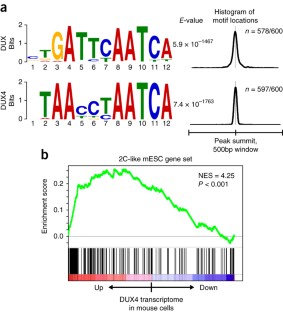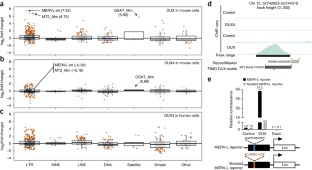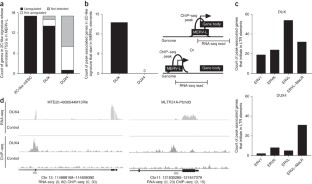 References
Tawil, R., van der Maarel, S.M. & Tapscott, S.J. Facioscapulohumeral dystrophy: the path to consensus on pathophysiology. Skelet. Muscle 4, 12 (2014).

Lek, A., Rahimov, F., Jones, P.L. & Kunkel, L.M. Emerging preclinical animal models for FSHD. Trends Mol. Med. 21, 295–306 (2015).

Wallace, L.M. et al. DUX4, a candidate gene for facioscapulohumeral muscular dystrophy, causes p53-dependent myopathy in vivo. Ann. Neurol. 69, 540–552 (2011).

Krom, Y.D. et al. Intrinsic epigenetic regulation of the D4Z4 macrosatellite repeat in a transgenic mouse model for FSHD. PLoS Genet. 9, e1003415 (2013).

Dandapat, A. et al. Dominant lethal pathologies in male mice engineered to contain an X-linked DUX4 transgene. Cell Rep. 8, 1484–1496 (2014).

Geng, L.N. et al. DUX4 activates germline genes, retroelements, and immune mediators: implications for facioscapulohumeral dystrophy. Dev. Cell 22, 38–51 (2012).

Young, J.M. et al. DUX4 binding to retroelements creates promoters that are active in FSHD muscle and testis. PLoS Genet. 9, e1003947 (2013).

Bosnakovski, D., Daughters, R.S., Xu, Z., Slack, J.M. & Kyba, M. Biphasic myopathic phenotype of mouse DUX, an ORF within conserved FSHD-related repeats. PLoS One 4, e7003 (2009).

Leidenroth, A. et al. Evolution of DUX gene macrosatellites in placental mammals. Chromosoma 121, 489–497 (2012).

Leidenroth, A. & Hewitt, J.E. A family history of DUX4: phylogenetic analysis of DUXA, B, C and Duxbl reveals the ancestral DUX gene. BMC Evol. Biol. 10, 364 (2010).

Clapp, J. et al. Evolutionary conservation of a coding function for D4Z4, the tandem DNA repeat mutated in facioscapulohumeral muscular dystrophy. Am. J. Hum. Genet. 81, 264–279 (2007).

Eidahl, J.O. et al. Mouse Dux is myotoxic and shares partial functional homology with its human paralog DUX4. Hum. Mol. Genet. 25, 4577–4589 (2016).

Knopp, P. et al. DUX4 induces a transcriptome more characteristic of a less-differentiated cell state and inhibits myogenesis. J. Cell Sci. 129, 3816–3831 (2016).

Falco, G. et al. Zscan4: a novel gene expressed exclusively in late 2-cell embryos and embryonic stem cells. Dev. Biol. 307, 539–550 (2007).

Zhang, W. et al. Zfp206 regulates ES cell gene expression and differentiation. Nucleic Acids Res. 34, 4780–4790 (2006).

Macfarlan, T.S. et al. Embryonic stem cell potency fluctuates with endogenous retrovirus activity. Nature 487, 57–63 (2012).

Akiyama, T. et al. Transient bursts of Zscan4 expression are accompanied by the rapid derepression of heterochromatin in mouse embryonic stem cells. DNA Res. 22, 307–318 (2015).

Jagannathan, S. et al. Model systems of DUX4 expression recapitulate the transcriptional profile of FSHD cells. Hum. Mol. Genet. 25, 4419–4431 (2016).

NCBI Resource Coordinators. Database resources of the National Center for Biotechnology Information. Nucleic Acids Res. 44, D7–D19 (2016).

Bailey, T.L. et al. MEME SUITE: tools for motif discovery and searching. Nucleic Acids Res. 37, W202–W208 (2009).

Noyes, M.B. et al. Analysis of homeodomain specificities allows the family-wide prediction of preferred recognition sites. Cell 133, 1277–1289 (2008).

Peaston, A.E. et al. Retrotransposons regulate host genes in mouse oocytes and preimplantation embryos. Dev. Cell 7, 597–606 (2004).

Hendrickson, P.G. et al. Conserved roles of mouse DUX and human DUX4 in activating cleavage-stage genes and MERVL/HERVL retrotransposons. Nat. Genet. http://dx.doi.org/10.1038/ng.3844 (2017).

Bosnakovski, D. et al. An isogenetic myoblast expression screen identifies DUX4-mediated FSHD-associated molecular pathologies. EMBO J. 27, 2766–2779 (2008).

Anders, S. & Huber, W. Differential expression analysis for sequence count data. Genome Biol. 11, R106 (2010).

Trapnell, C., Pachter, L. & Salzberg, S.L. TopHat: discovering splice junctions with RNA-Seq. Bioinformatics 25, 1105–1111 (2009).

Love, M.I., Huber, W. & Anders, S. Moderated estimation of fold change and dispersion for RNA-seq data with DESeq2. Genome Biol. 15, 550 (2014).

Reich, M. et al. GenePattern 2.0. Nat. Genet. 38, 500–501 (2006).

Subramanian, A. et al. Gene set enrichment analysis: a knowledge-based approach for interpreting genome-wide expression profiles. Proc. Natl. Acad. Sci. USA 102, 15545–15550 (2005).

Mi, H., Poudel, S., Muruganujan, A., Casagrande, J.T. & Thomas, P.D. PANTHER version 10: expanded protein families and functions, and analysis tools. Nucleic Acids Res. 44 D1, D336–D342 (2016).

Conerly, M.L., Yao, Z., Zhong, J.W., Groudine, M. & Tapscott, S.J. Distinct activities of Myf5 and MyoD indicate separate roles in skeletal muscle lineage specification and differentiation. Dev. Cell 36, 375–385 (2016).

Cao, Y. et al. Genome-wide MyoD binding in skeletal muscle cells: a potential for broad cellular reprogramming. Dev. Cell 18, 662–674 (2010).

Liao, Y., Smyth, G.K. & Shi, W. The Subread aligner: fast, accurate and scalable read mapping by seed-and-vote. Nucleic Acids Res. 41, e108 (2013).

Zhang, Y. et al. Model-based analysis of ChIP-Seq (MACS). Genome Biol. 9, R137 (2008).

Ma, W., Noble, W.S. & Bailey, T.L. Motif-based analysis of large nucleotide data sets using MEME-ChIP. Nat. Protoc. 9, 1428–1450 (2014).

Bailey, T.L. & Elkan, C. Fitting a mixture model by expectation maximization to discover motifs in biopolymers. Proc. Int. Conf. Intell. Syst. Mol. Biol. 2, 28–36 (1994).

Edgar, R., Domrachev, M. & Lash, A.E. Gene Expression Omnibus: NCBI gene expression and hybridization array data repository. Nucleic Acids Res. 30, 207–210 (2002).
Acknowledgements
We thank S. Shadle (Fred Hutchinson Cancer Research Center) for making and sharing the pCW57.1-DUX4 virus-like particles used to generate the DUX4-inducible C2C12 clonal cell lines; P. Hendrickson (Huntsman Cancer Institute) for 2C::TdTomato Reporter (Addgene plasmid no. 40281), from which we cloned the MERVL used to create the MERVL reporter in this study; and D. Root (Broad Institute) for the gift of Addgene plasmid no. 41393. We thank G. Kardon for critical guidance in the project and also thank members of the research groups of S. Tapscott and H. Malik for helpful discussions and critical reading of the manuscript. This work was supported by NIH NIAMS R01AR045203 (S.J.T.), National Science Foundation Graduate Research Fellowship Program DGE-1256082 (J.L.W.), University of Washington Interdisciplinary Training in Genome Sciences T32 HG00035 from the National Human Genome Research Institute (J.L.W.), and Friends of FSH Research (J.L.W. and S.J.T.).
Ethics declarations
Competing interests
J.L.W. and S.J.T., together with B. Cairns, E. Grow, and P. Hendrickson, have filed a provisional patent application, 'Compositions and methods for reprogramming cells and for somatic cell nuclear transfer using DUXC expression' (US provisional application no. 62/410,078, US Patent and Trademark Office), which is based in part on this work.
Integrated supplementary information
Supplementary information
About this article
Cite this article
Whiddon, J., Langford, A., Wong, CJ. et al. Conservation and innovation in the DUX4-family gene network. Nat Genet 49, 935–940 (2017). https://doi.org/10.1038/ng.3846
Received:

Accepted:

Published:

Issue Date:

DOI: https://doi.org/10.1038/ng.3846