Abstract
We report mutations in SDHAF1, encoding a new LYR-motif protein, in infantile leukoencephalopathy with defective succinate dehydrogenase (SDH, complex II). Disruption of the yeast homolog or expression of variants corresponding to human mutants caused SDH deficiency and failure of OXPHOS-dependent growth, whereas SDH activity and amount were restored in mutant fibroblasts proportionally with re-expression of the wild-type gene. SDHAF1 is the first bona fide SDH assembly factor reported in any organism.
Access options
Subscribe to Journal
Get full journal access for 1 year
$209.00
only $17.42 per issue
All prices are NET prices.
VAT will be added later in the checkout.
Rent or Buy article
Get time limited or full article access on ReadCube.
from$8.99
All prices are NET prices.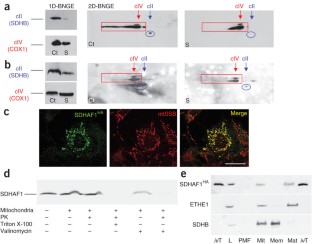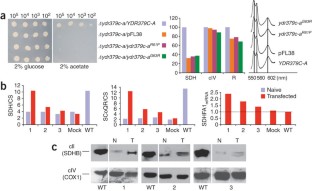 References
1

Sun, F. et al. Cell 121, 1043–1057 (2005).

2

Astuti, D. et al. Am. J. Med. Genet. 69, 49–54 (2001).

3

Niemann, S. & Muller, U. Nat. Genet. 26, 268–270 (2000).

4

Baysal, B.E. et al. Science 287, 848–851 (2000).

5

Bourgeron, T. et al. Nat. Genet. 11, 144–149 (1995).

6

Parfait, B. et al. Hum. Genet. 106, 236–243 (2000).

7

Van Coster, R. et al. Am. J. Med. Genet. 120, 13–18 (2003).

8

Bugiani, M. et al. Brain Dev. 28, 576–581 (2006).

9

Brockmann, K. et al. Ann. Neurol. 52, 38–46 (2002).

10

Neupert, W. Annu. Rev. Biochem. 66, 863–917 (1997).

11

Wiedemann, N. et al. EMBO J. 25, 184–195 (2006).

12

Cardol, P. et al. Biochim. Biophys. Acta 1658, 212–224 (2004).

13

Ye, Z. & Connor, J.R. Biochem. Biophys. Res. Commun. 275, 223–227 (2000).

14

Klanner, C., Neupert, W. & Langer, T. FEBS Lett. 470, 365–369 (2000).

15

Rouault, T.A. & Tong, W.H. Trends Genet. 24, 398–407 (2008).
Acknowledgements
This work was supported by the Pierfranco and Luisa Mariani Foundation Italy, Fondazione Telethon-Italy grant number GGP07019, the Italian Ministry of University and Research (FIRB 2003-project RBLA038RMA), The Impulse and Networking Fund of the Helmholtz Alliance for Mental Health in an Ageing Society, HA-215, Deutsche Forschungsgemeinschaft HO 2505/2–1 and MIUR grant 2006069034_003. T.K. and H.P. are members of the German network for mitochondrial disorders (mitoNET, 01GM0862), funded by the German ministry of education and research (BMBF, Bonn, Germany).
Supplementary information
Supplementary Methods, Supplementary Figures 1–4 and Supplementary Tables 1–3 (PDF 1978 kb)
About this article
Cite this article
Ghezzi, D., Goffrini, P., Uziel, G. et al. SDHAF1, encoding a LYR complex-II specific assembly factor, is mutated in SDH-defective infantile leukoencephalopathy. Nat Genet 41, 654–656 (2009). https://doi.org/10.1038/ng.378
Received:

Accepted:

Published:

Issue Date: