Abstract
We carried out a fine-mapping study in the HNF1B gene at 17q12 in two study populations and identified a second locus associated with prostate cancer risk, ∼26 kb centromeric to the first known locus (rs4430796); these loci are separated by a recombination hot spot. We confirmed the association with a SNP in the second locus (rs11649743) in five additional populations, with P = 1.7 × 10−9 for an allelic test of the seven studies combined. The association at each SNP remained significant after adjustment for the other SNP.
Access options
Access options
Subscribe to Journal
Get full journal access for 1 year
$225.00
only $18.75 per issue
All prices are NET prices.
VAT will be added later in the checkout.
Rent or Buy article
Get time limited or full article access on ReadCube.
from$8.99
All prices are NET prices.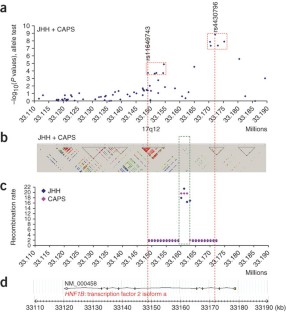 References
1

Gudmundsson, J. et al. Nat. Genet. 39, 977–983 (2007).

2

Eeles, R.A. et al. Nat. Genet. 40, 316–321 (2008).

3

Thomas, G. et al. Nat. Genet. 40, 310–315 (2008).

4

Zheng, S.L. et al. N. Engl. J. Med. 358, 910–919 (2008).

5

Sun, J. et al. Prostate 68, 691–697 (2008).

6

Yeager, M. et al. Nat. Genet. 39, 645–649 (2007).

7

Gudmundsson, J. et al. Nat. Genet. 39, 631–637 (2007).

8

Haiman, C.A. et al. Nat. Genet. 39, 638–644 (2007).

9

Zheng, S.L. et al. J. Natl. Cancer Inst. 99, 1525–1533 (2007).

10

Amundadottir, L.T. et al. Nat. Genet. 38, 652–658 (2006).

11

Freedman, M.L. et al. Proc. Natl. Acad. Sci. USA 103, 14068–14073 (2006).

12

Marchini, J., Howie, B., Myers, S., McVean, G. & Donnelly, P. Nat. Genet. 39, 906–913 (2007).

13

Barrett, J.C., Fry, B., Maller, J. & Daly, M.J. Bioinformatics 21, 263–265 (2005).

14

Gabriel, S.B. et al. Science 296, 2225–2229 (2002).

15

Fearnhead, P. et al. Bioinformatics 22, 3061–3066 (2006).
Acknowledgements
We thank all the study subjects who participated in this study. We also thank the Regional Cancer Registries and the CAPS-steering committee, including E. Varenhorst. We acknowledge the support of W.T. Gerrard, M. Duhon, Jennifer and John Chalsty and D. Koch. We also thank the National Cancer Institute Cancer Genetic Markers of Susceptibility Initiative (CGEMS) for making the data available publicly. We take full responsibility for the study design, data collection, analysis and interpretation of the data, the decision to submit the manuscript for publication, and the writing of the manuscript. The study is supported by National Cancer Institute (CA106523, CA106523 and CA95052 to J.X., CA112517, CA58236 to W.B.I., CA86323 to A.W.P., Department of Defense grant PC051264 to J.X.), as well as support from Swedish Cancer Society (Cancerfonden) and Swedish Research Council to H.G.
Supplementary information
Supplementary Methods, Supplementary Tables 1–6, Supplementary Figure 1 (PDF 1008 kb)