Kidney stones add colour to scientist's image.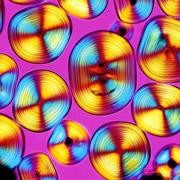 The psychedelic beauty of common kidney stones, when seen through a microscope, belies the pain that they can cause.
The image shown here is one of several being exhibited at the 2005 Biomedical Image Awards at the Wellcome Trust in London (click for more images).
The stones are 0.2 to 0.35 micrometres across. The concentric rings are layers of calcium oxalate that crystallized one after another, causing the stones to grow.
Related links
Related links
Related external links
About this article
Cite this article
Jones, N. Pictures bring research to light. Nature (2005) doi:10.1038/news050718-9
Comments
By submitting a comment you agree to abide by our Terms and Community Guidelines. If you find something abusive or that does not comply with our terms or guidelines please flag it as inappropriate.