Space tourist says he'll spend his orbital time doing science.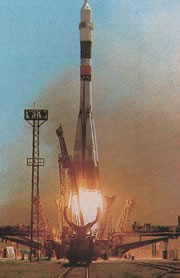 A US millionaire has booked a holiday with the Russian space agency that should put him in space in October. But businessman, scientist and adventurer Gregory Olsen won't just be taking in the view; he says he plans to perform some experiments during his stay on the International Space Station (ISS).
Olsen had originally planned to take his trip of a lifetime in April, but Russian officials postponed it last summer after an undisclosed health problem was discovered. Olsen, who is about 60 years old, resumed training at Russia's Gagarin Cosmonaut Training Centre outside Moscow in May, and has now signed a contract with the Russian agency.
The space traveller could join a Soyuz craft that is taking supplies to the ISS as early as October and would return after eight days in a different craft. Sources put the price of the trip, arranged through the specialist travel agent Space Adventures, based in Arlington, Virginia, at US$20 million.
If successful, Olsen will become the world's third space tourist after fellow American Dennis Tito and South African Mark Shuttleworth. But Olsen prefers another description for himself: at a press conference last year he said he would rather be called a "private researcher", in recognition of the fact that he is "going to do a lot of science up there".
Olsen has a doctorate in materials science and started his career as a research scientist before founding two successful companies making electronic imaging equipment: EPITAXX and Sensors Unlimited, both based in Princeton. One of his experiments will be to grow semiconducting crystals of the type used in his company's infrared imaging products, which include cameras used for night-vision equipment.
Although Olsen was unavailable to comment in more detail on the nature of his experiments, experts speculate one may have something to do with semiconductors made of unusual materials.
The most commonly used semiconductor, found in computer chips, is silicon. But not all semiconductors are as easy to work with as silicon, notes Martin Liess of scientific instruments firm PerkinElmer in Weisbaden, Germany. "Some other semiconductors are not so easy to grow into crystals and the effect of gravity can be limiting. It could be that Olsen has a semiconductor with certain advantages that is very sensitive to the effects of gravity," he says. Growing crystals of such semiconductors in space could be useful.
Olsen will also take one of his company's miniaturized infrared cameras aboard. He will use it for near-infrared astronomy, and to observe crops and the effects of pollution in the atmosphere from above.
David Alexander of Cambridge University's Institute of Astronomy explains that infrared astronomy is difficult from the Earth: "You don't get a perfect view of the sky because the atmosphere also emits infrared." But he expresses reservations about the true value of Olsen's contribution, pointing out that there are already at least two satellites with dedicated equipment to make infrared observations.
It remains unclear what Olsen's experiments will contribute to the world of scientific knowledge, but his mission should certainly add to the burgeoning industry of space tourism. In addition to orbital trips, Space Adventures says it is developing a programme to take passengers on suborbital flights starting in 2007.
Related links
Related links
Related links in Nature Research
Related external links
About this article
Cite this article
Simonite, T. 'Private researcher' aims for the stars. Nature (2005) doi:10.1038/news050711-3
Comments
By submitting a comment you agree to abide by our Terms and Community Guidelines. If you find something abusive or that does not comply with our terms or guidelines please flag it as inappropriate.