Record breaker sears across desert sky.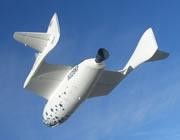 There are many ways to celebrate your debut in space. For Mike Melvill, pilot of SpaceShipOne, it was to pop open a bag of multicoloured sweets and watch them dance. "It was absolutely amazing ... those M&Ms were just going around," he said minutes later, on the baking black runway in the California desert.
Melvill shot into space history early on Monday morning when he became the first pilot to top 100 kilometres (3238,000 feet), and earn his astronaut credentials, in a privately financed rocket. Tens of thousands of eyes, including those of SpaceShipOne designer Burt Rutan and financial backer Paul Allen, were glued to the contrail as it streaked towards the fringes of space.
Not everything went as planned. The rocket crested at around 120 metres over the official boundary of suborbital space (a success, but far lower than Rutan had hoped for) and strayed over 30 kilometres off course when it re-entered the atmosphere, a problem attributed to a failure in one of the flight control systems. The ship also touched down with a dent in its tail.
A tannoy showered spectators with words such as "historic", "momentous" and "record-breaking" throughout the dawn air show. Space enthusiasts hope that the success will kick-start a space age of private travel.
But there are many obstacles to overcome before engineers can produce a space bus that even a luxury traveller can afford to jump on. Engineers need to work on a reliable, re-usable, and affordable vehicle that can reach orbit around the Earth, says Jim Benson, founder of space technology company SpaceDev, based in Poway, California. "What we need to strive for now is make it even simpler," he says.
The small town of Mojave, California, has a history of test flights and is littered with retired airliners and their innards. It perches in the high desert north of Los Angeles amid mountains dotted with wind turbines and contorted Joshua trees.
SpaceShipOne brought a wave of space mania like Mojave has never seen before. The night before the event, spectators' trucks began trundling into town and rumours spread of desert raves and hangar parties. "There's absolutely nothing else to do in Mojave," joked Rutan the day before.
By 3.30 next morning, a trail of headlights was snaking into the airport entrance and 500 or so members of the media jostled for space on the runway's edge. Shortly after the last stars were quenched and sunrise had painted the sky pink, the fierce desert wind dropped and the all clear was sounded.
Fastened to the stomach of a futuristic carrier aeroplane, SpaceShipOne cruised into the sky at 6.30am, accompanied by two chase planes. After circling upwards until they were glistening specks, SpaceShipOne dropped free and fired its own rockets towards the ground, pumping out a vertical contrail as it rose into the sky.
Down below, several minutes of suspense followed, as viewers waited for word that the rocket had reached its goal. Only as SpaceShipOne glided down towards the runway did news come through that it had grazed space: "It's a done deal," sounded the tannoy.
Pilot Mike Melvill emerged from the rocket in front of a bank of photographers to hug Allen and Rutan. He described how he saw the curve of the earth, felt huge g-forces and spent three minutes weightless. "It was almost a religious experience," he said.
As he perched on the rocket's spine for a lap of honour, Melvill plucked a sign from the crowd. It read "SpaceShipOne, Government, Zero", referring to the relatively low cost of the flight, at around $20 million, compared with the lavish budgets of government projects.
Rutan says the team will analyse the flight data in detail and patch up the ship before announcing an attempt on the X-prize, the $10-million jackpot for the first private, piloted aircraft to top 100 kilometres carrying the weight of three people and repeat the feat within two weeks.
To maintain motivation and public attention, the X prize foundation plans to award annual cash prizes for records broken in altitude and passenger numbers. "Some will probably drop out, but the most serious efforts will not," predicts Elon Musk of SpaceX in El Segundo, California, which makes orbital rockets.
Related links
Related links
Related external links
About this article
Cite this article
Pearson, H. SpaceShipOne scrapes into history. Nature (2004). https://doi.org/10.1038/news040621-4
Published:

DOI: https://doi.org/10.1038/news040621-4