Medics could follow airplane pilot strategies to save lives.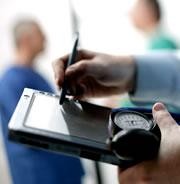 US healthcare organizations must embrace the information age if they are to cut the rate of medical errors. That was the message from medical information expert Paul Tang at the American Association for the Advancement of Science meeting.
Around 100,000 deaths each year in US hospitals are thought to be due to medical error. But up to 60% of them might be avoided if doctors had instant medical histories at their fingertips, says Tang, who works at the Palo Alto Medical Foundation in California.
In some countries, electronic records are routinely shared between doctors, pharmacists and other healthcare providers. But in the United States, private healthcare organizations have little financial incentive to computerize and share information. Paper records are usually locked in overflowing filing cabinets; one study found that US doctors lacked complete information for more than 80% of their medical decisions.
Tang wants the US government to promote a national computerized information system in which doctors can immediately call up a patient's healthcare history. Such a system should incorporate tools such as pop-up boxes that flag a patient's allergies to certain medications. These might also remind doctors to recommend preventive measures, such as flu shots. "It's not rocket science," says Tang.
The government has committed $50 million in the 2004 financial year to the National Health Information Infrastructure, a programme aimed at encouraging healthcare providers to wire up.
Tang thinks the system should ultimately be improved by taking a leaf out of the airline industry's book.
Pilots in the cockpit have all the information they need for a safe flight on a single console, plus a co-pilot to check mistakes, he points out. By contrast, in the intensive care unit, doctors face a bewildering array of separate computers reporting drugs, heart rate and other bodily functions.
The airline industry also has an Aviation Safety Reporting System, in which aircrew can anonymously report safety incidents. These reports are collected and analysed to cut the risk of future accidents. Tang advocates the construction of a national patient safety database that similarly compiles 'near-miss' medical incidents.
Many of Tang's recommendations were summarized in a November 2003 report on patient safety from the US Institute of Medicine.
Related links
Related links
Related external links
About this article
Cite this article
Pearson, H. Doctors need to get wired. Nature (2004). https://doi.org/10.1038/news040216-4
Comments
By submitting a comment you agree to abide by our Terms and Community Guidelines. If you find something abusive or that does not comply with our terms or guidelines please flag it as inappropriate.