Scientists suspect the strain is innocuous.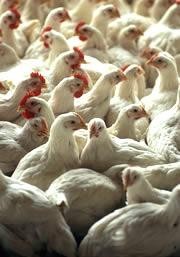 Bird flu has cropped up in chickens in Delaware, prompting several countries including Japan and South Korea to ban imports of US poultry. But it remains unclear whether this particular strain of bird flu is a threat to poultry or human health. Scientists are now testing whether the strain is a highly infectious form of the virus or not.
Agriculture officials say they have already established that the virus, which was first detected in Kent County last week, is a strain of avian influenza called H7. This is distinct from the highly pathogenic form called H5N1 that is sweeping through Asia.
Laboratories at the University of Delaware and the National Veterinary Services Laboratory (NVS) in Ames, Iowa are testing whether the H7 strain is one with high or low pathogenicity, says Anne Fitzgerald, a spokeswoman for the Delaware Department of Agriculture in Dover.
Highly pathogenic viruses kill many of the birds they infect and occasionally jump into humans. H7 viruses can fall into this class; an H7N7 poultry outbreak last year in the Netherlands infected over 80 people, one fatally.
But weakly pathogenic viruses are more common. They crop up several times a year in the US, and can circulate among birds without causing much harm."99.99% of avian flu strains in this country are low pathogenic viruses," says avian disease expert David Halvorson of the University of Minnesota in St Paul.
To curb the virus' spread, workers killed 12,000 chickens on the infected farm over the weekend and the Delaware Department of Agriculture banned movement of live poultry into or out of the state. Twelve farms within two miles of the quarantined farm are being tested for the virus, and some tests have come back negative, says Fitzgerald.
Officials say the most likely source of the virus is live bird markets in New York state, where H7 infections have occurred before and at which the grower had sold his chickens. The virus could have been carried back to the Delaware farm on contaminated crates, Halvorson suggests.
Farmers are on high alert for avian influenza because of the H5N1 virus in Asia, which has so far spread to 23 people in Thailand and Vietnam and killed 18. They are fighting to stamp out the infection before it evolves to spread easily between people.
Highly pathogenic forms of avian influenza have hit the US twice: an unknown strain struck flocks in 1925, and an H5 virus infected birds in Pennsylvania in 1983-84. The latter was contained by quarantine, disinfecting bird facilities and culling. "It's a pretty rare event," says Halvorson.
Related links
Related links
Related external links
About this article
Cite this article
Pearson, H. US bird flu under microscope. Nature (2004). https://doi.org/10.1038/news040209-3
Comments
By submitting a comment you agree to abide by our Terms and Community Guidelines. If you find something abusive or that does not comply with our terms or guidelines please flag it as inappropriate.