Environmental degradation follows war in Sierra Leone.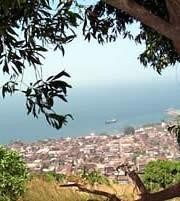 An environmental disaster threatens to follow Sierra Leone's civil war, a British ecologist is warning.
If current rates of deforestation continue, the country's soil and water resources will suffer, while the destruction of mangrove swamps will cause fish stocks to collapse, says Richard Wadsworth of the Centre for Ecology and Hydrology in Huntingdon, near Cambridge. "In five years this is really going to hurt," he predicts.
The war, which lasted from 1991 to 2002, displaced between one-third and a half of Sierra Leone's population. Many moved from rural areas to the capital, Freetown, swelling its population from 1 million to 2.5 million.
When Wadsworth arrived in Freetown last November, his office at the Fourah Bay College looked onto the dense rainforest of the college's botanical reserve. This park occupies a square kilometre of land, bisecting the city. Three months later, his view was of a bare hillside.
"Freetown used to be unique - it was a city of a million people with forest a ten-minute taxi ride from its centre," Wadsworth told this week's annual meeting of the British Ecological Society in Manchester. "Soon this will be gone."
People are cutting down trees for firewood; there are few jobs, and electricity supplies are unreliable. Shantytowns have sprung up on the cleared land.
Wadsworth travelled to Sierra Leone as part of a British initiative to train the country's researchers to collect and analyse environmental data. "We're trying to get people to have a slightly more long-term outlook - there are so many urgent issues that it's difficult to prioritize," he says. Local politicians and researchers are receptive to this message, he adds.
Related links
Related links
Related external links
About this article
Cite this article
Whitfield, J. Freetown's forest vanishing. Nature (2003). https://doi.org/10.1038/news030908-12
Published:

DOI: https://doi.org/10.1038/news030908-12