Anti-anti-smoking study provokes furore among researchers.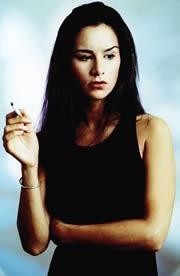 Public-health experts are up in arms over a controversial new study claiming that passive smoking may not be a killer.
The 39-year analysis, involving some 118,000 subjects, finds that smokers' spouses were no more likely than those in smoke-free households to die from lung cancer and heart disease1. It is co-authored by James Enstrom of the University of California, Los Angeles, and Geoffrey Kabat of the State University of New York, Stony Brook.
Based on the findings, Enstrom questions whether banning smoking in public spaces really saves lives. "I feel that the question about whether it protects people from dying is overblown," he says.
But many other scientists denounce the conclusions. One study cannot overturn the weight of data showing that passive smoking is harmful, they say. "The most plausible explanation is that the vast amount of evidence has got it right," says epidemiologist Malcolm Law of the Wolfson Institute of Preventive Medicine in London.
The study's release provoked heavy hitters in the health sciences - the British Medical Association and the American Cancer Society - to issue statements damning its methods and reiterating the harmful effects of second-hand smoke. "The study is fundamentally flawed," says the BMA statement.
The British Medical Journal, in which the paper appears, is published by the British Medical Association but is editorially independent of it.
Where there's smoke there's fire?
The perceived health risks of breathing second-hand smoke have prompted a slew of recent smoking bans in New York City and Boston. Bans are imminent in Ireland and Norway. But experts admit that the effects of exposure are hard to measure.
Unlike packs-a-day ratings for smokers, it is difficult, for example, to estimate how much smoke non-smokers' actually inhale. "We're looking at crude measures," says Paul Whelton at Tulane University in New Orleans, Louisiana, who has studied passive smoking.
Partly for this reason, other investigations have also found little effect of second-hand smoke on lung cancer or heart disease. But when the results of different studies are lumped together - a technique called meta-analysis - passive smokers tend to show a 20-30% increased risk of suffering these diseases.
To cloud the issue further, the original data - from an American Cancer Society study that was set up in 1959 - were used in previous studies led by the tobacco industry. The current study also received industry money.
Enstrom denies being influenced by tobacco firms: "I'm ready to defend every word that I've written," he says.
Previous investigations of passive smoking have suffered the same problems as this one, says epidemiologist George Davey-Smith of the University of Bristol, UK. "It's no worse than some other [studies] included in meta-analyses," he says.
Even so, most experts remain confident that breathing second-hand smoke is bad for you in just the same way as a direct puff on a cigarette. "Biologically, it's probably not a good idea to be around smoke," concludes Whelton.
References
Enstrom, J. E. & Kabat, G. C. Environmental tobacco smoke and tobacco related mortality in a prospective study of Californians, 1960-98. . British Medical Journal, 326, 1057 - 1061, (2003).
About this article
Cite this article
Pearson, H. All in a puff over passive smoking. Nature (2003). https://doi.org/10.1038/news030512-15
Published:

DOI: https://doi.org/10.1038/news030512-15