Circuits that shunt liquids rather than electrical currents could soon screen chemicals.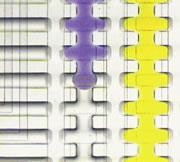 Researchers at the California Institute of Technology have built a chip that shunts liquids, just as silicon microchips shunt current1. It is a significant step towards the long-held hope of a lab-on-a-chip replacing the automated instruments that currently carry out chemical analysis, such as drug screening or environmental testing.
The chip, developed by Stephen Quake and co-workers, is the first integrated microfluidic circuit comparable to an electronic integrated circuit. It contains more than 3,500 transistor-like switches. The ultimate complexity and application of this technology is "limited only by one's imagination", they say.
The team has figured out how to make thousands of such components cheaply and reliably. They emboss the 'circuitry' - patterns of channels and chambers - into a soft, rubbery silicone. The channels are each about a tenth of a millimetre wide and only nine thousandths of a millimetre deep.
Above these flow channels, at right angles, sits another layer of silicone microfluidic structures called control channels. These pumps and valves drive liquids down the flow channels. Where the layers touch, a thin membrane of flexible silicone separates the two sets of grooves.
When a liquid is pumped under pressure into a control channel, the membrane balloons out into the flow channel, pinching it off. This allows a liquid to be directed through the grid at will. The criss-crossing structure enables the researchers to send fluid in and out of any one of 1,024 flow channels using just 20 control channels.
To show what such a device is capable of, Quake's team have made an array in which 3,574 microvalves can separate an injected fluid into 1,000 tiny chambers in a 25x40 grid. Each chamber contains just a quarter of a billionth of a litre of liquid. If all the chambers were full, they'd contain less than a hundredth of a raindrop. Each chamber can be individually emptied.
The researchers used another chip to investigate bacteria, one cell at a time. They apportioned the cells between chambers so that there was on average only one cell for every five chambers. They tested which cells were making a particular enzyme at any moment. Systems such as this could screen for potential drugs when only minuscule amounts of each candidate substance are available.
References
1

Thorsen, T., Maerkl, S. J. & Quake, S. R. Microfluidic large-scale integration. Science Express, 26, doi/10.1126/science.1076996, (2002).
About this article
Cite this article
Lab shrunk to a chip. Nature (2002) doi:10.1038/news020923-10
Comments
By submitting a comment you agree to abide by our Terms and Community Guidelines. If you find something abusive or that does not comply with our terms or guidelines please flag it as inappropriate.