Czech Republic becomes first nation to outlaw excess outdoor light.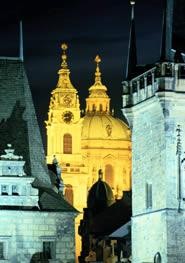 There'll be starrier skies over the Czech Republic from now on. The first national law prohibiting 'light pollution' comes into effect there tomorrow.
From 1 June, all outdoor light fixtures in the country must be shielded to ensure light goes only in the direction intended, and not above the horizontal.
Light from street and road signs bounces off molecules in the atmosphere, making skies, especially over cities, less dark. This light pollution is a particular problem for astronomers. Even low levels of man-made light from distant cities can obscure their view of faint objects far away in space.
Czech astronomers who lobbied for the legislation are delighted, but everyone should benefit from the new law, they say.
"My fellow citizens are as concerned as I am about glare from poorly designed lighting. They're happy action was taken," says Jenik Hollan, an astronomer at Nicholas Copernicus Observatory and Planetarium in Brno.
Others hope the initiative will catch on elsewhere. "We applaud the Czechs and are committed to helping other governments enact similar legislation," says astronomer David Crawford, executive director of the International Dark-Sky Association, a US-based group that campaigns to curb light pollution.
And it's not just astronomers that benefit from darker skies. Non-polluting light fixtures are more energy efficient and reduce bothersome glare on roads and in residential areas.
Related links
Related links
Related external links
About this article
Cite this article
Clarke, T. Day one for light pollution law. Nature (2002). https://doi.org/10.1038/news020527-14
Published:

DOI: https://doi.org/10.1038/news020527-14