Report assesses chemical effects of Gulf war weapon.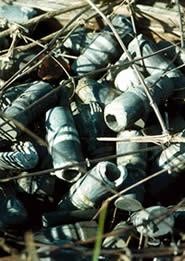 Depleted uranium in weapons may have left some soldiers with kidney damage and could cause long-term environmental contamination, say British scientists. Their independent review calls for accurate exposure tests and long-term environmental monitoring in combat zones.
Depleted uranium (DU) is a dense radioactive substance. It was used in weapons to punch through heavily armoured vehicles during the Gulf War and Kosovo conflicts.
This created controversy: exploding missiles scatter radioactive and chemically toxic dust that war veterans claim has left them ill.
The majority of soldiers have not been exposed to sufficient levels of the heavy metal to be at risk from its toxic effects, the report by the UK's Royal Society concludes1. "For the majority of soldiers on the battlefield we consider it unlikely that there will be any adverse effects," said group leader Brian Spratt, of Imperial College in London.
This implies that DU is unlikely to explain Gulf War Syndrome, although the report does not tackle this question explicitly.
However, around 200, mainly US, Gulf War soldiers who were hit by friendly fire or spent time cleaning contaminated vehicles may have inhaled enough dust to cause kidney damage, says the report. Unknown numbers of Iraqis may also have been affected.
The report's main recommendation is that accurate, validated tests for low levels of DU in urine should be developed, and that those who are identified as exposed should undergo long-term health studies. "You want to use a battery of modern tests," says group member and metabolism researcher Barbara Clayton of the University of Southampton, UK, to identify subtle biochemical changes. Sensitive DU urine tests are expected to be available in the UK by the end of this year.
There may also be enduring environmental consequences: 70-80% of all DU weapons - around 250 tonnes in the Gulf War region alone - are thought to remain buried in soil. Children playing at the sites could be at particular risk. And decades on, corroding weapons may release DU into the soil, to be taken up by plants and animals or leached into human water supplies.
Long-term monitoring of such sites is required to assess future consequences, the panel say. Removing the weapon debris is virtually impossible because its exact location is unknown. "It's a knowledge gap," says Barry Smith, who studies pollution at the British Geological Survey in Nottingham, UK.
DU weapons were first used by Allied forces in the 1991 Gulf War: an estimated 340 tonnes were used then, and a further 11 tonnes in Bosnia and Kosovo in the late 1990s. Opinions differ on whether DU weapons are currently being used in Afghanistan.
"An estimated 340 tonnes of DU weapons were fired during the Gulf War "
In the first part of the Royal Society's report, which was published last year, the committee examined the health effects of radiation exposure from DU - and concluded that there is virtually no increased risk of death from lung cancer. The chemical toxic effects of DU and its environmental impact are dealt with in the second part, published today.
The panel of experts had little evidence to work with - few human scientific studies have assessed the long-term toxic effects of DU. Anecdotal accounts report that members of a Gulf clean-up team have become seriously ill. The panel based its conclusions on the available scientific evidence and the estimated DU intakes of soldiers based on battlefield scenarios.
References
1

The Royal Society, (2002).
About this article
Cite this article
Pearson, H. Depleted uranium soils battlefields. Nature (2002). https://doi.org/10.1038/news020311-2