Asian mosquitoes stow away on plant shipment.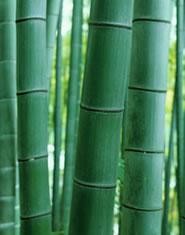 An aggressive, disease-transmitting Asian mosquito has hitchhiked into the United States in shipments of ornamental bamboo plants from Taiwan.
The US Centers for Disease Control and Prevention have issued an embargo on imports of fashionable 'lucky bamboo' (Dracaena), having discovered Asian tiger mosquitoes (Aedes albopictus) in Los Angeles harbour for the first time last month.
The white-striped mosquitoes have since been found at five California nurseries selling the bamboo plants, and officials therefore suspect that this isn't their first landing in California.
The United States has been importing indoor bamboo plants from Asia and other countries for at least three years. Until recently, they were shipped dry; now the plants are freighted in two to three inches of water to keep them green. The hardy insect stowaways may breed in this water.
"We need to be more vigilant in our monitoring," says Frank Hall, chief of the disease-carrying-insect management programme of the Los Angeles County Department of Health Services.
Traditionally, surveillance has focused on large areas of water such as ponds. Now the county and state are stepping up their efforts, setting up traps around nurseries and advising the public to get rid of standing water in rain gutters, flowerpots and other small containers.
"Once it [the Asian tiger mosquito] gets a foothold, it really flourishes," says Robert Novak, a mosquito expert at the Illinois Natural History Survey. It can out-compete other mosquitoes, easily dodge the swatting hand, follow people into their homes and breed in any small container of water - even the finger holes of a bowling ball.
Asian mosquitoes can spread viral diseases including dengue fever. However, they have not been implicated in any outbreaks in the United States.
So far, the mosquitoes haven't established themselves in California. Preferring tropical climates, they probably wouldn't survive outside nurseries, in California's drier climate, says Hall.
The Asian mosquito first invaded the United States in the mid-1980s via a tyre shipment from Japan or Taiwan. Since then, these daytime-biting, fast-breeding insects have spread across the eastern United States, thanks to the used-tyre trade.
They are another example of how the accidental import of exotic plants and animal species by human activities can disrupt ecosystems and threaten native wildlife.
Related links
Related links
Related external links
About this article
Cite this article
Lok, C. Unlucky bamboo. Nature (2001). https://doi.org/10.1038/news010712-5
Published:

DOI: https://doi.org/10.1038/news010712-5