As farming intensifies, researchers warn that the developing world is "dangerously behind" on controlling animal diseases.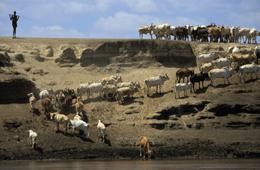 Livestock plagues are on the rise globally, owing to increasingly intensive farming practices and the world's growing taste for meat and other animal products.
The warning comes from scientists at the International Livestock Research Institute (ILRI), based in Nairobi, Kenya, who argue that different approaches are needed to curb these diseases.
A new infectious disease emerges every four months, and 75% of them originate in animals, according to ILRI figures. They can have severe socio-economic, health and environmental impacts: some of the most damaging diseases are Rift Valley fever (Phlebovirus), which can sometimes cause a haemorrhagic fever, and Bluetongue disease (Orbivirus).
Whereas rich nations are controlling livestock diseases effectively, developing countries, including many in Africa and Asia, lag "dangerously behind", says John McDermott, deputy director general for research at the ILRI.
"Over the past 10 years, the number of emerging diseases has increased," agrees Alejandro Thiermann, who is in charge of setting international standards for animal health at the World Organisation for Animal Health based in Paris, France. Understanding the links between human and animal diseases will be "critical" in controlling the spread of diseases, he adds.
McDermott points out that methods need to be tailored to the circumstances in developing countries to control the spread of livestock diseases. For example, some diseases, such as contagious bovine pleuropneumonia — a respiratory disease with high death rates — can be controlled in Western countries by quarantine and slaughtering affected animals. But these methods are not always effective for herds in Africa, where animal movements are not as easily controlled. In these cases, vaccines should be developed, McDermott says.
Agricultural research has traditionally focused on increasing production, he says, too little is known about the risks associated with intensification. "These systems are intensifying anyway. So how do we intensify in a sustainable way and how do we manage the risk?" he asks.
These questions will be investigated as part of a new $US60-million per year research programme proposed by the International Food Policy Research Institute, based in Washington, DC, which the ILRI will participate in. McDermott says that if the project gets the green light it should begin in 2012.

About this article
Cite this article
Gilbert, N. Livestock plagues are spreading. Nature (2011). https://doi.org/10.1038/news.2011.87
Published:

DOI: https://doi.org/10.1038/news.2011.87