Opponents fear that experiments will 'trivialize' genetic modification.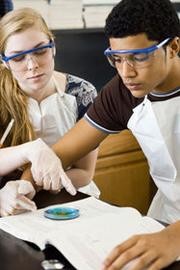 A row has broken out in France over whether 15- and 16-year-olds should be allowed to create transgenic Escherichia coli bacteria in the classroom.
Practical experiments in which students learn how to use plasmids to alter the DNA of the bacteria have been under way for 17 and 18-year-olds in the final year of the scientific baccalaureate at schools across France for the past decade. But this year teachers have for the first time been offered the option of teaching the experiments to younger students.
The Committee for Research & Independent Information on Genetic Engineering (CRIIGEN) in Caen, France, which lobbies for stricter controls over genetic engineering, is particularly upset because in the experiments the students modify the bacteria to become resistant to the antibiotic ampicillin.
Gilles-Eric Séralini, president of the organization's scientific committee, says that CRIIGEN is in favour of genetic engineering, as long as it is properly controlled. But the necessary restrictions are not currently in place, he says.
CRIIGEN "will urge the education ministry to impose a moratorium until a full debate on the question is organized", says Séralini. "We believe such material should not be manipulated by students before they reach university."
He warns against trivialization of a sensitive subject, contamination risks and possible violation of European directives on the manipulation of genetically modified organisms in confined spaces. "I am also concerned that practical classes erode the time spent imparting knowledge of biology," he adds.
Luc Chatel, France's education minister, today unveiled a plan to encourage more students to opt for science and technology subjects at university by improving teaching in schools, but he told Nature that increasing the amount of compulsory practical work is not part of the scheme. Schools can choose how much time they devote to experiments, as long as students are prepared for the hands-on work that makes up 20% of marks in the scientific baccalaureate exam at 18.
The French Association of Biology and Geology Teachers (APBG) in Lyons, which sells kits of E. coli with instructions for genetic modification to teachers, dismisses CRIIGEN's concerns.
These practical experiments have been part of the biology option for 17–18-year-old science baccalaureate students for ten years, and are not compulsory for younger pupils, says Serge Lacassie, president of the APBG, who teaches biology and geology at the Lycée Berthollet in Annecy.
Only a few teachers include hands-on transgenesis in their courses for 15 and 16-year-olds, and Lacassie is not among them. He says that this is because of time constraints, although he acknowledges that students in their mid-teens are "perhaps not aware of the danger of manipulating such material". The biggest risk is that the bacteria could escape into the environment, so "we teach students how to take the necessary precautions to ensure this doesn't happen", he says. In addition, "the bacteria are not pathogenic and are destroyed with bleach when experiments are over".
Lacassie stresses that practical classes teach students how to work in sterile conditions without damaging the environment. "We need to teach science according to the realities of today — DNA is a universal language and it is useful to experience how a gene can be transferred from one organism to another. Our aim is to give students the elements to reflect about biotechnology in general," he says.
The E. coli kits are supplied to the APBG by the DNA School Association in Nîmes. "We launched the product in 2002, and sell about 50 a year," says Jean-Christophe Lallement, the association's director. "That is fewer than at first. We have never had a problem with them, but now some biology teachers prefer to buy our DNA-fingerprinting kits instead," he says.
Valérie Sipahimalani, national secretary in charge of biology and geology for the National Union of Secondary Teachers, part of the Unitary Union Federation in Paris, has no objection to practical transgenesis classes, provided that the safety rules are respected. "It is up to teachers to decide," she says.
But she does not run the practical lessons at her school in Paris, because it is not a priority and because the equipment is too expensive. "Personally, I don't believe in teaching manipulation for manipulation's sake," she says. "More importantly, DNA takes a lot of time to explain — it is very complicated for secondary school-students to understand."

About this article
Cite this article
Casassus, B. Transgenic bacterium sparks row in French schools. Nature (2011). https://doi.org/10.1038/news.2011.61
Published:

DOI: https://doi.org/10.1038/news.2011.61