Peter Norvig, director of research at Google, discusses the future of Internet search tools, social networking and science.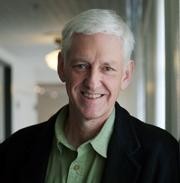 Peter Norvig says that he has the best job in the world. A world expert in artificial intelligence, he has been at Google — where he is now a director of research — since 2001.
Norvig is an advocate for the allure of 'big data' — cross-referencing, for instance, an ever-increasing set of translated text snippets to provide better and better translations, as Google Translate does, rather than accommodating ever more sophisticated linguistic rules.
Before joining Google, Norvig was a computer scientist at NASA and helped to design the autonomous navigation software that eventually propelled the Mars rovers. Nature caught up with him to find out how he sees Google helping scientists.
You're not in charge of the quality of Google's search engine any more, but you have watched it evolve. What factors have changed during the past decade?
One is the speed. When I first started, we were updating the index once a month. We thought of it like the card catalogue at a library: static.
Probably it was September 11 that changed things. This was a major event where people were looking first to the Web, rather than looking to their newspaper, television or radio.
We said, now we've got to get things done on at least a daily basis — or more like an hourly basis. Things evolved from there; now you can't be five seconds late.
You've suggested that searches might one day be conducted with brain signals. Why do you see that happening?
It got to the point where I said if I want to make more progress, I'm going to need lots of computers and lots of processing capability. Peter Norvig , Google
You've started to see work now for the disabled — for people who are paralysed — where they can control a cursor with brain waves. That work seems like it's coming along. You can also see people wanting searches to be more hands-free.
We are trying to do a better job with interfaces of different kinds. We've focused on speech. We're looking at gestures. A lot of it is driven by wanting to get away from keyboards — to be more mobile with your phone, or your tablet, and so on. We haven't quite hooked up to brain waves yet.
Is anything else on the horizon for search technologies?
You may want to have convergence with eyeglasses, hearing aids and headphones. There has been work with having displays on eyeglasses, where in the corner it will say: here's the name of this guy, you met him last week, here's what you talked about.
What more can be done to intelligently harvest knowledge for scientists?
There are two parts to this. There's the written record. It used to be that you could read everything in your specialty, and that seems to be no longer true. You want to be able to know: here's something you should read, here's a connection. And maybe that's the whole article, or maybe it's one sentence from a published article that mentions the reagent or whatever it is you're dealing with.
The second part is: can we publish articles so that all the data are there and can be used by other people to replicate or verify their experiments?
In 2008, Google retreated from Palimpsest, its project for hosting open science data. Why?
I think we are still trying to figure out our role. It didn't seem like there was momentum at the time for what we were offering. And scientists weren't quite ready to share; or maybe they didn't understand how or why they should share. So we didn't see a lot of pick up for that service.
And maybe we were just a little bit too early. Maybe we can try again, or there can be another consortium to try again. It is a little bit tricky. For the most part, science is cooperative. But it's also competitive.
Do you have problems with the way that academic science is practiced?
The reason I got out of academia and into industry was that I just couldn't do the work at the level that I thought was right. I went along for 15 years as an academic and I was happy: buy me a computer, a desk, give me enough funds for a grad student or two and I can publish papers. But then it got to the point where I said, you know, if I want to make more progress, I'm going to need lots of computers, and lots of text, and lots of processing capability. And the funding avenues that were available to me — it just was impossible to put together enough funds to be able to do it at that level. Whereas in industry you could.
Google+, Google's new social networking platform, is rolling out. What parts of social networks are faddish and what parts are here to stay?
People have a lot of information and we want to be able to understand what it is they know.
People respect the opinions of their friends. In some sense, it's saying: here's a result and here's a reason for this result. We can give you the same web page or the same video or whatever, and it has an intrinsic value. But if we can also say 'your friend liked this and he's an expert in that subject', then that has additional value. I think that will always be true.

Related links
Related links
Related links in Nature Research
Related external links
About this article
Cite this article
Hand, E. Google research guru pushes 'big data'. Nature (2011). https://doi.org/10.1038/news.2011.427
Published:

DOI: https://doi.org/10.1038/news.2011.427