Drought forces State Council to confront downstream water-supply problems.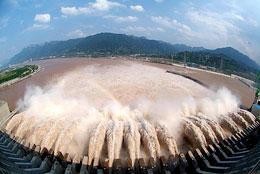 China has finally admitted that all is not rosy with its Three Gorges Dam, the world's largest hydroelectric power project. The dam is plagued by problems that need to be resolved urgently, the State Council — China's cabinet — said last Wednesday.
The statement was made after a high-level meeting presided over by Premier Wen Jiabao, and highlights issues such as pollution, silt accumulation, ecological deterioration and geological hazards near the dam. It also points out the project's adverse effects on irrigation, water supply and shipping in downstream regions, which affect an area of 633,000 square kilometres over eight provinces. These problems should be addressed through more research and monitoring, and more efficient dam operation, the statement says.
The admission was welcomed by Ma Jun, director of the Institute of Public and Environment Affairs, a non-governmental organization in Beijing. "Although China had acknowledged problems in the dam areas before, this was the first time that it admitted the project's negative impact on the middle and lower reaches of the river," he says.
The statement comes amid severe drought in provinces downstream of the Three Gorges Dam. Between January and April this year, rainfall in the Yangtze River Basin was 40% below average, according to the Xinhua News Agency.
Widely considered the worst drought in 50 years, it has devastated 3 million hectares of farmland, left millions of people and livestock short of drinking water, and threatened wildlife and ecosystems in many rivers and lakes, including the endangered Yangtze finless porpoise.
The drought has also stranded numerous ships and triggered a power shortage in central and eastern China as water levels at some big dams, including the Three Gorges, have fallen below the level required for full power generation.
But Wang Hai, director of the transport division of the China Three Gorges Corporation, dismisses the idea that the dam has caused water-supply problems downstream. Things might be worse without the dam alleviating the drought by releasing more water to flow downstream, he told China Daily.
Others disagree, saying that it's inconceivable that a hydroelectric project on the scale of Three Gorges — which includes a 185-metre-tall dam and a reservoir more than 600 kilometres long with a storage capacity of 40 billion cubic metres — would have little downstream impact.
"It's difficult to say whether the dam has exacerbated this year's drought in central and eastern China, or, if so, to what extent," says Zheng Chunmiao, a hydrologist at Peking University in Beijing. "But dams and reservoirs can certainly impact the hydrological cycle of the river basin." In particular, they can lower groundwater levels, potentially worsening the situation when a drought strikes.
Ma is encouraged by the government's willingness to acknowledge and tackle problems associated with the dam, but says that what can be done now is limited.
"We have a saying in China: the wood has already been turned into boats," he says. "What is done cannot be undone, but it's time to reconsider other hydrological projects that could further threaten water security in the Yangtze River Basin."
One such project is the gigantic South–North Water Diversion Project that, once in operation, in a couple of years time, will transfer water from, among other rivers, the Yangtze and its tributaries to northern China, which suffers from chronic water shortages.
More crucially, says Ma, the government should rethink the massive scale of hydroelectric power development, with more than a hundred dams planned or under construction along the upper reaches of the Yangtze and its tributaries, upstream of the Three Gorges.
There are, for instance, plans to build a cascade of 12 dams on a section of the upper Yangtze called the Jinsha River, which, combined, will have a capacity more than twice that of the Three Gorges Dam. "When they are in operation, the Three Gorges Dam may not be able to get enough water, let alone regions further downstream," says Ma.
Other plans include a highly controversial cascade of a dozen or so dams along the Nu River and equally controversial and numerous dams along the upper Mekong — both in southwestern China, home to many biodiversity hot spots and endangered species.
A recent visit to the region revealed a landscape scarred by rampant hydroelectric power development, which has caused some rivers to dry up when rainfall is in short supply, says Qiao Jianping, a geophysicist at the Chinese Academy of Sciences' Institute of Mountain Hazards and Environment in Chengdu.
"It is an unbearable sight," says Qiao. "The way hydropower is developed in the region is totally unsustainable."

Related links
Related links
Related external links
About this article
Cite this article
Qiu, J. China admits problems with Three Gorges Dam. Nature (2011). https://doi.org/10.1038/news.2011.315
Published:

DOI: https://doi.org/10.1038/news.2011.315
This article is cited by
Yuanbo Liu
Guiping Wu
Rongrong Wan

Landscape Ecology (2016)

Lei Guan
Li Wen
Guangchun Lei

Environmental Management (2014)

Lishan Ran
Xixi Lu
Xiankun Yang

AMBIO (2012)