A highly anticipated case yields disappointingly vague results.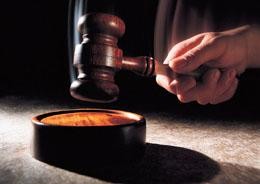 A case followed anxiously by the biotechnology industry drew to a close yesterday when the US Supreme Court ruled against a controversial business patent. But the court surprised observers by doing so without addressing a bigger question: what constitutes a patentable invention?
The ruling in the case Bilski versus Kappos comes as a relief to biotechnology firms. Many had feared that the court would restrict what could be patented, potentially limiting the industry's ability to patent methods such as those used to detect specific genetic mutations.
"This may be a good day for biotech," says Hans Sauer, deputy general counsel for intellectual property at the Biotechnology Industry Organization in Washington DC. "The Supreme Court said, 'Look, patent law has to be open, flexible and inclusive of new technologies'."
For those who were looking to the Supreme Court to provide clarity on a contentious issue, however, the court's limited ruling was a bitter disappointment. "The decision is incredibly unhelpful," says Steven Bauer, head of litigation at the law firm Proskauer Rose in Boston, Massachusetts. "Nothing in their decision can be used to decide what's patentable or not."
The Bilski story began in 1997, when Bernard Bilski and Rand Warsaw applied for a patent covering their business method of hedging risks when trading energy commodities. When the US Patent and Trademark Office denied their application, Bilski and Warsaw filed suit and the case steadily worked its way through the court system.
It was when the case was heard in the US Court of Appeals for the Federal Circuit in 2008 that the biotechnology industry snapped to attention. The court agreed with the patent office that Bilski and Warsaw's method did not merit a patent, but then took a crucial step further, arguing that a specific test called the 'machine-or-transformation test' should be used to determine whether a process is worthy of being patented.
According to the test, a valid patent claim must contribute to a machine or apparatus, or involve the transformation of something from one state or thing to another. Furthermore, the court explicitly noted that the test should not be limited to business method cases, and could apply to technological patents as well. This immediately called into question patents covering genetic tests, many of which seemed likely to fail.
The biotechnology industry has been awaiting a decision with bated breath since arguments were heard in the Supreme Court last November. Anxiety spiked in March when a New York district court invalidated some claims in a suite of gene patents held by Myriad Genetics, a biotechnology firm headquartered in Salt Lake City, Utah (see 'Breast cancer gene patents judged invalid').
But yesterday the high court declared the machine-or-transformation test too limited for blanket use in patent cases, and explicitly expressed concern that the test might create uncertainty about whether "advanced diagnostic medicine techniques" could be patented.
"It's not the blockbuster opinion that some people expected," says Mark Lemley, a law professor at Stanford University in California.
Nevertheless, Lemley agrees with the spirit of the decision: "This is not an area in which you can formulate clear tests that divide patentable from unpatentable subject matter," he says. "You just have to look at individual cases."
But some find the wording of the ruling uncomfortably vague. Rochelle Dreyfuss, a law professor at New York University, notes that there is no indication of what constitutes an 'advanced' diagnostic medicine technique.
"On the one hand, it sounds like they don't want to rule out patents on medical diagnostics," she says. "But they don't just say 'diagnostics'. They say 'advanced diagnostics'. What is an advanced diagnostic?"
Meanwhile, Bauer worries that the court's decision to invalidate Bilski's patent claim because it is based on an 'abstract idea' is similarly vague. "It's going to create a whole new level of litigation that didn't exist before," he says. "Every case is now going to have to argue what it means to be an abstract idea."
Several upcoming biotechnology cases may provide an opportunity for the lower courts to test the Supreme Court ruling. For example, earlier rulings in another closely watched case involving medical diagnostics, Prometheus Labs versus Mayo Clinic, relied on the earlier Bilski decision.
That case, which has been appealed to the Supreme Court, will probably be remanded back to the lower courts in light of the new ruling, says William Simmons, a patent lawyer with Sughrue Mion in Washington DC.
The new Bilski decision may even affect the appeal in the case against Myriad Genetics. The New York district-court judge had invoked the earlier Bilski decisions when invalidating Myriad's patent claims, Simmons notes.
"His reliance on Bilski is now misplaced," says Simmons. "This will undermine his decision."

Related links
Related links
Related external links
About this article
Cite this article
Ledford, H. US Supreme Court avoids clarifying patent stance. Nature (2010). https://doi.org/10.1038/news.2010.321
Published:

DOI: https://doi.org/10.1038/news.2010.321