Tight budgets could mean operations begin with fewer researchers.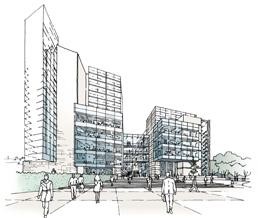 Details of a new £520-million (US$850-million) biomedical research centre in central London were revealed today, giving some insight into its proposed scientific scope and architecture.
The UK Centre for Medical Research and Innovation (UKCMRI) will bring together four leading UK research institutes in one building on a 1.5-hectare site near London's St Pancras International rail station. The centre will accommodate the Medical Research Council's National Institute for Medical Research (NIMR), currently based in Mill Hill, just outside London, and Cancer Research UK's London Research Institute, which has laboratories split over two sites — one in central London and the other near Potters Bar in Hertfordshire. Also partners in the project are University College London and the biomedical-research charity, the Wellcome Trust.
Biologist and Nobel laureate Paul Nurse, president of the Rockefeller University in New York, is leading the scientific planning for the UKCMRI. He told journalists today that the centre will aim to be a "magnet" for attracting and training the best young researchers from all over the world, with the hope that they will then move to other UK institutions. "UKCMRI will be a feeder for other research institutes in the UK," Nurse said.
The institute will have "no particular" research focus but will aim to cover all aspects of human disease by building on the science expertise of its partner organizations, including fields such as infectious disease and brain cancer. However, he proposed that research areas could, for example, include the use of stem cells to grow human organs in the lab. University College London will contribute research in non-biomedical areas including computer science, engineering and physics.
Animal research will be carried out at the institute, but pathogens, such as the Ebola virus, that require the highest level of biological containment, category 4, will not take place. It is not clear what will happen to the category 4 research that is currently undertaken at the NIMR. A more detailed science plan will be developed over the next few years, Nurse said.
Clinical research will not be done in house — instead, UKCMRI scientists will collaborate with nearby hospitals and research centres. Translating that research into products and services will be something that is embedded in the institute's culture, rather than being an afterthought when research projects come to an end. But the building will not house biotech companies — one proposal that had previously been floated for the centre.
The centre will be an open-plan environment without "artificial departments", and will have communal break-out areas to encourage collaboration and discussion between the institute's researchers. It will also have networking and training centres that can be used by external researchers. Much of the front of the building will be glass, letting the public see researchers at work in their labs.
The building was originally estimated to cost £500 million, but the need to build an extra basement floor has added to costs. Speaking to Nature, Nurse said that a definite figure for the building costs would not be available until the construction contract goes out to tender, but noted that the budget "will be tight".
The Medical Research Council will pay for 45–50% of the building costs, while 25–30% will come from Cancer Research UK, 20% from the Wellcome Trust and 5–10% from University College London.
Nurse told Nature that if construction goes over budget they will seek to find savings, which may include starting operations with fewer than the intended 1,250 researchers, and building up their numbers over time.
He also added that no concrete plans are in place for how to choose which researchers at the partner institutes will move to the UKCMRI, but that staff will undergo a review and assessment to help inform the decision.
Nurse noted that he was not concerned for the institute's future if the current Labour government loses power to the Conservative party at a general election due to be held next year. He said that the Conservatives had shown "support" for the project in informal discussions.
Richard Treisman, director of Cancer Research UK's London Research Institute, told Nature that many of the researchers at the institute's Hertfordshire site had "mixed feelings" about moving into central London. Treisman and NIMR director Jim Smith agreed that their biggest challenge would be to ensure that the move does not disrupt research activities.
Planning permission for the building is expected to be submitted to the local council next year.

Related links
Related links
Related links in Nature Research
Related external links
About this article
Cite this article
Gilbert, N. London's biomedical research institute takes shape. Nature (2009). https://doi.org/10.1038/news.2009.1129
Comments
By submitting a comment you agree to abide by our Terms and Community Guidelines. If you find something abusive or that does not comply with our terms or guidelines please flag it as inappropriate.