Labor Party loses crucial vote amid political turmoil.
Australia's government has failed to pass laws to create a carbon-trading scheme, ahead of next week's United Nations Climate Change Conference in Copenhagen, after the country's Senate rejected proposed legislation for the second time.
There had been speculation that Labor Prime Minister Kevin Rudd would call a snap general election if the Carbon Pollution Reduction Scheme legislation was not approved. But the government says that it will give the opposition Liberal Party another chance to vote for the scheme when the parliament resumes sitting in February.
"We believe that over the Christmas period there is time for the calmer heads in the Liberal Party to consider this question, to consider acting in the national interest," Julia Gillard, the deputy prime minister, told a press conference.
"The prime minister, on a number occasions, has said it's his intention to have the parliament go full term," she said. "The prime minister has also said that he is determined to see this legislation pass the parliament."
The rejection of the scheme comes after a fortnight of political turmoil, in which the opposition demanded major amendments before it would support the deal, only to withdraw its backing after changing leaders.
The government had needed the support of at least seven opposition senators to pass its package of 11 bills, but only two Liberal senators broke ranks. The resulting 41 to 33 vote represented a quick victory for new Liberal Party leader Tony Abbott, who took up the post on 1 December.
Although his predecessor Malcolm Turnbull had offered bipartisan support for the legislation, Abbott has dismissed the government's proposal as an energy taxation scheme. "This isn't about climate change, it's about the mechanism for dealing with it. It's about stopping a great big new tax," he said yesterday.
Although many saw the government's plan as flawed, its defeat was a disappointment, says Erwin Jackson, research and policy director at the Sydney-based Climate Institute, which promotes innovation to tackle climate change. "The scheme wasn't perfect, but it did provide a springboard for Australia to reap the benefits that will come from being ready for a low carbon future," he says. "As of today, we're stuck in a quagmire."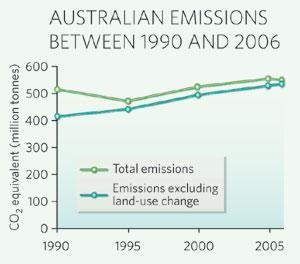 Predicting what might happen next is "like nailing jelly to the wall", Jackson adds. "But if Australia is going to play its part in addressing climate change, it has to have a carbon price."
Nick Rowley, director of Kinesis, a company in Sydney that works with government and business on climate issues, says that Rudd cannot now back away from emissions trading. "He will need to come back with another form of the Carbon Pollution Reduction Scheme at the next election that will be different and simpler than the current proposal," he says.
Other are hopeful that the Senate's rejection of the scheme could open the door for other approaches to tackling emissions. "The way politics have changed in the past 24 hours means anything is possible," says Donna Green, a climate policy expert at the University of New South Wales in Sydney.
"What seems like bad news might be good news," she adds. "Labor might decide to take an alternative strategy and implement something that would promote the growth of the low-carbon industry in Australia — and start to entice back some of our best scientists and engineers who've given up on trying to get their ideas out here. To me that has to be a carbon tax."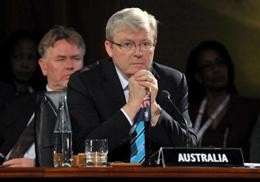 About this article
Cite this article
Pincock, S. Australia rejects carbon trading. Nature (2009). https://doi.org/10.1038/news.2009.1119
Published:

DOI: https://doi.org/10.1038/news.2009.1119