Video shows valves still working after 38 years.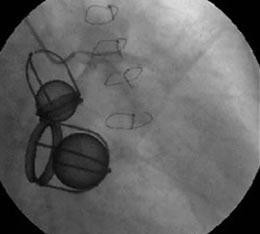 This video shows two 38-year-old Starr–Edwards artificial heart valves in a 67-year-old woman. Both valves are functioning normally, despite being well on their way to becoming antiques. The video was obtained by doctors Nicolo Piazza and Jean Grégoire at the Montreal Heart Institute in Quebec, Canada, who conducted a heart catheterization after the woman went to hospital suffering shortness of breath.
Heart catheterization involves inserting a narrow tube into the heart for investigation or treatment. Agents that enhance the contrast in X-ray images can then be added so that blood vessels in the heart show up.
First implanted in a human in 1960, Starr–Edwards valves use differences in pressure inside and outside the heart chambers to push a silicone ball from one side of a small steel cage to the other, either closing or opening the valve.
Albert Starr shared the 2007 Lasker Award for his work on artificial heart valves. By the time Edwards Lifesciences stopped manufacturing the valves last year, more than a quarter of a million people had received them.
The video and images feature in this week's issue of the New England Journal of Medicine1.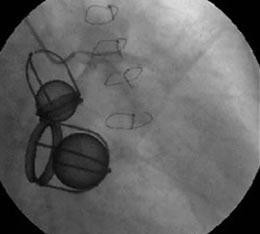 References
1

Piazza, N. and Gregoire, J. N. Engl. J. Med. 358, e24 (2008).
Related links
Related links
Related links in Nature Research
About this article
Cite this article
Cressey, D. Artificial heart valves in action. Nature (2008) doi:10.1038/news.2008.846
Comments
By submitting a comment you agree to abide by our Terms and Community Guidelines. If you find something abusive or that does not comply with our terms or guidelines please flag it as inappropriate.