Rally aims to secure political backing for new embryology law.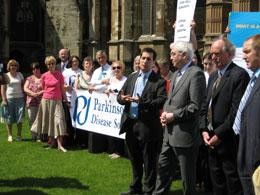 Politicians, scientists and patient groups demonstrated outside Britain's Parliament today to show their support for a new bill that looks set to give researchers greater options for working with human embryonic cells, potentially paving the way for the development of therapies against diseases such as Parkinson's.
Several dozen demonstrators gathered near the Parliament building, waving placards saying "Stem cell research — ethical and essential".
The new legislation, called the Human Fertilisation and Embryology Bill, is the subject of a parliamentary debate today, and politicians will vote this evening on whether to bring it forward for approval next week.
If approved, the new law will give British researchers the opportunity to pursue a range of novel techniques, including the creation of 'cybrid' embryos created by injecting human DNA into empty cow egg cells. The law will also make it easier for all-female couples to conceive through in vitro fertilization (IVF). Religious leaders, particularly those in the Roman Catholic church, have opposed the measures.
Evan Harris, a Liberal Democrat Member of Parliament and advocate of the new law, says the demonstration was a sign that people are prepared to campaign on behalf of science. "Far too often, the only people [demonstrating] outside Parliament are against all embryo research," he says.
Members of Parliament are expected to vote broadly in favour of the bill, paving the way for its detailed components to be voted into law in the next few days.
"This is carefully regulated embryo research with safeguards, for the purpose of medical research into serious disease. There's a clear majority in favour," Harris says. "The rights of patients to access the potential therapies coming from this research should not be denied because of the dogmatic religious views, however sincerely held, of individuals or religious leaders."
Researchers working for the Medical Research Council (MRC), the main government-funded biomedical research organization, were discouraged from attending the demonstration. MRC leaders have reportedly argued that lobbying politicians on the subject would be "counterproductive".
The demonstration was followed immediately by a protest by Christian groups campaigning against the new law. Protester Andrea Williams of the Lawyers' Christian Fellowship invited people to "pray for a miracle" that the bill would be defeated, adding that the debate about the use of embryos in research is about the "protection of the most vulnerable form of life".
Public opinion is broadly in favour of the new measures, Harris says. "There is a split of public opinion — there is an orthodox Catholic and sometimes other religious view that no embryo research should be permitted, that IVF shouldn't be allowed because it involves the destruction of embryos. That's their view — it's a minority view."
Phil Willis, another parliamentarian supporting the bill, added: "We should rule nothing out. We don't know where the next breakthrough is coming from."
Approval of the legislation will give researchers a more plentiful source of embryonic stem cells, argues S. H. Cedar, who studies such cells at King's College London. "The problem with working with human embryonic stem cells is there is a very great shortage of raw material — embryos," she says.
Creating cybrid embryos will give researchers a more accessible supply of cells containing human DNA. These cells can be developed into stem-cell lines that can then be used to study the genetic characteristics of a range of diseases.

About this article
Cite this article
Hopkin, M. Open-air demo supports UK embryo research. Nature (2008) doi:10.1038/news.2008.819
Comments
By submitting a comment you agree to abide by our Terms and Community Guidelines. If you find something abusive or that does not comply with our terms or guidelines please flag it as inappropriate.