Concentrating solar power had a difficult market start compared to other renewable technologies, leading to a total global capacity of only 5 GW today after more than a decade of deployment. A comprehensive global empirical study identifies distinct deployment phases, with high learning rates exceeding 25% over the past 5 years.
Access options
Subscribe to Journal
Get full journal access for 1 year
$62.00
only $5.17 per issue
All prices are NET prices.
VAT will be added later in the checkout.
Rent or Buy article
Get time limited or full article access on ReadCube.
from$8.99
All prices are NET prices.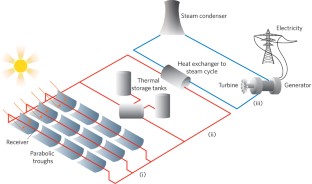 References
1

Lilliestam, J., Labordena, M., Patt, A. & Pfenninger, S. Nat. Energy 2, 17094 (2017).

2

Current and Future Cost of Photovoltaics (Fraunhofer ISE, 2015).

3

Lunz, B., Stöcker, P., Pitz-Paal, R. & Uwe Sauer, D. Evaluating the value of concentrated solar power in electricity systems with fluctuating energy sources. In AIP Conf. Proc. 1734, 160010 (American Institute of Physics, 2016).

4

Mehos, M., Jorgenson, J., Denholm, P. & Turchi, C. Energy Procedia 69, 2060–2071 (2015).

5

Trieb, F., Fichter, T. & Moser, M. Sustain. Sci. 9, 47–60 (2014).

6

Linear concentrator system basics for concentrating solar power. US Department of Energyhttp://go.nature.com/2rIf2Ra (20 August 2013).
About this article
Cite this article
Pitz-Paal, R. Concentrating solar power: Still small but learning fast. Nat Energy 2, 17095 (2017). https://doi.org/10.1038/nenergy.2017.95