During the preparation of the PCR gel panels in Fig. 1b,c, duplicate or otherwise irrelevant lanes were excised; these excisions were not noted in the published figure as per the Nature journal policy. We are now correcting these figure panels as below. Figure 1b was assembled as a composite from multiple gels that were run in parallel using samples obtained from the same experiment. The corrected Fig. 1b below provides the demarcation as required by the Nature editorial policy. The original unprocessed gel images are provided in the Supplementary Information with the relevant corresponding bands denoted. Figure 1c was assembled from two gels run in parallel using samples obtained from the same experiment. We have not been able to provide all the original data used to assemble Fig. 1c. We have repeated the experiment and confirmed the original results; these new data are now reproduced below as the corrected Fig. 1c. The original unprocessed gel image is provided in the Supplementary Information. In addition, the original base pair markers in Fig. 1b were incorrect; the correct markers are shown below.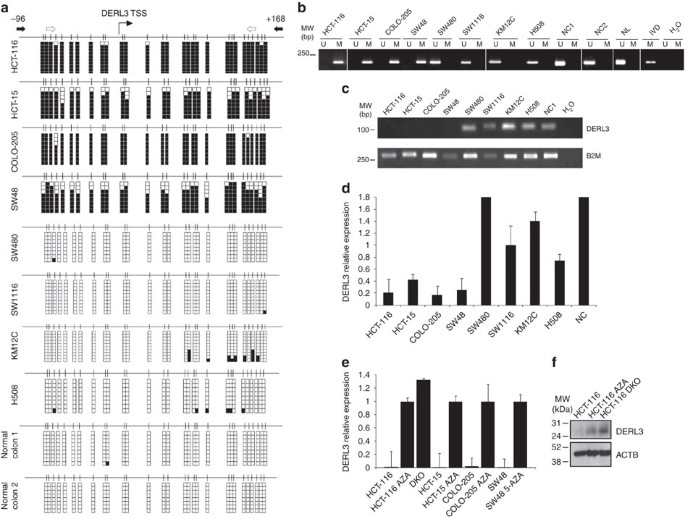 These corrections do not alter the original meaning of the experiments, their results, their interpretation, or the conclusions of the paper. We apologize for any confusion this may have caused to the readers of Nature Communications.
Supplementary information
Rights and permissions
This work is licensed under a Creative Commons Attribution 4.0 International License. The images or other third party material in this article are included in the article's Creative Commons license, unless indicated otherwise in the credit line; if the material is not included under the Creative Commons license, users will need to obtain permission from the license holder to reproduce the material. To view a copy of this license, visit http://creativecommons.org/licenses/by/4.0/
About this article
Cite this article
Lopez-Serra, P., Marcilla, M., Villanueva, A. et al. Correction: Corrigendum: A DERL3-associated defect in the degradation of SLC2A1 mediates the Warburg effect. Nat Commun 7, 13467 (2016). https://doi.org/10.1038/ncomms13467
Comments
By submitting a comment you agree to abide by our Terms and Community Guidelines. If you find something abusive or that does not comply with our terms or guidelines please flag it as inappropriate.