Abstract
The molecular mechanisms underlying the interdependence between intracellular trafficking and epithelial cell polarity are poorly understood. Here we show that inactivation of class III phosphatidylinositol-3-OH kinase (CIII-PI3K), which produces phosphatidylinositol-3-phosphate (PtdIns3P) on endosomes, disrupts epithelial organization. This is caused by dysregulation of endosomally localized Liver Kinase B1 (LKB1, also known as STK11), which shows delocalized and increased activity accompanied by dysplasia-like growth and invasive behaviour of cells provoked by JNK pathway activation. CIII-PI3K inactivation cooperates with RasV12 to promote tumour growth in vivo in an LKB1-dependent manner. Strikingly, co-depletion of LKB1 reverts these phenotypes and restores epithelial integrity. The endosomal, but not autophagic, function of CIII-PI3K controls polarity. We identify the CIII-PI3K effector, WD repeat and FYVE domain-containing 2 (WDFY2), as an LKB1 regulator in Drosophila tissues and human organoids. Thus, we define a CIII-PI3K-regulated endosomal signalling platform from which LKB1 directs epithelial polarity, the dysregulation of which endows LKB1 with tumour-promoting properties.
Access options
Subscribe to Journal
Get full journal access for 1 year
$209.00
only $17.42 per issue
All prices are NET prices.
VAT will be added later in the checkout.
Rent or Buy article
Get time limited or full article access on ReadCube.
from$8.99
All prices are NET prices.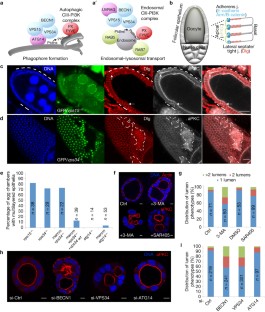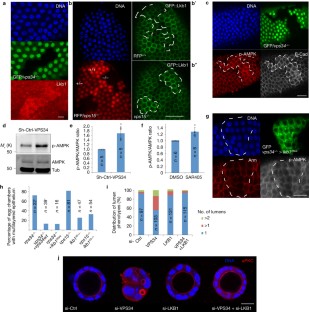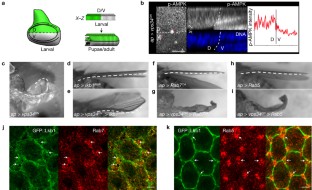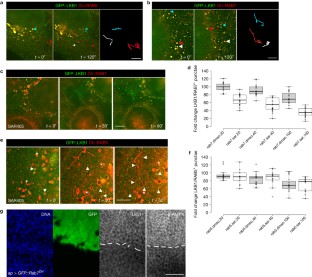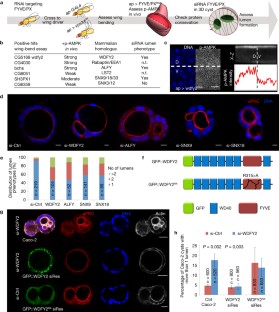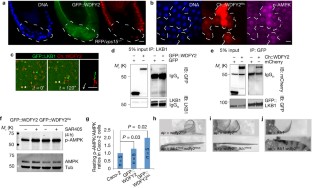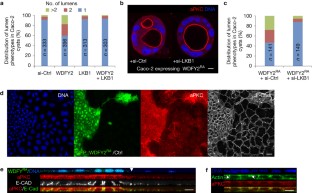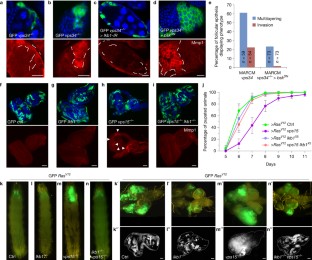 References
1

Rudrapatna, V. A., Cagan, R. L. & Das, T. K. Drosophila cancer models. Dev. Dyn. 241, 107–118 (2012).

2

Hemminki, A. The molecular basis and clinical aspects of Peutz–Jeghers syndrome. Cell Mol. Life Sci. 55, 735–750 (1999).

3

Hardie, D. G. & Alessi, D. R. LKB1 and AMPK and the cancer-metabolism link—ten years after. BMC Biol. 11, 36 (2013).

4

Alessi, D. R., Sakamoto, K. & Bayascas, J. R. LKB1-dependent signaling pathways. Annu. Rev. Biochem. 75, 137–163 (2006).

5

Lee, J. H. et al. Energy-dependent regulation of cell structure by AMP-activated protein kinase. Nature 447, 1017–1020 (2007).

6

Baas, A. F. et al. Complete polarization of single intestinal epithelial cells upon activation of LKB1 by STRAD. Cell 116, 457–466 (2004).

7

Martin, S. G. & St Johnston, D. A role for Drosophila LKB1 in anterior–posterior axis formation and epithelial polarity. Nature 421, 379–384 (2003).

8

Houde, V. P. et al. Investigation of LKB1 Ser431 phosphorylation and Cys433 farnesylation using mouse knockin analysis reveals an unexpected role of prenylation in regulating AMPK activity. Biochem. J. 458, 41–56 (2014).

9

Zhang, C. S. et al. The lysosomal v-ATPase-Ragulator complex is a common activator for AMPK and mTORC1, acting as a switch between catabolism and anabolism. Cell Metab. 20, 526–540 (2014).

10

Sancak, Y. et al. Ragulator-Rag complex targets mTORC1 to the lysosomal surface and is necessary for its activation by amino acids. Cell 141, 290–303 (2010).

11

Schink, K. O., Raiborg, C. & Stenmark, H. Phosphatidylinositol 3-phosphate, a lipid that regulates membrane dynamics, protein sorting and cell signalling. BioEssays 35, 900–912 (2013).

12

Raiborg, C., Schink, K. O. & Stenmark, H. Class III phosphatidylinositol 3-kinase and its catalytic product PtdIns3P in regulation of endocytic membrane traffic. FEBS J. 280, 2730–2742 (2013).

13

Poteryaev, D., Datta, S., Ackema, K., Zerial, M. & Spang, A. Identification of the switch in early-to-late endosome transition. Cell 141, 497–508 (2010).

14

Abe, M. et al. Membrane protein location-dependent regulation by PI3K (III) and rabenosyn-5 in Drosophila wing cells. PLoS ONE 4, e7306 (2009).

15

Lee, G. et al. UVRAG is required for organ rotation by regulating Notch endocytosis in Drosophila. Dev Biol. 356, 588–597 (2011).

16

Wu, J. S. & Luo, L. A protocol for mosaic analysis with a repressible cell marker (MARCM) in Drosophila. Nat. Protoc. 1, 2583–2589 (2006).

17

Jaffe, A. B., Kaji, N., Durgan, J. & Hall, A. Cdc42 controls spindle orientation to position the apical surface during epithelial morphogenesis. J. Cell Biol. 183, 625–633 (2008).

18

Ronan, B. et al. A highly potent and selective Vps34 inhibitor alters vesicle trafficking and autophagy. Nat. Chem. Biol. 10, 1013–1019 (2014).

19

Stenmark, H. et al. Inhibition of rab5 GTPase activity stimulates membrane fusion in endocytosis. EMBO J. 13, 1287–1296 (1994).

20

Stein, M. P., Feng, Y., Cooper, K. L., Welford, A. M. & Wandinger-Ness, A. Human VPS34 and p150 are Rab7 interacting partners. Traffic 4, 754–771 (2003).

21

Khodosh, R., Augsburger, A., Schwarz, T. L. & Garrity, P. A. Bchs, a BEACH domain protein, antagonizes Rab11 in synapse morphogenesis and other developmental events. Development 133, 4655–4665 (2006).

22

Walz, H. A. et al. Isoform-specific regulation of Akt signaling by the endosomal protein WDFY2. J. Biol. Chem. 285, 14101–14108 (2010).

23

Kannan, K. et al. CDKN2D-WDFY2 is a cancer-specific fusion gene recurrent in high-grade serous ovarian carcinoma. PLoS Genet. 10, e1004216 (2014).

24

Zoncu, R. et al. A phosphoinositide switch controls the maturation and signaling properties of APPL endosomes. Cell 136, 1110–1121 (2009).

25

Wucherpfennig, T., Wilsch-Brauninger, M. & Gonzalez-Gaitan, M. Role of Drosophila Rab5 during endosomal trafficking at the synapse and evoked neurotransmitter release. J. Cell Biol. 161, 609–624 (2003).

26

Lee, J. H. et al. JNK pathway mediates apoptotic cell death induced by tumor suppressor LKB1 in Drosophila. Cell Death Differ. 13, 1110–1122 (2006).

27

Uhlirova, M. & Bohmann, D. JNK- and Fos-regulated Mmp1 expression cooperates with Ras to induce invasive tumors in Drosophila. EMBO J. 25, 5294–5304 (2006).

28

Wu, M., Pastor-Pareja, J. C. & Xu, T. Interaction between RasV 12 and scribbled clones induces tumour growth and invasion. Nature 463, 545–548 (2010).

29

Brumby, A. M. & Richardson, H. E. scribble mutants cooperate with oncogenic Ras or Notch to cause neoplastic overgrowth in Drosophila. EMBO J. 22, 5769–5779 (2003).

30

March, H. N. et al. Insertional mutagenesis identifies multiple networks of cooperating genes driving intestinal tumorigenesis. Nat. Genet. 43, 1202–1209 (2011).

31

Bard-Chapeau, E. A. et al. Transposon mutagenesis identifies genes driving hepatocellular carcinoma in a chronic hepatitis B mouse model. Nat. Genet. 46, 24–32 (2014).

32

Rahrmann, E. P. et al. Forward genetic screen for malignant peripheral nerve sheath tumor formation identifies new genes and pathways driving tumorigenesis. Nat. Genet. 45, 756–766 (2013).

33

Lee, S. W. et al. Skp2-dependent ubiquitination and activation of LKB1 is essential for cancer cell survival under energy stress. Mol. Cell 57, 1022–1033 (2015).

34

Jeon, S. M., Chandel, N. S. & Hay, N. AMPK regulates NADPH homeostasis to promote tumour cell survival during energy stress. Nature 485, 661–665 (2012).

35

Kottakis, F. & Bardeesy, N. LKB1-AMPK axis revisited. Cell Res. 22, 1617–1620 (2012).

36

Juhasz, G. et al. The class III PI3K Vps34 promotes autophagy and endocytosis but not TOR signaling in Drosophila. J. Cell Biol. 181, 655–666 (2008).

37

Katheder, N. S. et al. Microenvironmental autophagy promotes tumour growth. Nature 541, 417–420 (2017).

38

Dull, T. et al. A third-generation lentivirus vector with a conditional packaging system. J. Virol. 72, 8463–8471 (1998).

39

Bonaccorsi, S. et al. The Drosophila Lkb1 kinase is required for spindle formation and asymmetric neuroblast division. Development 134, 2183–2193 (2007).

40

Tanaka, T. & Nakamura, A. The endocytic pathway acts downstream of Oskar in Drosophila germ plasm assembly. Development 135, 1107–1117 (2008).

41

Lobert, V. H. et al. Ubiquitination of α5β1 integrin controls fibroblast migration through lysosomal degradation of fibronectin-integrin complexes. Dev. Cell 19, 148–159 (2010).
Acknowledgements
We thank T. Håve, A. Engen, E. Rønning, A.-G. Bergersen, C. Bassols and the Advanced Light and Electron Microscopy core facility (OUS) for technical assistance, and the Stenmark laboratory for discussions. We thank J. Poulton for initial characterization of CIII-PI3K mutant phenotypes and D. St. Johnston and D. T. Bergstrahl for discussions. We thank the Bloomington Stock Center, DSHB and Addgene for reagents. This work was partly supported by the Research Council of Norway, Centre of Excellence scheme (179571), by grants from the Norwegian Cancer Society to F.O'F. (5768696), T.E.R. (PK01-2009-0386) and H.S. (605009), and the South-Eastern Norwegian Health Authority to T.E.R. (39717), E.M.W. (2015014), A.B. (35424) and V.H.L. (2014039).
Ethics declarations
Competing interests
The authors declare no competing financial interests.
Integrated supplementary information
Supplementary information
About this article
Cite this article
O'Farrell, F., Lobert, V., Sneeggen, M. et al. Class III phosphatidylinositol-3-OH kinase controls epithelial integrity through endosomal LKB1 regulation. Nat Cell Biol 19, 1412–1423 (2017). https://doi.org/10.1038/ncb3631
Received:

Accepted:

Published:

Issue Date: