Abstract
Growing evidence in vertebrates predicts that cellular haem levels in animals are maintained not only by a cell's internal capacity for haem synthesis in a cell-autonomous manner, but also by an inter-organ haem trafficking network through cell-non-autonomous regulation. Using Caenorhabditis elegans, a genetically and optically amenable animal model for visualizing haem-dependent signalling, we show that HRG-7, a protein with homology to aspartic proteases, mediates inter-organ signalling between the intestine and extra-intestinal tissues. Intestinal HRG-7 functions as a secreted signalling factor during haem starvation in extra-intestinal tissues and is regulated through a DBL-1, homologous to BMP5, dependent signal from neurons. Given the evidence that vertebrate homologues exist for each of the components of the HRG-7-mediated signalling pathway, it is conceivable that the cell-non-autonomous signalling framework that we uncovered in C. elegans may have functional relevance for inter-organ regulation of iron and haem metabolism in humans.
Your institute does not have access to this article
Relevant articles
Open Access articles citing this article.
Jing-Ru Zhou

,

Dan-Ru Bu

…

Yi Yang

Parasites & Vectors Open Access 29 January 2020

Jonatan Mendez

,

Donglei Sun

…

Zhengguo Xiao

Scientific Reports Open Access 04 December 2018
Access options
Subscribe to Nature+
Get immediate online access to the entire Nature family of 50+ journals
Subscribe to Journal
Get full journal access for 1 year
$99.00
only $8.25 per issue
All prices are NET prices.
VAT will be added later in the checkout.
Tax calculation will be finalised during checkout.
Buy article
Get time limited or full article access on ReadCube.
$32.00
All prices are NET prices.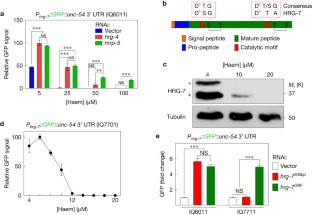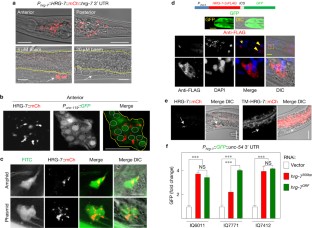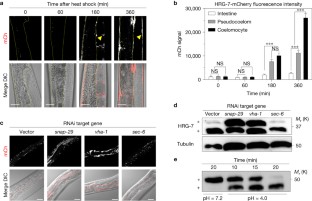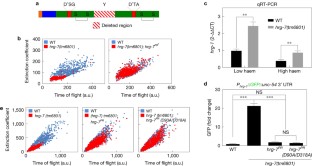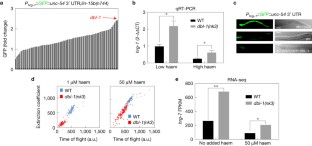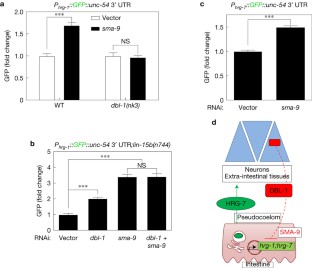 Accession codes
Primary accessions
Gene Expression Omnibus
References
Hamza, I. Intracellular trafficking of porphyrins. ACS Chem. Biol. 1, 627–629 (2006).

Severance, S. & Hamza, I. Trafficking of heme and porphyrins in metazoa. Chem. Rev. 109, 4596–4616 (2009).

Korolnek, T. & Hamza, I. Macrophages and iron trafficking at the birth and death of red cells. Blood 125, 2893–2897 (2015).

Keel, S. B. et al. A heme export protein is required for red blood cell differentiation and iron homeostasis. Science 319, 825–828 (2008).

Cao, C. & O'Brien, K. O. Pregnancy and iron homeostasis: an update. Nutr. Rev. 71, 35–51 (2013).

Yang, Z. et al. Kinetics and specificity of feline leukemia virus subgroup C receptor (FLVCR) export function and its dependence on hemopexin. J. Biol. Chem. 285, 28874–28882 (2010).

Haldar, M. et al. Heme-mediated SPI-C induction promotes monocyte differentiation into iron-recycling macrophages. Cell 156, 1223–1234 (2014).

Yuan, X. et al. Regulation of intracellular heme trafficking revealed by subcellular reporters. Proc. Natl Acad. Sci. USA 113, E5144–E5152 (2016).

Sinclair, J. & Hamza, I. Lessons from bloodless worms: heme homeostasis in C. elegans. Biometals 28, 481–489 (2015).

Rao, A. U., Carta, L. K., Lesuisse, E. & Hamza, I. Lack of heme synthesis in a free-living eukaryote. Proc. Natl Acad. Sci. USA 102, 4270–4275 (2005).

Durieux, J., Wolff, S. & Dillin, A. The cell-non-autonomous nature of electron transport chain-mediated longevity. Cell 144, 79–91 (2011).

Korolnek, T., Zhang, J., Beardsley, S., Scheffer, G. L. & Hamza, I. Control of metazoan heme homeostasis by a conserved multidrug resistance protein. Cell Metab. 19, 1008–1019 (2014).

Rajagopal, A. et al. Haem homeostasis is regulated by the conserved and concerted functions of HRG-1 proteins. Nature 453, 1127–1131 (2008).

Severance, S. et al. Genome-wide analysis reveals novel genes essential for heme homeostasis in Caenorhabditis elegans. PLoS Genet. 6, e1001044 (2010).

Nemeth, E. et al. Hepcidin regulates cellular iron efflux by binding to ferroportin and inducing its internalization. Science 306, 2090–2093 (2004).

Kim, B. E. et al. Cardiac copper deficiency activates a systemic signaling mechanism that communicates with the copper acquisition and storage organs. Cell Metab. 11, 353–363 (2010).

Kautz, L. et al. Identification of erythroferrone as an erythroid regulator of iron metabolism. Nat. Genet. 46, 678–684 (2014).

Sinclair, J. & Hamza, I. A novel heme response element mediates transcriptional regulation in Caenorhabditis elegans. J. Biol. Chem. 285, 39536–39543 (2010).

McGhee, J. D. et al. The ELT-2 GATA-factor and the global regulation of transcription in the C. elegans intestine. Dev. Biol. 302, 627–645 (2007).

Mahoney, T. R. et al. Intestinal signaling to GABAergic neurons regulates a rhythmic behavior in Caenorhabditis elegans. Proc. Natl Acad. Sci. USA 105, 16350–16355 (2008).

Oka, T., Toyomura, T., Honjo, K., Wada, Y. & Futai, M. Four subunit a isoforms of Caenorhabditis elegans vacuolar H+-ATPase. Cell-specific expression during development. J. Biol. Chem. 276, 33079–33085 (2001).

Pujol, N., Bonnerot, C., Ewbank, J. J., Kohara, Y. & Thierry-Mieg, D. The Caenorhabditis elegans unc-32 gene encodes alternative forms of a vacuolar ATPase a subunit. J. Biol. Chem. 276, 11913–11921 (2001).

Chen, C., Samuel, T. K., Sinclair, J., Dailey, H. A. & Hamza, I. An intercellular heme-trafficking protein delivers maternal heme to the embryo during development in C. elegans. Cell 145, 720–731 (2011).

Hedgecock, E. M., Culotti, J. G., Thomson, J. N. & Perkins, L. A. Axonal guidance mutants of Caenorhabditis elegans identified by filling sensory neurons with fluorescein dyes. Dev. Biol. 111, 158–170 (1985).

Mak, H. Y., Nelson, L. S., Basson, M., Johnson, C. D. & Ruvkun, G. Polygenic control of Caenorhabditis elegans fat storage. Nat. Genet. 38, 363–368 (2006).

Bishop, N. A. & Guarente, L. Two neurons mediate diet-restriction-induced longevity in C. elegans. Nature 447, 545–549 (2007).

Evans, D. & Blumenthal, T. Trans splicing of polycistronic Caenorhabditis elegans pre-mRNAs: analysis of the SL2 RNA. Mol. Cell. Biol. 20, 6659–6667 (2000).

Ding, L. & Candido, E. P. Association of several small heat-shock proteins with reproductive tissues in the nematode Caenorhabditis elegans. Biochem. J. 351, 13–17 (2000).

Balklava, Z., Pant, S., Fares, H. & Grant, B. D. Genome-wide analysis identifies a general requirement for polarity proteins in endocytic traffic. Nat. Cell Biol. 9, 1066–1073 (2007).

Poea-Guyon, S. et al. The V-ATPase membrane domain is a sensor of granular pH that controls the exocytotic machinery. J. Cell Biol. 203, 283–298 (2013).

Wang, H. et al. Neuropeptide secreted from a pacemaker activates neurons to control a rhythmic behavior. Curr. Biol. 23, 746–754 (2013).

Hung, W. L., Wang, Y., Chitturi, J. & Zhen, M. A Caenorhabditis elegans developmental decision requires insulin signaling-mediated neuron-intestine communication. Development 141, 1767–1779 (2014).

Sieburth, D. et al. Systematic analysis of genes required for synapse structure and function. Nature 436, 510–517 (2005).

Liang, J., Yu, L., Yin, J. & Savage-Dunn, C. Transcriptional repressor and activator activities of SMA-9 contribute differentially to BMP-related signaling outputs. Dev. Biol. 305, 714–725 (2007).

Savage-Dunn, C., Yu, L., Gill, K., Awan, M. & Fernando, T. Non-stringent tissue-source requirements for BMP ligand expression in regulation of body size in Caenorhabditis elegans. Genet. Res. (Camb) 93, 427–432 (2011).

Suzuki, Y. et al. A BMP homolog acts as a dose-dependent regulator of body size and male tail patterning in Caenorhabditis elegans. Development 126, 241–250 (1999).

Morita, K., Chow, K. L. & Ueno, N. Regulation of body length and male tail ray pattern formation of Caenorhabditis elegans by a member of TGF-β family. Development 126, 1337–1347 (1999).

Schultz, R. D., Bennett, E. E., Ellis, E. A. & Gumienny, T. L. Regulation of extracellular matrix organization by BMP signaling in Caenorhabditis elegans. PLoS ONE 9, e101929 (2014).

Liang, J. et al. The Caenorhabditis elegans schnurri homolog sma-9 mediates stage- and cell type-specific responses to DBL-1 BMP-related signaling. Development 130, 6453–6464 (2003).

Popovici, C. et al. Direct and heterologous approaches to identify the LET-756/FGF interactome. BMC Genomics 7, 105 (2006).

Persson, A. et al. Natural variation in a neural globin tunes oxygen sensing in wild Caenorhabditis elegans. Nature 458, 1030–1033 (2009).

Gray, J. M. et al. Oxygen sensation and social feeding mediated by a C. elegans guanylate cyclase homologue. Nature 430, 317–322 (2004).

Williamson, A. L. et al. A multi-enzyme cascade of hemoglobin proteolysis in the intestine of blood-feeding hookworms. J. Biol. Chem. 279, 35950–35957 (2004).

Brinkworth, R. I., Prociv, P., Loukas, A. & Brindley, P. J. Hemoglobin-degrading, aspartic proteases of blood-feeding parasites: substrate specificity revealed by homology models. J. Biol. Chem. 276, 38844–38851 (2001).

Turk, B., Turk, D. & Turk, V. Protease signalling: the cutting edge. EMBO J. 31, 1630–1643 (2012).

Rawlings, N. D., Waller, M., Barrett, A. J. & Bateman, A. MEROPS: the database of proteolytic enzymes, their substrates and inhibitors. Nucleic Acids Res. 42, D503–D509 (2014).

Cousin, C., Bracquart, D., Contrepas, A. & Nguyen, G. Potential role of the (pro)renin receptor in cardiovascular and kidney diseases. J. Nephrol. 23, 508–513 (2010).

Glondu, M. et al. A mutated cathepsin-D devoid of its catalytic activity stimulates the growth of cancer cells. Oncogene 20, 6920–6929 (2001).

Ueno, E., Sakai, H., Kato, Y. & Yamamoto, K. Activation mechanism of erythrocyte cathepsin E. Evidence for the occurrence of the membrane-associated active enzyme. J. Biochem. 105, 878–882 (1989).

Li, J. M., Umanoff, H., Proenca, R., Russell, C. S. & Cosloy, S. D. Cloning of the Escherichia coli K-12 hemB gene. J. Bacteriol. 170, 1021–1025 (1988).

Redemann, S. et al. Codon adaptation-based control of protein expression in C. elegans. Nat. Methods 8, 250–252 (2011).

Finney, M. & Ruvkun, G. The unc-86 gene product couples cell lineage and cell identity in C. elegans. Cell 63, 895–905 (1990).
Acknowledgements
We thank A. Chisholm, K. Liu, T. Gumienny, A. Jose and D. Hall for critical discussions and advice; T. Fukushige for preparing the RNA-seq libraries and extensive discussions; National Bioresource Project and S. Mitani (Tokyo Women's Medical University, Japan) for the hrg-7 strain; H. Fares (University of Arizona, USA) for strain NP97 (Punc−122::GFP). This work was supported by funding from the National Institutes of Health DK074797 and a supplement to DK074797 (I.H.); support was also provided by the Intramural Program of the National Institute of Diabetes and Digestive and Kidney Diseases (M.K.). The genome-wide RNAi screen was funded by the Roche Foundation for Anemia Research (I.H.).
Ethics declarations
Competing interests
I.H. is the President and Founder of Rakta Therapeutics Inc. (College Park, MD), a company involved in the development of haem transporter-related diagnostics.
Integrated supplementary information
Supplementary information
About this article
Cite this article
Sinclair, J., Pinter, K., Samuel, T. et al. Inter-organ signalling by HRG-7 promotes systemic haem homeostasis. Nat Cell Biol 19, 799–807 (2017). https://doi.org/10.1038/ncb3539
Received:

Accepted:

Published:

Issue Date:

DOI: https://doi.org/10.1038/ncb3539