Abstract
Microtubules tether centrosomes together during interphase1. How this is accomplished and what benefit it provides to the cell is not known. We have identified a bipolar, minus-end-directed kinesin, Kif25, that suppresses centrosome separation. Kif25 is required to prevent premature centrosome separation during interphase. We show that premature centrosome separation leads to microtubule-dependent nuclear translocation, culminating in eccentric nuclear positioning that disrupts the cortical spindle positioning machinery. The activity of Kif25 during interphase is required to maintain a centred nucleus to ensure the spindle is stably oriented at the onset of mitosis.
Relevant articles
Open Access articles citing this article.
Feng Tang

,

Meng-Hao Pan

…

Shao-Chen Sun

Cell Division Open Access 10 November 2018

Ruixuan Gao

,

Shoh M. Asano

&

Edward S. Boyden

BMC Biology Open Access 19 June 2017
Access options
Access Nature and 54 other Nature Portfolio journals
Get Nature+, our best-value online-access subscription
$29.99 / 30 days
cancel any time
Subscribe to this journal
Receive 12 print issues and online access
$209.00 per year
only $17.42 per issue
Rent or buy this article
Get just this article for as long as you need it
$39.95
Prices may be subject to local taxes which are calculated during checkout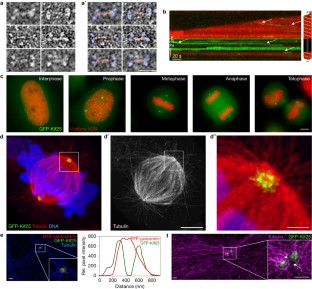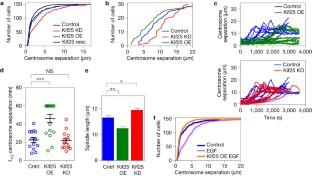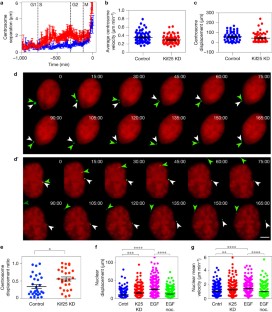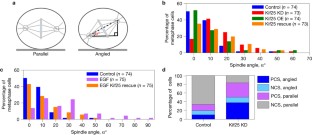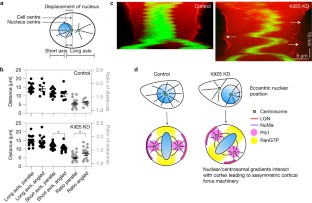 References
Jean, C., Tollon, Y., Raynaud-Messina, B. & Wright, M. The mammalian interphase centrosome: two independent units maintained together by the dynamics of the microtubule cytoskeleton. Eur. J. Cell Biol. 78, 549–560 (1999).

Saunders, W. S. & Hoyt, M. A. Kinesin-related proteins required for structural integrity of the mitotic spindle. Cell 70, 451–458 (1992).

Raaijmakers, J. A. et al. Nuclear envelope-associated dynein drives prophase centrosome separation and enables Eg5-independent bipolar spindle formation. EMBO J. 31, 4179–4190 (2012).

Kapoor, T. M., Mayer, T. U., Coughlin, M. L. & Mitchison, T. J. Probing spindle assembly mechanisms with monastrol, a small molecule inhibitor of the mitotic kinesin, Eg5. J. Cell Biol. 150, 975–988 (2000).

Fry, A. M. et al. C-Nap1, a novel centrosomal coiled-coil protein and candidate substrate of the cell cycle-regulated protein kinase Nek2. J. Cell Biol. 141, 1563–1574 (1998).

Mayor, T., Stierhof, Y. D., Tanaka, K., Fry, A. M. & Nigg, E. A. The centrosomal protein C-Nap1 is required for cell cycle-regulated centrosome cohesion. J. Cell Biol. 151, 837–846 (2000).

Bahe, S., Stierhof, Y. D., Wilkinson, C. J., Leiss, F. & Nigg, E. A. Rootletin forms centriole-associated filaments and functions in centrosome cohesion. J. Cell Biol. 171, 27–33 (2005).

Faragher, A. J. & Fry, A. M. Nek2A kinase stimulates centrosome disjunction and is required for formation of bipolar mitotic spindles. Mol. Biol. Cell 14, 2876–2889 (2003).

Mardin, B. R. et al. Components of the Hippo pathway cooperate with Nek2 kinase to regulate centrosome disjunction. Nat. Cell Biol. 12, 1166–1176 (2010).

Mardin, B. R. et al. EGF-induced centrosome separation promotes mitotic progression and cell survival. Dev. Cell 25, 229–240 (2013).

Endres, N. F., Yoshioka, C., Milligan, R. A. & Vale, R. D. A lever-arm rotation drives motility of the minus-end-directed kinesin Ncd. Nature 439, 875–878 (2006).

Mountain, V. et al. The kinesin-related protein, HSET, opposes the activity of Eg5 and cross-links microtubules in the mammalian mitotic spindle. J. Cell Biol. 147, 351–366 (1999).

Kwon, M. et al. Mechanisms to suppress multipolar divisions in cancer cells with extra centrosomes. Genes Dev. 22, 2189–2203 (2008).

Goshima, G., Nédélec, F. & Vale, R. Mechanisms for focusing mitotic spindle poles by minus end-directed motor proteins. J. Cell Biol. 171, 229–240 (2005).

Endow, S. A. & Komma, D. J. Centrosome and spindle function of the Drosophila Ncd microtubule motor visualized in live embryos using Ncd-GFP fusion proteins. J. Cell Sci. 109, 2429–2442 (1996).

Okamoto, S., Matsushima, M. & Nakamura, Y. Identification, genomic organization, and alternative splicing of KNSL3, a novel human gene encoding a kinesin-like protein. Cytogenet. Cell Genet. 83, 25–29 (1998).

Maliga, Z. et al. A genomic toolkit to investigate kinesin and myosin motor function in cells. Nat. Cell Biol. 15, 325–334 (2013).

Miki, H., Okada, Y. & Hirokawa, N. Analysis of the kinesin superfamily: insights into structure and function. Trends Cell Biol. 15, 467–476 (2005).

Kashina, A. S. et al. A bipolar kinesin. Nature 379, 270–272 (1996).

Smith, E. et al. Differential control of Eg5-dependent centrosome separation by Plk1 and Cdk1. EMBO J. 30, 2233–2245 (2011).

Domnitz, S. B., Wagenbach, M., Decarreau, J. & Wordeman, L. MCAK activity at microtubule tips regulates spindle microtubule length to promote robust kinetochore attachment. J. Cell Biol. 197, 231–237 (2012).

Leonhardt, H. et al. Dynamics of DNA replication factories in living cells. J. Cell Biol. 149, 271–280 (2000).

Kisielewska, J., Lu, P. & Whitaker, M. GFP-PCNA as an S-phase marker in embryos during the first and subsequent cell cycles. Biol. Cell 97, 221–229 (2005).

Tsai, L. H. & Gleeson, J. G. Nucleokinesis in neuronal migration. Neuron 46, 383–388 (2005).

Salpingidou, G., Smertenko, A., Hausmanowa-Petrucewicz, I., Hussey, P. J. & Hutchison, C. J. A novel role for the nuclear membrane protein emerin in association of the centrosome to the outer nuclear membrane. J. Cell Biol. 178, 897–904 (2007).

Minc, N., Burgess, D. & Chang, F. Influence of cell geometry on division-plane positioning. Cell 144, 414–426 (2011).

Grill, S. W. & Hyman, A. A. Spindle positioning by cortical pulling forces. Dev. Cell 8, 461–465 (2005).

Laan, L. et al. Cortical dynein controls microtubule dynamics to generate pulling forces that position microtubule asters. Cell 148, 502–514 (2012).

Burkel, B. M., Von Dassow, G. & Bement, W. M. Versatile fluorescent probes for actin filaments based on the actin-binding domain of utrophin. Cell Motil. Cytoskeleton 64, 822–832 (2007).

Stumpff, J., von Dassow, G., Wagenbach, M., Asbury, C. & Wordeman, L. The kinesin-8 motor Kif18A suppresses kinetochore movements to control mitotic chromosome alignment. Dev. Cell 14, 252–262 (2008).

Kiyomitsu, T. & Cheeseman, I. M. Chromosome- and spindle-pole-derived signals generate an intrinsic code for spindle position and orientation. Nat. Cell Biol. 14, 311–317 (2012).

O'Connell, C. B. & Wang, Y. L. Mammalian spindle orientation and position respond to changes in cell shape in a dynein-dependent fashion. Mol. Biol. Cell 11, 1765–1774 (2000).

Tame, M. A., Raaijmakers, J. A., Afanasyev, P. & Medema, R. H. Chromosome misalignments induce spindle-positioning defects. EMBO Rep. 17, 317–325 (2016).

Peyre, E. et al. A lateral belt of cortical LGN and NuMA guides mitotic spindle movements and planar division in neuroepithelial cells. J. Cell Biol. 193, 141–154 (2011).

Erickson, H. Size and shape of protein molecules at the nanometer level determined by sedimentation, gel filtration, and electron microscopy. Biol. Proced. Online 11, 32–51 (2009).

Carpenter, A. E. et al. CellProfiler: image analysis software for identifying and quantifying cell phenotypes. Genome Biol. 7, R100 (2006).

Chozinski, T. J. et al. Expansion microscopy with conventional antibodies and fluorescent proteins. Nat. Methods 13, 485–488 (2016).

Decarreau, J., Driver, J., Asbury, C. & Wordeman, L. Rapid measurement of mitotic spindle orientation in cultured mammalian cells. Methods Mol. Biol. 1136, 31–40 (2014).
Acknowledgements
This study was supported by National Institutes of Health Grant GM69429 to L.W.; National Institutes of Health Fellowship F32GM105099 and American Cancer Society Fellowship PF1409901CCG to J.D.; NIH grant GM118396 to J.K. and Burroughs Wellcome Career Award to J.C.V.
Ethics declarations
Competing interests
The authors declare no competing financial interests.
Integrated supplementary information
Supplementary information
About this article
Cite this article
Decarreau, J., Wagenbach, M., Lynch, E. et al. The tetrameric kinesin Kif25 suppresses pre-mitotic centrosome separation to establish proper spindle orientation. Nat Cell Biol 19, 384–390 (2017). https://doi.org/10.1038/ncb3486
Received:

Accepted:

Published:

Issue Date:

DOI: https://doi.org/10.1038/ncb3486