Abstract
Selective macroautophagy is an important protective mechanism against diverse cellular stresses. In contrast to the well-characterized starvation-induced autophagy, the regulation of selective autophagy is largely unknown. Here, we demonstrate that Huntingtin, the Huntington disease gene product, functions as a scaffold protein for selective macroautophagy but it is dispensable for non-selective macroautophagy. In Drosophila, Huntingtin genetically interacts with autophagy pathway components. In mammalian cells, Huntingtin physically interacts with the autophagy cargo receptor p62 to facilitate its association with the integral autophagosome component LC3 and with Lys-63-linked ubiquitin-modified substrates. Maximal activation of selective autophagy during stress is attained by the ability of Huntingtin to bind ULK1, a kinase that initiates autophagy, which releases ULK1 from negative regulation by mTOR. Our data uncover an important physiological function of Huntingtin and provide a missing link in the activation of selective macroautophagy in metazoans.
Access options
Subscribe to Journal
Get full journal access for 1 year
$209.00
only $17.42 per issue
All prices are NET prices.
VAT will be added later in the checkout.
Rent or Buy article
Get time limited or full article access on ReadCube.
from$8.99
All prices are NET prices.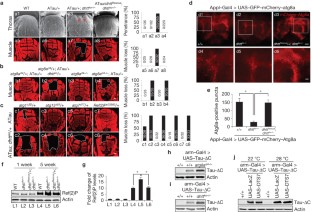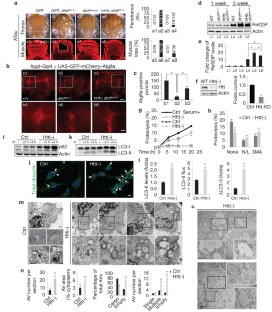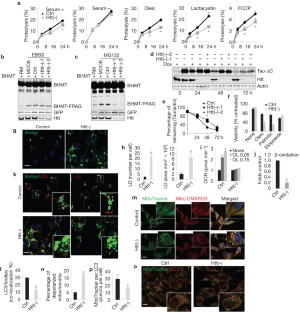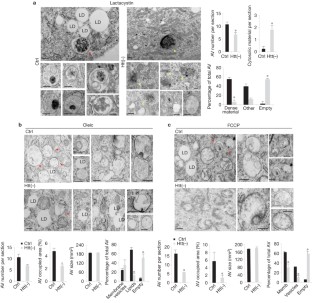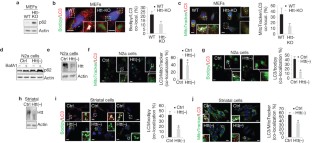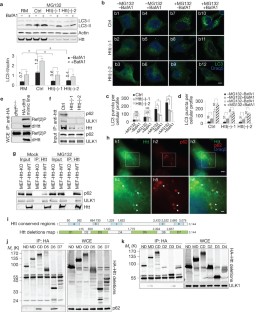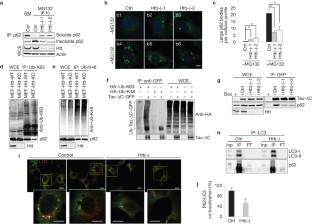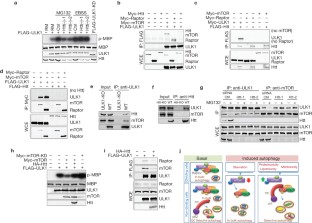 References
1

He, C. & Klionsky, D. J. Regulation mechanisms and signaling pathways of autophagy. Annu. Rev. Genet. 43, 67–93 (2009).

2

Bjorkoy, G., Lamark, T. & Johansen, T. p62/SQSTM1: a missing link between protein aggregates and the autophagy machinery. Autophagy 2, 138–139 (2006).

3

Johansen, T. & Lamark, T. Selective autophagy mediated by autophagic adapter proteins. Autophagy 7, 279–296 (2011).

4

Lamark, T. & Johansen, T. Aggrephagy: selective disposal of protein aggregates by macroautophagy. Int. J. Cell Biol. 2012, 736905 (2012).

5

Lynch-Day, M. A. & Klionsky, D. J. The Cvt pathway as a model for selective autophagy. FEBS Lett. 584, 1359–1366 (2010).

6

Jin, M., Liu, X. & Klionsky, D. J. SnapShot: Selective autophagy. Cell 152, 368–368.e2 (2013).

7

The Huntington's Disease Collaborative Research Group, A novel gene containing a trinucleotide repeat that is expanded and unstable on Huntington's disease chromosomes. Cell 72, 971–983 (1993).

8

Cattaneo, E., Zuccato, C. & Tartari, M. Normal huntingtin function: an alternative approach to Huntington's disease. Nat. Rev. Neurosci. 6, 919–930 (2005).

9

Caviston, J. P. & Holzbaur, E. L. Huntingtin as an essential integrator of intracellular vesicular trafficking. Trends Cell Biol. 19, 147–155 (2009).

10

Harjes, P. & Wanker, E. E. The hunt for huntingtin function: interaction partners tell many different stories. Trends Biochem. Sci. 28, 425–433 (2003).

11

Martin, D. D., Ladha, S., Ehrnhoefer, D. E. & Hayden, M. R. Autophagy in Huntington disease and huntingtin in autophagy. Trends Neurosci. 38, 26–35 (2015).

12

Martinez-Vicente, M. et al. Cargo recognition failure is responsible for inefficient autophagy in Huntington's disease. Nat. Neurosci. 13, 567–576 (2010).

13

Zhang, S., Feany, M. B., Saraswati, S., Littleton, J. T. & Perrimon, N. Inactivation of Drosophila Huntingtin affects long-term adult functioning and the pathogenesis of a Huntington's disease model. Dis. Model Mech. 2, 247–266 (2009).

14

Pircs, K. et al. Advantages and limitations of different p62-based assays for estimating autophagic activity in Drosophila. PloS ONE 7, e44214 (2012).

15

Bartlett, B. J. et al. p62, Ref(2)P and ubiquitinated proteins are conserved markers of neuronal aging, aggregate formation and progressive autophagic defects. Autophagy 7, 572–583 (2011).

16

Nezis, I. P. et al. Autophagic degradation of dBruce controls DNA fragmentation in nurse cells during late Drosophila melanogaster oogenesis. J. Cell Biol. 190, 523–531 (2010).

17

Rubinsztein, D. C. The roles of intracellular protein-degradation pathways in neurodegeneration. Nature 443, 780–786 (2006).

18

Dolan, P. J. & Johnson, G. V. A caspase cleaved form of tau is preferentially degraded through the autophagy pathway. J. Biol. Chem. 285, 21978–21987 (2010).

19

Mortimore, G. E. & Poso, A. R. Intracellular protein catabolism and its control during nutrient deprivation and supply. Annu. Rev. Nutr. 7, 539–564 (1987).

20

Mauvezin, C., Ayala, C., Braden, C. R., Kim, J. & Neufeld, T. P. Assays to monitor autophagy in Drosophila. Methods 68, 134–139 (2014).

21

Dennis, P. B. & Mercer, C. A. The GST-BHMT assay and related assays for autophagy. Methods Enzymol. 452, 97–118 (2009).

22

Singh, R. et al. Autophagy regulates lipid metabolism. Nature 458, 1131–1135 (2009).

23

Koga, H., Kaushik, S. & Cuervo, A. M. Altered lipid content inhibits autophagic vesicular fusion. FASEB J. 24, 3052–3065 (2010).

24

Zhang, H. et al. Elucidating a normal function of huntingtin by functional and microarray analysis of huntingtin-null mouse embryonic fibroblasts. BMC Neurosci. 9, 38 Special section p1-15 (2008).

25

Ganley, I. G. et al. ULK1.ATG13.FIP200 complex mediates mTOR signaling and is essential for autophagy. J. Biol. Chem. 284, 12297–12305 (2009).

26

Bjorkoy, G. et al. p62/SQSTM1 forms protein aggregates degraded by autophagy and has a protective effect on huntingtin-induced cell death. J. Cell Biol. 171, 603–614 (2005).

27

Itakura, E. & Mizushima, N. p62 targeting to the autophagosome formation site requires self-oligomerization but not LC3 binding. J. Cell Biol. 192, 17–27 (2011).

28

Li, Z., Karlovich, C. A., Fish, M. P., Scott, M. P. & Myers, R. M. A putative Drosophila homolog of the Huntington's disease gene. Hum. Mol. Genet. 8, 1807–1815 (1999).

29

Pankiv, S. et al. p62/SQSTM1 binds directly to Atg8/LC3 to facilitate degradation of ubiquitinated protein aggregates by autophagy. J. Biol. Chem. 282, 24131–24145 (2007).

30

Newton, K. et al. Ubiquitin chain editing revealed by polyubiquitin linkage-specific antibodies. Cell 134, 668–678 (2008).

31

Kirkin, V., McEwan, D. G., Novak, I. & Dikic, I. A role for ubiquitin in selective autophagy. Mol. Cell 34, 259–269 (2009).

32

Egan, D. F. et al. Phosphorylation of ULK1 (hATG1) by AMP-activated protein kinase connects energy sensing to mitophagy. Science 331, 456–461 (2011).

33

Kim, J., Kundu, M., Viollet, B. & Guan, K. L. AMPK and mTOR regulate autophagy through direct phosphorylation of Ulk1. Nat. Cell Biol. 13, 132–141 (2011).

34

Shang, L. et al. Nutrient starvation elicits an acute autophagic response mediated by Ulk1 dephosphorylation and its subsequent dissociation from AMPK. Proc. Natl Acad. Sci. USA 108, 4788–4793 (2011).

35

Alers, S., Loffler, A. S., Wesselborg, S. & Stork, B. Role of AMPK-mTOR-Ulk1/2 in the regulation of autophagy: cross talk, shortcuts, and feedbacks. Mol. Cell Biol. 32, 2–11 (2012).

36

Laplante, M. & Sabatini, D. M. mTOR signaling in growth control and disease. Cell 149, 274–293 (2012).

37

Kundu, M. et al. Ulk1 plays a critical role in the autophagic clearance of mitochondria and ribosomes during reticulocyte maturation. Blood 112, 1493–1502 (2008).

38

Seibenhener, M. L. et al. Sequestosome 1/p62 is a polyubiquitin chain binding protein involved in ubiquitin proteasome degradation. Mol. Cell Biol. 24, 8055–8068 (2004).

39

Andrade, M. A. & Bork, P. HEAT repeats in the Huntington's disease protein. Nat. Genet. 11, 115–116 (1995).

40

Ehrnhoefer, D. E., Sutton, L. & Hayden, M. R. Small changes, big impact: posttranslational modifications and function of huntingtin in Huntington disease. The Neuroscientist: A Rev. J. Neurobiol. Neurol. Psychiatry 17, 475–492 (2011).

41

Jeong, H. et al. Acetylation targets mutant huntingtin to autophagosomes for degradation. Cell 137, 60–72 (2009).

42

Martin, D. D. et al. Identification of a post-translationally myristoylated autophagy-inducing domain released by caspase cleavage of huntingtin. Hum. Mol. Genet. 23, 3166–3179 (2014).

43

Schilling, B. et al. Huntingtin phosphorylation sites mapped by mass spectrometry. Modulation of cleavage and toxicity. J. Biol. Chem. 281, 23686–23697 (2006).

44

Steffan, J. S. et al. SUMO modification of Huntingtin and Huntington's disease pathology. Science 304, 100–104 (2004).

45

Wellington, C. L. & Hayden, M. R. Caspases and neurodegeneration: on the cutting edge of new therapeutic approaches. Clin. Genet. 57, 1–10 (2000).

46

Wellington, C. L. et al. Inhibiting caspase cleavage of huntingtin reduces toxicity and aggregate formation in neuronal and nonneuronal cells. J. Biol. Chem. 275, 19831–19838 (2000).

47

Yanai, A. et al. Palmitoylation of huntingtin by HIP14 is essential for its trafficking and function. Nat. Neurosci. 9, 824–831 (2006).

48

Duyao, M. P. et al. Inactivation of the mouse Huntington's disease gene homolog Hdh. Science 269, 407–410 (1995).

49

Nasir, J. et al. Targeted disruption of the Huntington's disease gene results in embryonic lethality and behavioral and morphological changes in heterozygotes. Cell 81, 811–823 (1995).

50

Zeitlin, S., Liu, J. P., Chapman, D. L., Papaioannou, V. E. & Efstratiadis, A. Increased apoptosis and early embryonic lethality in mice nullizygous for the Huntington's disease gene homologue. Nat. Genet. 11, 155–163 (1995).

51

Duran, A. et al. The atypical PKC-interacting protein p62 is an important mediator of RANK-activated osteoclastogenesis. Dev. Cell 6, 303–309 (2004).

52

Rodriguez, A. et al. Mature-onset obesity and insulin resistance in mice deficient in the signaling adapter p62. Cell Metab. 3, 211–222 (2006).

53

Cheong, H., Lindsten, T., Wu, J., Lu, C. & Thompson, C. B. Ammonia-induced autophagy is independent of ULK1/ULK2 kinases. Proc. Natl Acad. Sci. USA 108, 11121–11126 (2011).

54

Lee, E. J. & Tournier, C. The requirement of uncoordinated 51-like kinase 1 (ULK1) and ULK2 in the regulation of autophagy. Autophagy 7, 689–695 (2011).

55

Reiner, A., Dragatsis, I., Zeitlin, S. & Goldowitz, D. Wild-type huntingtin plays a role in brain development and neuronal survival. Mol. Neurobiol. 28, 259–276 (2003).

56

Dragatsis, I., Efstratiadis, A. & Zeitlin, S. Mouse mutant embryos lacking huntingtin are rescued from lethality by wild-type extraembryonic tissues. Development 125, 1529–1539 (1998).

57

Cheong, H. et al. Analysis of a lung defect in autophagy-deficient mouse strains. Autophagy 10, 45–56 (2014).

58

Ramesh Babu, J. et al. Genetic inactivation of p62 leads to accumulation of hyperphosphorylated tau and neurodegeneration. J. Neurochem. 106, 107–120 (2008).

59

Babu, J. R., Geetha, T. & Wooten, M. W. Sequestosome 1/p62 shuttles polyubiquitinated tau for proteasomal degradation. J. Neurochem. 94, 192–203 (2005).

60

Dragatsis, I., Levine, M. S. & Zeitlin, S. Inactivation of Hdh in the brain and testis results in progressive neurodegeneration and sterility in mice. Nat. Genet. 26, 300–306 (2000).

61

White, J. K. et al. Huntingtin is required for neurogenesis and is not impaired by the Huntington's disease CAG expansion. Nat. Genet. 17, 404–410 (1997).

62

Kegel, K. B. et al. Huntingtin expression stimulates endosomal-lysosomal activity, endosome tubulation, and autophagy. J. Neurosci. 20, 7268–7278 (2000).

63

Steffan, J. S. Does Huntingtin play a role in selective macroautophagy? Cell Cycle 9, 3401–3413 (2010).

64

Wong, Y. C. & Holzbaur, E. L. The regulation of autophagosome dynamics by huntingtin and HAP1 is disrupted by expression of mutant huntingtin, leading to defective cargo degradation. J. Neurosci. 34, 1293–1305 (2014).

65

Zheng, S. et al. Deletion of the huntingtin polyglutamine stretch enhances neuronal autophagy and longevity in mice. PLoS Genet. 6, e1000838 (2010).

66

Scott, R. C., Juhasz, G. & Neufeld, T. P. Direct induction of autophagy by Atg1 inhibits cell growth and induces apoptotic cell death. Curr. Biol. 17, 1–11 (2007).

67

Pandey, U. B. et al. HDAC6 rescues neurodegeneration and provides an essential link between autophagy and the UPS. Nature 447, 859–863 (2007).

68

Venken, K. J. et al. MiMIC: a highly versatile transposon insertion resource for engineering Drosophila melanogaster genes. Nat. Methods 8, 737–743 (2011).

69

Carre-Mlouka, A. et al. Control of sigma virus multiplication by the ref(2)P gene of Drosophila melanogaster: An in vivo study of the PB1 domain of Ref(2)P. Genetics 176, 409–419 (2007).

70

Sullivan, W., Ashburner, M. & Hawley, R. S. Drosophila Protocols 240–241 (Cold Spring Harbor Laboratory Press, 2000) Ch. 13, Protocol 13.5

71

Benzer, S. Behavioral mutants of Drosophila isolated by countercurrent distribution. Proc. Natl Acad. Sci. USA 58, 1112–1119 (1967).

72

Kamikouchi, A. et al. The neural basis of Drosophila gravity-sensing and hearing. Nature 458, 165–171 (2009).

73

Juhasz, G. & Neufeld, T. P. Experimental control and characterization of autophagy in Drosophila. Methods Mol. Biol. 445, 125–133 (2008).

74

Wilk, S. & Orlowski, M. Evidence that pituitary cation-sensitive neutral endopeptidase is a multicatalytic protease complex. J. Neurochem. 40, 842–849 (1983).

75

Cumming, R. C., Simonsen, A. & Finley, K. D. Quantitative analysis of autophagic activity in Drosophila neural tissues by measuring the turnover rates of pathway substrates. Methods Enzymol. 451, 639–651 (2008).

76

Kimura, S., Fujita, N., Noda, T. & Yoshimori, T. Monitoring autophagy in mammalian cultured cells through the dynamics of LC3. Methods Enzymol. 452, 1–12 (2009).

77

Bjorkoy, G. et al. Monitoring autophagic degradation of p62/SQSTM1. Methods Enzymol. 452, 181–197 (2009).

78

Klionsky, D. J. et al. Guidelines for the use and interpretation of assays for monitoring autophagy. Autophagy 8, 445–544 (2012).

79

Pampliega, O. et al. Functional interaction between autophagy and ciliogenesis. Nature 502, 194–200 (2013).

80

Godin, J. D. et al. Huntingtin is required for mitotic spindle orientation and mammalian neurogenesis. Neuron 67, 392–406 (2010).

81

Massey, A. C., Follenzi, A., Kiffin, R., Zhang, C. & Cuervo, A. M. Early cellular changes after blockage of chaperone-mediated autophagy. Autophagy 4, 442–456 (2008).

82

Ikenoue, T., Hong, S. & Inoki, K. Monitoring mammalian target of rapamycin (mTOR) activity. Methods Enzymol. 452, 165–180 (2009).

83

Bejarano, E. et al. Connexins modulate autophagosome biogenesis. Nat. Cell Biol. 16, 401–414 (2014).
Acknowledgements
We are grateful to T. Neufeld and U. Pandey for their fly lines; P. B. Dennis for the pRK5-GST-BHMT plasmid; D. Contamine for anti-Ref(2)P antibody; I. Bezprozvanny for MEF-Htt-WT and MEF-Htt-KO lines; M. Kundu for MEF-ULK1-KO and MEF-ULK1-WT lines; J. Botas for UAS–hHtt DNA and fly lines. We also thank Z. Mao for technical assistance in confocal microscopy, and Z. Sun and N. Perrimon for critically reading the manuscript. H.J.B. is an investigator of the HHMI and supported by the R&R Belfer and Hufftington foundations. G.D. was supported by a T32 developmental biology training grant from the NICHD. This work was supported by NIH grants R01-NS069880 (to S.Z.) and P01-AG031782 and AG038072 (to A.M.C.) and the generous support of R&R Belfer (to A.M.C.).
Ethics declarations
Competing interests
The authors declare no competing financial interests.
Integrated supplementary information
Supplementary information
About this article
Cite this article
Rui, YN., Xu, Z., Patel, B. et al. Huntingtin functions as a scaffold for selective macroautophagy. Nat Cell Biol 17, 262–275 (2015). https://doi.org/10.1038/ncb3101
Received:

Accepted:

Published:

Issue Date: