Abstract
RNA interference (RNAi) is an important means of eliminating mRNAs, but the intracellular location of RNA-induced silencing complex (RISC) remains unknown. We show here that Argonaute 2, a key component of RISC, is not randomly distributed but concentrates in mRNA decay centres that are known as cytoplasmic bodies. The localization of Argonaute 2 in decay centres is not altered by the presence or absence of small interfering RNAs or their targeted mRNAs. However, RNA is required for the integrity of cytoplasmic bodies because RNase eliminates Argonaute 2 localization. In addition, Argonaute 1, another Argonaute family member, is concentrated in cytoplasmic bodies. These results provide new insight into the mechanism of RNAi function.
Your institute does not have access to this article
Relevant articles
Open Access articles citing this article.
Charlotte A. Cialek

,

Gabriel Galindo

…

Timothy J. Stasevich

Nature Communications Open Access 10 June 2022

Lela Jackson

,

Madison Rennie

…

Suzanne Scarlata

Scientific Reports Open Access 24 May 2022

Beata Franczyk

,

Anna Gluba-Brzózka

…

Jacek Rysz

International Urology and Nephrology Open Access 06 July 2021
Access options
Subscribe to Journal
Get full journal access for 1 year
$99.00
only $8.25 per issue
All prices are NET prices.
VAT will be added later in the checkout.
Tax calculation will be finalised during checkout.
Buy article
Get time limited or full article access on ReadCube.
$32.00
All prices are NET prices.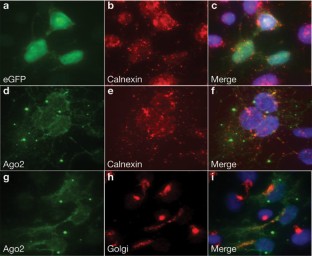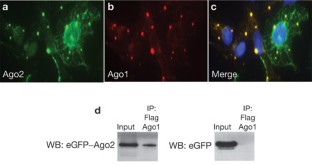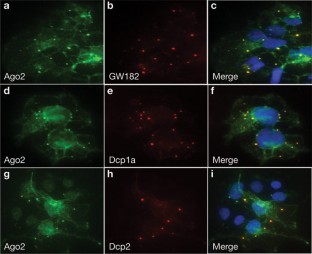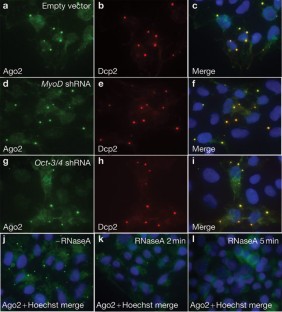 Accession codes
Accessions
BINDPlus
References
Fire, A. et al. Potent and specific genetic interference by double-stranded RNA in Caenorhabditis elegans. Nature 391, 806–811 (1998).

Hannon, G. J. RNA interference. Nature 418, 244–251 (2002).

Liu, J., Carmell, M. A., Rivas, F. V., Marsden, C. G. & Hannon, G. J. Argonaute2 is the catalytic engine of mammalian RNAi. Science 305, 1437–1441 (2004).

Pham, J. W., Pellino, J. L., Lee, Y. S., Carthew, R. W. & Sontheimer, E. J. A Dicer-2-dependent 80s complex cleaves targeted mRNAs during RNAi in Drosophila. Cell 117, 83–94 (2004).

Gu, S. & Rossi, J. J. Uncoupling of RNAi from active translation in mammalian cells. RNA 11, 38–44 (2005).

Bashkirov, V. I., Scherthan, H., Solinger, J. A., Buerstedde, J. M. & Heyer, W. D. A mouse cytoplasmic exoribonuclease (mXRN1p) with preference for G4 tetraplex substrates. J. Cell Biol. 136, 761–773 (1997).

Cougot, N., Babajko, S. & Seraphin, B. Cytoplasmic foci are sites of mRNA decay in human cells. J. Cell Biol. 165, 31–40 (2004).

Sheth, U. & Parker, R. Decapping and decay of messenger RNA occur in cytoplasmic processing bodies. Science 300, 805–808 (2003).

Souret, F. F., Kastenmayer, J. P. & Green, P. J. AtXRN4 degrades mRNA in Arabidopsis and its substrates include selected miRNA targets. Mol. Cell 15, 173–183 (2004).

Gazzani, S., Lawrenson, T., Woodward, C., Headon, D. & Sablowski, R. A link between mRNA turnover and RNA interference in Arabidopsis. Science 306, 1046–1048 (2004).

Orban, T. I. & Izaurralde, E. Decay of mRNAs targeted by RISC requires XRN1, the Ski complex, and the exosome. RNA 459–469 (2005).

Meister, G. & Tuschl, T. Mechanisms of gene silencing by double-stranded RNA. Nature 431, 343–349 (2004).

Meister, G. et al. Human Argonaute2 mediates RNA cleavage targeted by miRNAs and siRNAs. Mol. Cell 15, 185–197 (2004).

Eystathioy, T. et al. The GW182 protein colocalizes with mRNA degradation associated proteins hDcp1 and hLSm4 in cytoplasmic GW bodies. RNA 9, 1171–1173 (2003).

Sen, G., Wehrman, T. S., Myers, J. W. & Blau, H. M. Restriction enzyme-generated siRNA (REGS) vectors and libraries. Nature Genet. 36, 183–189 (2004).

Teixeira, D., Sheth, U., Valencia-Sanchez, M. A., Brengues, M. & Parker, R. Processing bodies require RNA for assembly and contain nontranslating mRNAs. RNA 371–382 (2005).

Yekta, S., Shih, I. H. & Bartel, D. P. MicroRNA-directed cleavage of HOXB8 mRNA. Science 304, 594–596 (2004).

Jing, Q. et al. Involvement of microRNA in AU-rich element-mediated mRNA instability. Cell 120, 623–634 (2005).
Acknowledgements
We thank T. Tuschl for the Flag-tagged Ago1 and Ago2 constructs, J. Lykke-Andersen for the Flag-tagged Dcp1a and Dcp2 constructs, and R. Wolkowicz for HEK 293 cells stably expressing the ecotropic receptor. We thank T. Wehrman for discussions and help with experiment design. This work was supported by a graduate fellowship from the Howard Hughes Medical Institute to G.L.S., and NIH grants AG09521, AG20961, HL65572 and HD18179, Ellison Medical Foundation Grant AG-33-0817, and support from the Baxter Foundation to H.M.B.
Ethics declarations
Competing interests
The authors declare no competing financial interests.
Supplementary information
About this article
Cite this article
Sen, G., Blau, H. Argonaute 2/RISC resides in sites of mammalian mRNA decay known as cytoplasmic bodies. Nat Cell Biol 7, 633–636 (2005). https://doi.org/10.1038/ncb1265
Received:

Accepted:

Published:

Issue Date:

DOI: https://doi.org/10.1038/ncb1265