Two recent studies in Drosophila demonstrate that overexpression of proteins required for centriole duplication can not only induce centriole over-duplication in cells containing centrioles, but can also drive de novo centriole assembly in unfertilized eggs that initially lack centrioles. These studies offer a new perspective on the mechanisms that control centriole duplication.
Your institute does not have access to this article
Access options
Subscribe to Journal
Get full journal access for 1 year
$99.00
only $8.25 per issue
All prices are NET prices.
VAT will be added later in the checkout.
Tax calculation will be finalised during checkout.
Buy article
Get time limited or full article access on ReadCube.
$32.00
All prices are NET prices.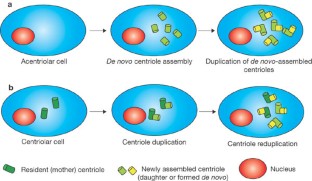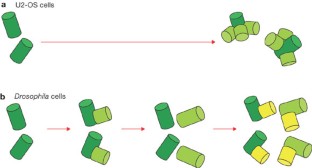 References
Nigg, E. A. International Journal of Cancer 119, 2717–2723 (2006).

Rodrigues-Martins, A., Riparbelli, M., Callaini, G., Glover, D. M. & Bettencourt-Dias, M. Science 316, 1046–1050 (2007).

Peel, N., Stevens, N. R., Basto, R. & Raff, J. W. Curr. Biol. 17, 834–843 (2007).

Bettencourt-Dias, M. et al. Curr. Biol. 15, 2199–2207 (2005).

Habedank, R., Stierhof, Y. D., Wilkinson, C. J. & Nigg, E. A. Nature Cell Biol. 7, 1140–1146 (2005).

Delattre, M., Canard, C. & Gonczy, P. Curr. Biol. 16, 1844–1849 (2006).

Pelletier, L., O'Toole, E., Schwager, A., Hyman, A. A. & Muller-Reichert,T. Nature 444, 619–623 (2006).

Tsou, M. F. & Stearns, T. Nature 442, 947–951 (2006).

Szollosi, D., Calarco, P. & Donahue, R. P. J. Cell Sci. 11, 521–541 (1972).

Uetake, Y. et al. J. Cell Biol. 176, 173–182 (2007).

La Terra, S. et al. J. Cell Biol. 168, 713–720 (2005).

Duensing, A. et al. Oncogene doi:10.1038/sj.onc.1210456 (2007).

Nigg, E. A. Trends Cell Biol. 17, 215–221 (2007).

Dammermann, A. et al. Dev. Cell 7, 815–829 (2004).

Young, A., Dictenberg, J. B., Purohit, A., Tuft, R. & Doxsey, S. J. Mol. Biol. Cell 11, 2047–2056 (2000).
Ethics declarations
Competing interests
The authors declare no competing financial interests.
About this article
Cite this article
Loncarek, J., Sluder, G. & Khodjakov, A. Centriole biogenesis: a tale of two pathways. Nat Cell Biol 9, 736–738 (2007). https://doi.org/10.1038/ncb0707-736
Issue Date:

DOI: https://doi.org/10.1038/ncb0707-736
Further reading
Chromosome Research (2011)

Florian Fuchs
Gregoire Pau
Michael Boutros

Molecular Systems Biology (2010)